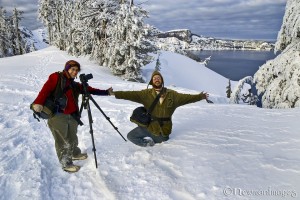 By NewmanImages
Winter in Oregon's only National Park offers up one of Earth's most breathtaking vistas. A lot of locals don't even know that Crater Lake is open year-round. Or they think it's only accessible via snowplow, ski, or dog sled. But the National Park Service does its best to keep the road to the lake plowed. So even though the days are short, if you get out relatively early, you'll have several hours to wander around at 7,000 feet. Take in the views, check out the gift shop, have a picnic, have a snowball fight, catch the sunset, and still make it home by 8:00!
Alpine Access: There's no charge to enter the park in the winter, but the road ends at Rim Village via the south entrance (which happens to be the closest one to Ashland). The 23-mile-long Rim Drive is closed to vehicles, transforming it into a wide winter trail accessible by boots, skis, or snowshoes.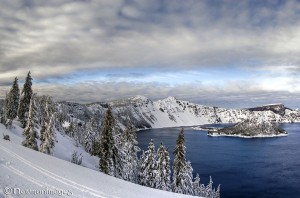 When Sue and I ventured up to Crater Lake one January day a couple of years ago, it felt like we'd stepped out of the car and into a fantasy land: The quilted clouds were straight out of Narnia. The snow-covered pines looked like they'd been drawn there by Dr. Seuss himself. Wizard Island looked like it had sprung forth from Middle-earth. And walking through the snow tunnel to the restroom was like going to the bathroom on Hoth from The Empire Strikes Back.
But mere photographs and corny movie references just don't do Crater Lake justice. Not until you're actually standing up there on the rim can you even begin to comprehend the grandeur of this collapsed ancient volcano. The water is even bluer in person. And it's deep, too, going down nearly 2,000 feet (North America's deepest lake). And the rim on the far side is nearly six miles away. You are incredibly fortunate to live so close to such an otherworldly place!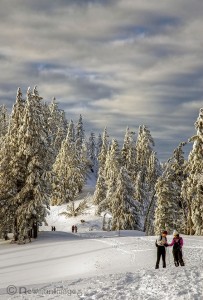 Safety First: Don't ever go to Crater Lake in the wintertime on a whim. Always check the weather conditions first. If there's any chance of winter weather, best just not risk it. Although the National Park Service plows the roads, when it snows up there, it really SNOWS UP THERE. Always be on the lookout for icy spots. (Even if you don't get snowed in, clouds can roll in and obscure your view in a hurry.)
And while you're exploring on the rim, stay on the well-traveled trails. And don't venture too close to the cliff edges, or you might end up in the lake. Crater Lake is safe for kids and dogs, but you may want to keep them both on a leash. (It's only required for dogs.)
Getting There: Crater Lake is about 90 miles from Ashland. Take I-5 North to Crater Lake Highway (Exit 30), and then follow that north for 54 miles. About half a mile after Union Creek Resort (where you can grab a bite at Beckie's Café), take a right on Highway 62 toward Klamath Falls; drive 17 miles to the park entrance on the left; and then take Munson Valley Road seven winding miles up to Rim Village.
If you want to navigate by GPS, the park has no physical address. The Steel Visitor Center is at 42° 53′ 48.91″N 122° 08′ 03.08″W or you can enter "Crater Lake" as a town or waypoint.
The Rim Village Café and Gift Shop are open year-round, but only until 4:30 p.m. in the winter months. The hours can change, though, so for more information, go to http://www.nps.gov/crla/planyourvisit/things2know.htm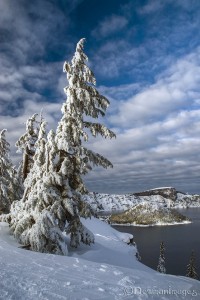 For more information about skiing and snowshoeing in Crater Lake, go to http://www.craterlakeinstitute.com/planning-visit/activities/skiing-snowshoeing.htm. Note that there's no ski rental at the park itself. There are, however, guided snow-shoe walks at 1:00 p.m. on Saturdays and Sundays through the end of April.

About NewmanImages: We are Jay and Sue Newman, two seasoned weekend wanderers who know where to find beauty in any direction from Ashland. You can find prints and greeting cards of Crater Lake in our booth at the Ashland Artisan Emporium in the Ashland Shopping Center on Highway 66. (Walk in, take a right, go to the 2nd row from the end, we're the first booth on the right.)
Like us on Facebook. Prints available at SmugMug.