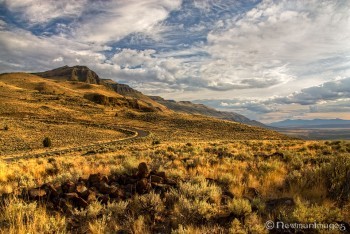 By NewmanImages
Hart Mountain National Antelope Refuge sits atop a massive plateau that rises 3,600 feet over southern Oregon's remote Warner Valley. It's located 200 miles due east of Ashland, so plan to spend a day or two camping (or you can stay in Lakeview). Head up in September and October when there are fewer visitors. The views on the road to the top make it worth the trip alone, but there's so much else to do on Hart Mountain.
High Desert Soaking: Antelope Hot Springs is a good place to make your home base. (There's a free campground nearby.) The main hot spring is semi-improved. It's 5 feet deep and 9 feet by 12 feet across, and has stone sides and a sand bottom (and a wall to keep out the wind). For a more primitive soak, take a short walk down a path from the parking lot until you find a natural "hot creek" flowing through the meadow. Look downstream and you'll see a soaking pool in the grass. Seats four comfortably.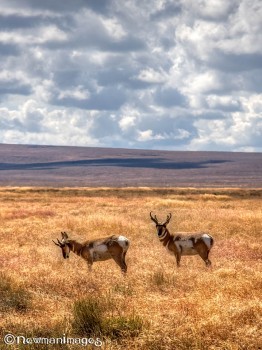 Wildlife Viewing: The 438-square-mile Refuge was set aside in 1936 to protect the pronghorn antelope. They're North America's fastest land animals, able to reach speeds of 65 mph. You might also encounter bighorn sheep, mule deer, coyotes, marmots, bobcats, rabbits, rattlesnakes, and more than 200 species of birds.
Rockhounding: Gemstone aficionados flock to Hart Mountain for its impressive agates, jaspers, petrified wood, and fire opal. Flook Lake (an ancient dry sea) is one of the best collecting sites. Surface rocks only, and no more than seven pounds per person. You can also find ancient rock art at Petroglyph Lake. Down in Warner Valley there are collecting sites for sunstones—the State Gem of Oregon.
Getting There: Hart Mountain National Antelope Refuge is about 65 miles northeast of Lakeview in Lake County. For exact directions, check online and bring a good map. This is a very rustic and remote area, so some research is required before you set out. First check the U.S. Fish and Wildlife Service for conditions and restrictions. Important: Fill your gas tank in the town of Plush on the way in! Many of the roads are not maintained, so take a four-wheel drive. Campers and RVs are not suitable. Hot Springs Campground is free and has 30 primitive sites and a few vault toilets, but no running water, fire pits, or firewood for sale. (You can get water at the visitor center on the way in.)
If you come prepared, and get some good weather, you may just have one of the most epic camping trips of your life. We sure did!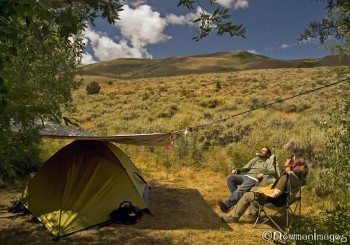 About NewmanImages: We are Jay and Sue Newman, two seasoned weekend wanderers who know where to find beauty in any direction from Ashland. You can find prints and greeting cards of Hart Mountain in our booth at the Ashland Artisan Emporium in the Ashland Shopping Center on Highway 66. (Walk in, take a right, go to the 2nd row from the end, we're the first booth on the right.)
Like us on Facebook. Prints available at SmugMug.