Many people ask what can be done with implant dentistry.  While dental implants are not a magic bullet, a carefully planned and executed treatment can have significant results that benefit the recipient.  Please enjoy the following photo essay.  If you found it useful, please visit our Today's Dentistry Facebook page and like us.  That will tell us that you liked it and we should share some more photo essays.  And feel free to suggest a topic you are interested in!
Upper Front Teeth Restoration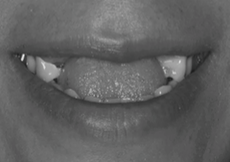 This patient was missing her top front six teeth. A complicating factor was the amount of bone loss where the teeth used to be. She was not interested in any removable denture options. A plan was made to replace her missing teeth and mask the missing bone with dental implants and crowns.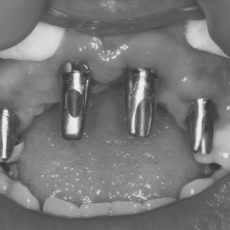 This photo shows the dental implants and abutments in place. Notice how the gum tissue curves upwards from the natural teeth on the left to the natural teeth on the right. Normally, this contour would curve slightly downward, but appears as it does due to bone loss. Because the bone had receded so dramatically, only four implants were placed.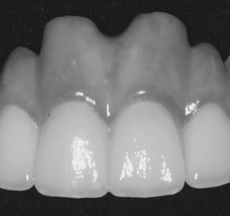 This photo shows that the crowns had to have "gum" colored porcelain so that the teeth would appear to be a normal length rather than overly long. This is a way of masking the bone loss defect that is present and visible in the preceding photograph.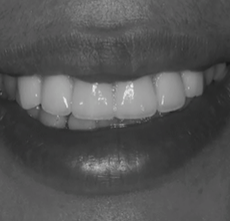 With the final crowns in place, one can see that natural esthetics can be achieved with regards to tooth shape and arrangement, lip support, and smile line. If you are missing teeth or have questions about how implant dentistry can help you, please give us a call at 541-482-7771.
Today's Dentistry
1530 Siskiyou Blvd.
Ashland, OR 97520
(541) 482-7771
Check out their website here