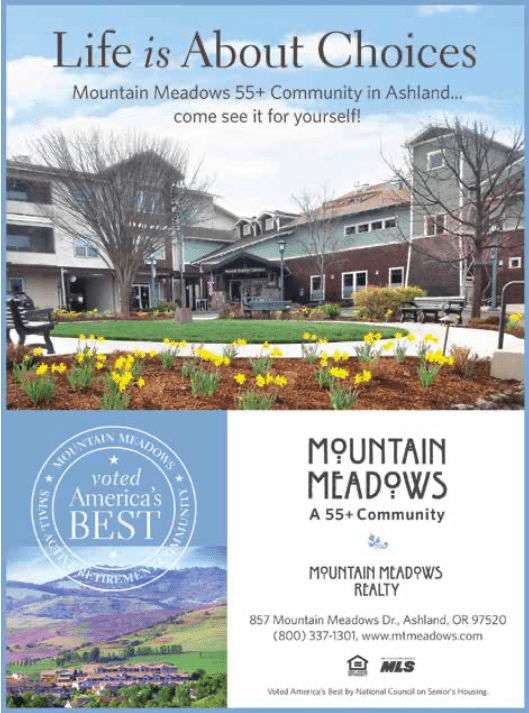 Maintaining your lifestyle when you are ready to move onto the next chapter of your life is on the hearts and minds of most of us. We want to continue to enjoy life the way we have come to know and love it. For many people, our senior years may be a frightening and uncertain spot on the horizon and the move to a 55+ community is delayed. Why? The move is delayed because many of us believe our lifestyles will dramatically change and we are not ready for that change. We live their lives with choices and those choices are important.
When you choose Mountain Meadows 55+ Community, you don't have to change the way you live. It will just get better and your choices will continue on and on. Among your neighbors you will find professors, teachers, artists, engineers — people who made the decision to come to Ashland and Mountain Meadows because they could maintain their lifestyle.
If you're a gardener, you will have plenty of room in the community garden. If you're a theater buff, you will revel in each magical season at Ashland's Oregon Shakespeare Festival. You will also delight in the many high-quality local productions available year-round. Stay fit and healthy in the fitness/wellness center. Join a committee or serve on a board of directors for one of the associations (Mountain Meadows is owned, operated and governed by the resident owners – no corporation!).
We do not have assisted living in Mountain Meadows. We are a community, however, where freedom of choice is available to the residents. If additional care is needed, or housekeeper or even a pet walker, residents can arrange for care from some amazing providers of service who operate outside of the community but come to Mountain Meadows. These additional needs are arranged and handled by the resident, but they oversee scheduling – they are in control. 
Mountain Meadows is a special place! The homes and condominiums are thoughtfully designed to help as we age. Inside you find ease of living. You find a state of the art fitness center and large clubhouse. Outside you find beautiful properties that show true pride of ownership. The 4-acre park is manicured and landscaping throughout the community adds to the paradise feel of Mountain Meadows. The residents of this amazing community love everything about it. They made the choice to come to Mountain Meadows and they are happy they did. Life is best when it is filled with choices…