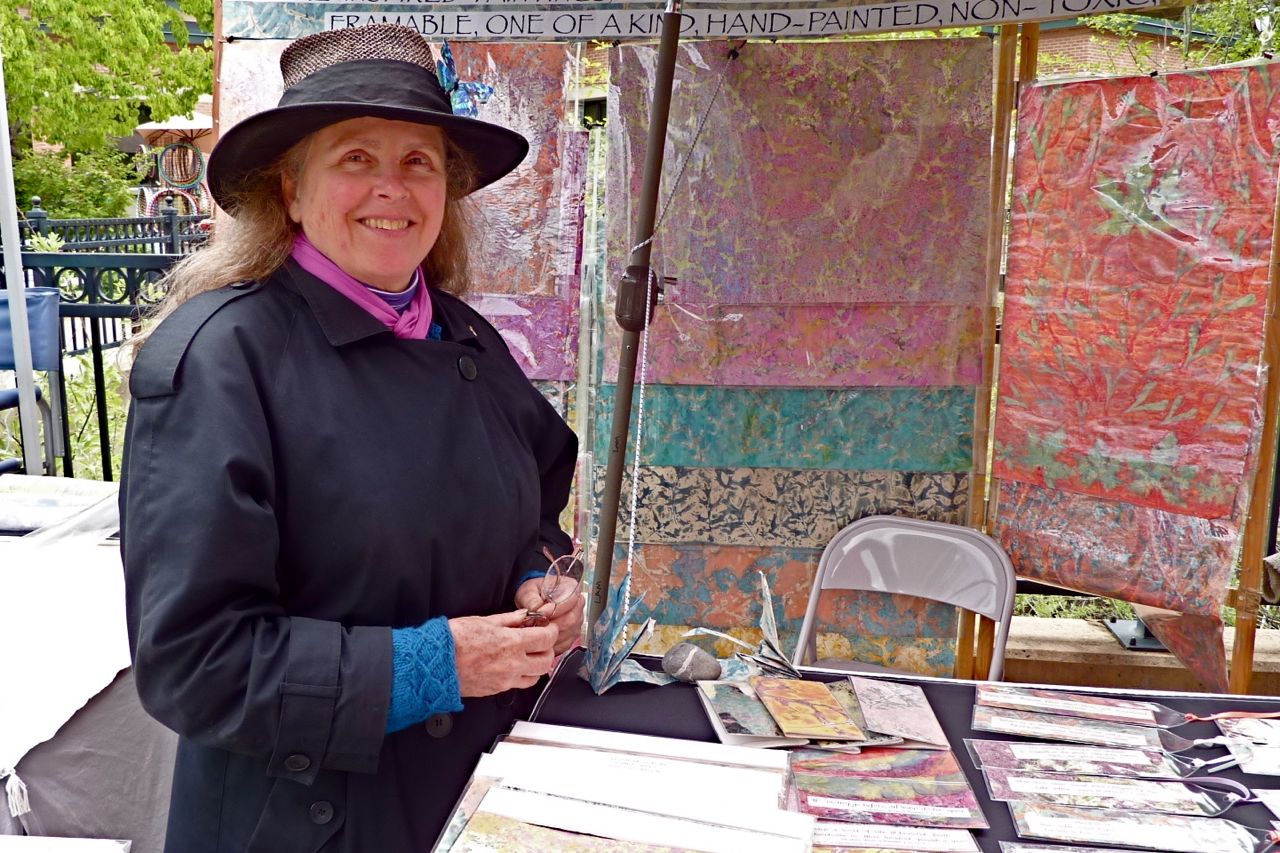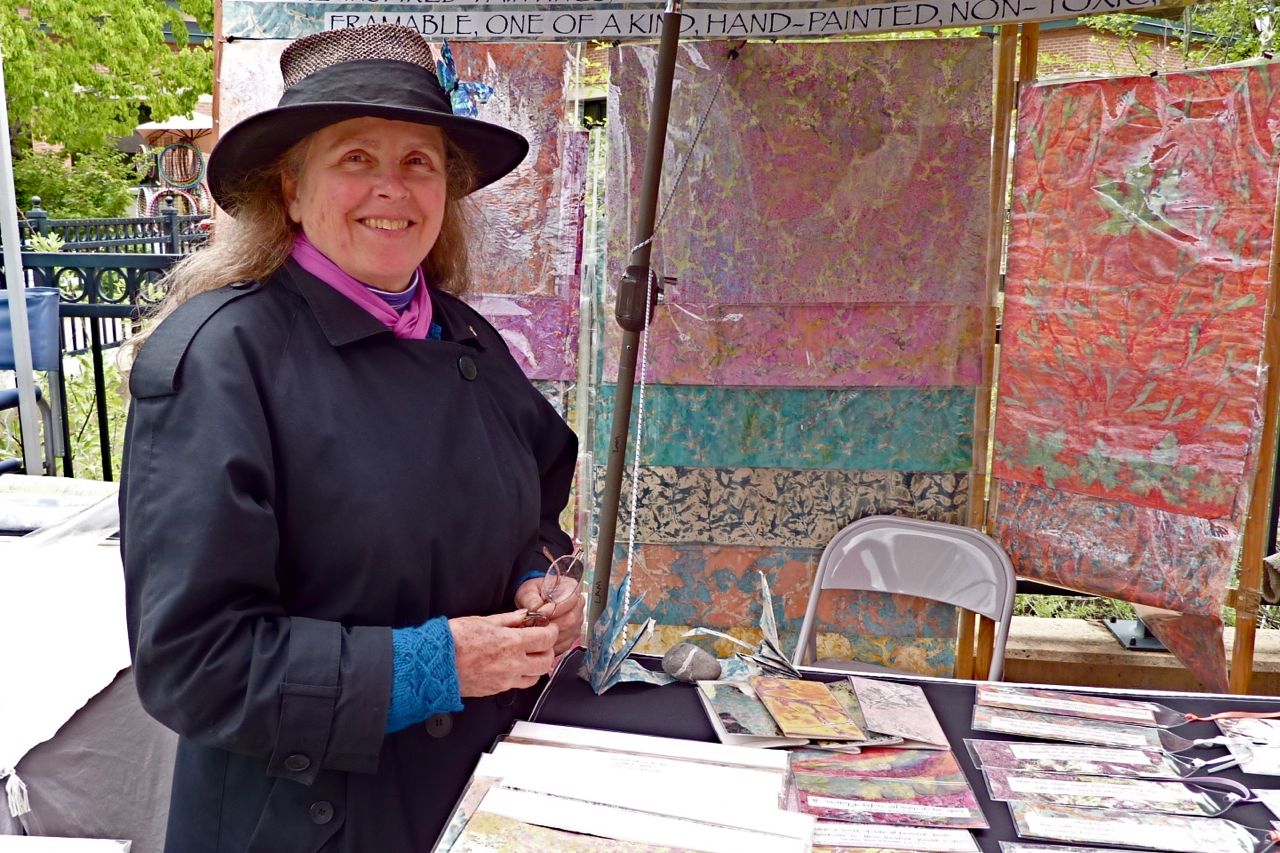 I had the honor of sitting down and having a friendly chat with a new artist in Ashland, Mabrie Ormes. Mabrie shows the artisan side of herself at the Lithia Artisans Market on the weekends. Her fine art pieces are hanging in the Art & Soul Gallery in downtown Ashland. Mabrie has a compelling story. She will be at the MidSummer's Dream Art & Music Festival on June 11 and 12 at the Briscoe ArtWing grounds, 265 North Main just north of downtown Ashland.
Marcus… How long have you been an artist?
Mabrie… I was in the Peace Corps from '69 'til 71, in West Africa. When I got home I took up photography, but I had been doing art long before that. I've been making things forever. In high-school I was making jewelry, copper-enamel work. I'm wearing a pair right now. I used to do mobiles too. I've been selling my creations for a long time.
Marcus… How did your time in the Peace Corps influence you?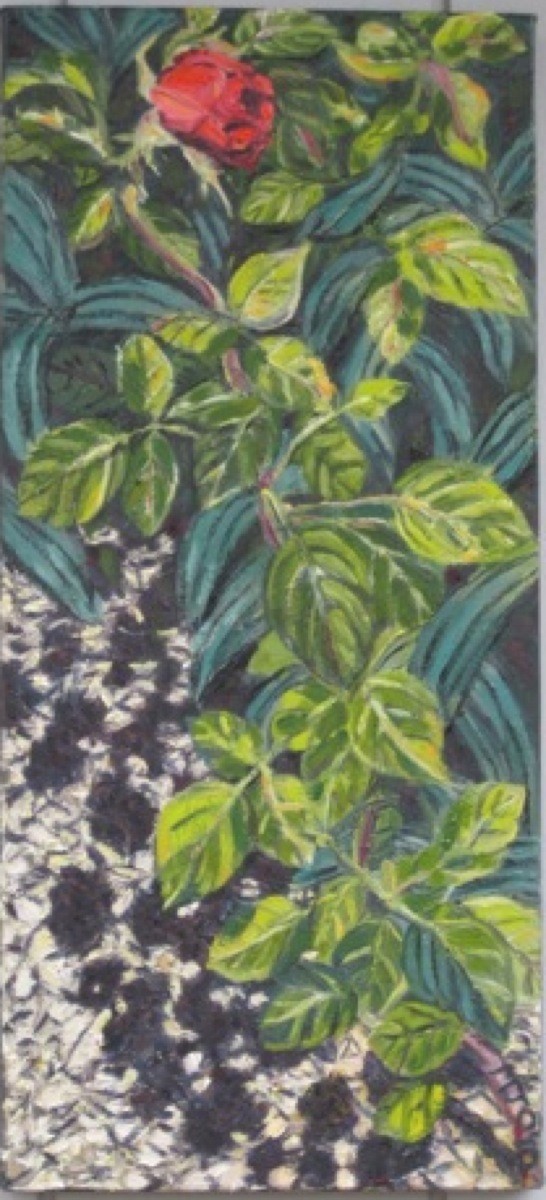 Mabrie… The main thing I learned in Africa was how much I didn't need. I lived in a village with 350 people in it who literally lived off of what they could grow and make with their own hands. I returned home at age 21, very impressionable, and I had a new found appreciation of the simple life. Thankfully, because being a full time artist is not a well paid position, it just isn't (…laughter…).  I learned the difference between what I need and what I want. I learned to live well without so much stuff.
Marcus… When did you come to Ashland?
Mabrie… I came here about a year ago to help my mom. I came kicking and screaming from Chico, California. I was leaving a place I had been for 20 years. I was leaving lots of friends and clients. I was fairly well supported in Chico, as a fine artist.
Marcus… How has the artisans market been working out for you?
Mabrie… I have always been a fine artist. When someone came into my studio they expected to see water colors and oils and sketches. The hand-painted papers and cards that I show a lot at the market have been handy to have in this economic uncertain time. It is a hard time to sell bigger art pieces.
The artisans market is the perfect opportunity to meet customers and new people every weekend.
Marcus… What is the inspiration for the jazz pieces I see hanging here in the gallery?
Mabrie… I was in college when I went to my first memorable jazz concert. It was Charles Lloyd while he was touring "Forest Flower." If you are a jazz guy you know all about that. It was wonderful. You never know where jazz is going next, such improvisation. I fell in love right there.
With the jazz pieces I do drawings when I go to a jazz concert, while I am there in person. All the players you see in the images here in the gallery are mostly jazz musicians from Chico.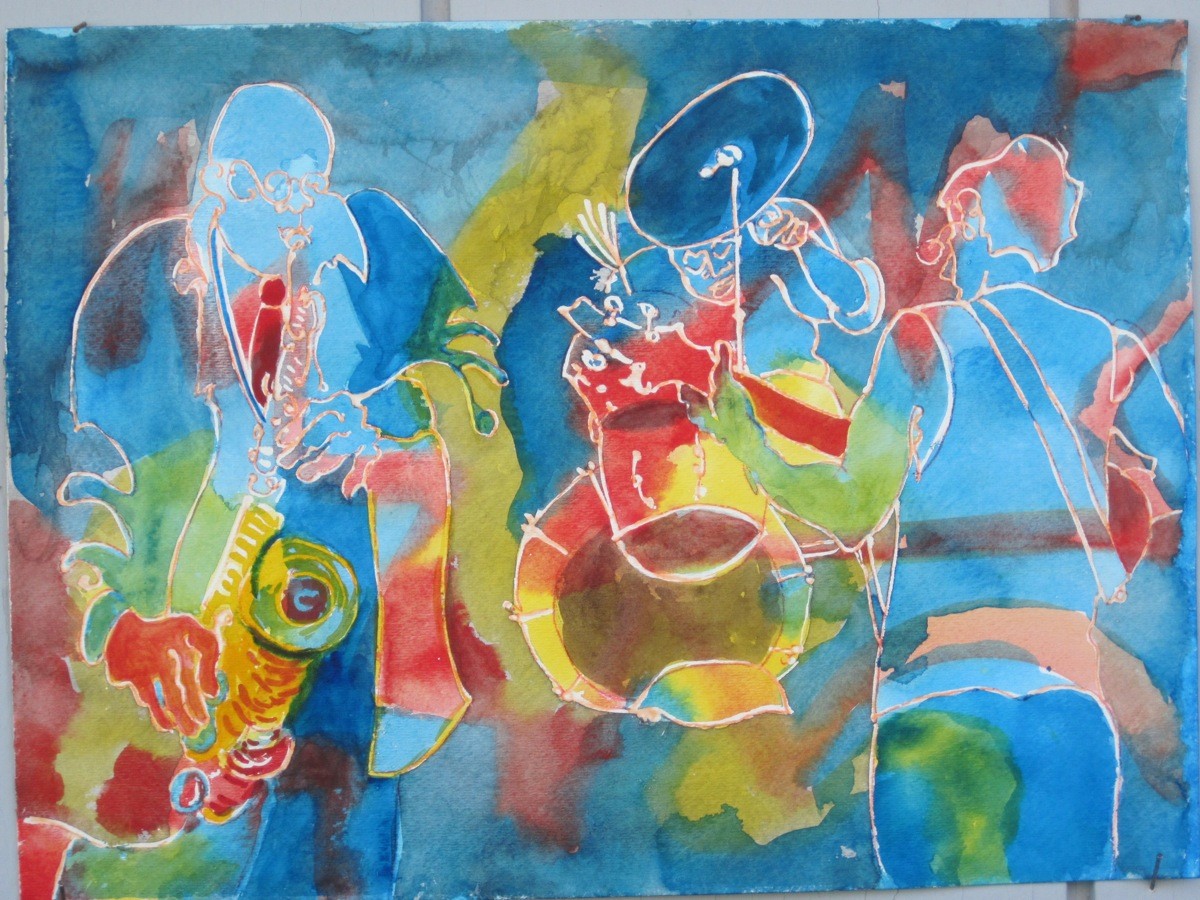 Marcus… Have you done any jazz sketches here in Ashland or the valley?
Mabrie… Yes, some. It takes me awhile to get to know the musicians. Like Joe Cohoon, I've probably seen him the most. I haven't gotten a good drawing of him yet. It takes time. As I get more established here, those pieces will come.
Marcus… When did you start doing the papers?
Mabrie… I developed that in Chico about 3 years ago.
Marcus… I love the nudes you paint on your papers. How has living here in Ashland influenced that part of your artistic sense?
Mabrie… My drawings have evolved a lot while I have been here in Ashland. One thing unique to Ashland compared to Chico is the figure drawing opportunities. Artists her in Ashland have nude figures to work from and I love to draw the human form. I was using just ordinary drawing paper; then one day I thought, "why not use one of my original papers." I took a paper into the drawing session and I was just flabberjasted by the result. I couldn't totally visualize it until I actually made it, but once I did it the result was an "oh my God" moment. I haven't stopped since. All I want to do is paint and draw nudes on my hand-colored papers.
Marcus… Where did you learn your art?
Mabrie… I was self taught in photography. Once I decided I wanted to explore color in photography I went to school to study print making — etching, silk-screening, lithography, all photo generated imagery. During that year I had to learn to draw from a model. I had never done that before and I took to it like a duck to water. By the end of that year I was much less in love with the camera and far more in love with the drawing instrument. I then started to make lithographs and etching which were drawn rather than photographed. I studied drawing and painting in Oklahoma for three semesters. I found a teacher who really helped me with that. In '86 I went to Boulder Colorado and got my masters degree in painting and drawing. So, that is my training.
Marcus… What is your main inspiration?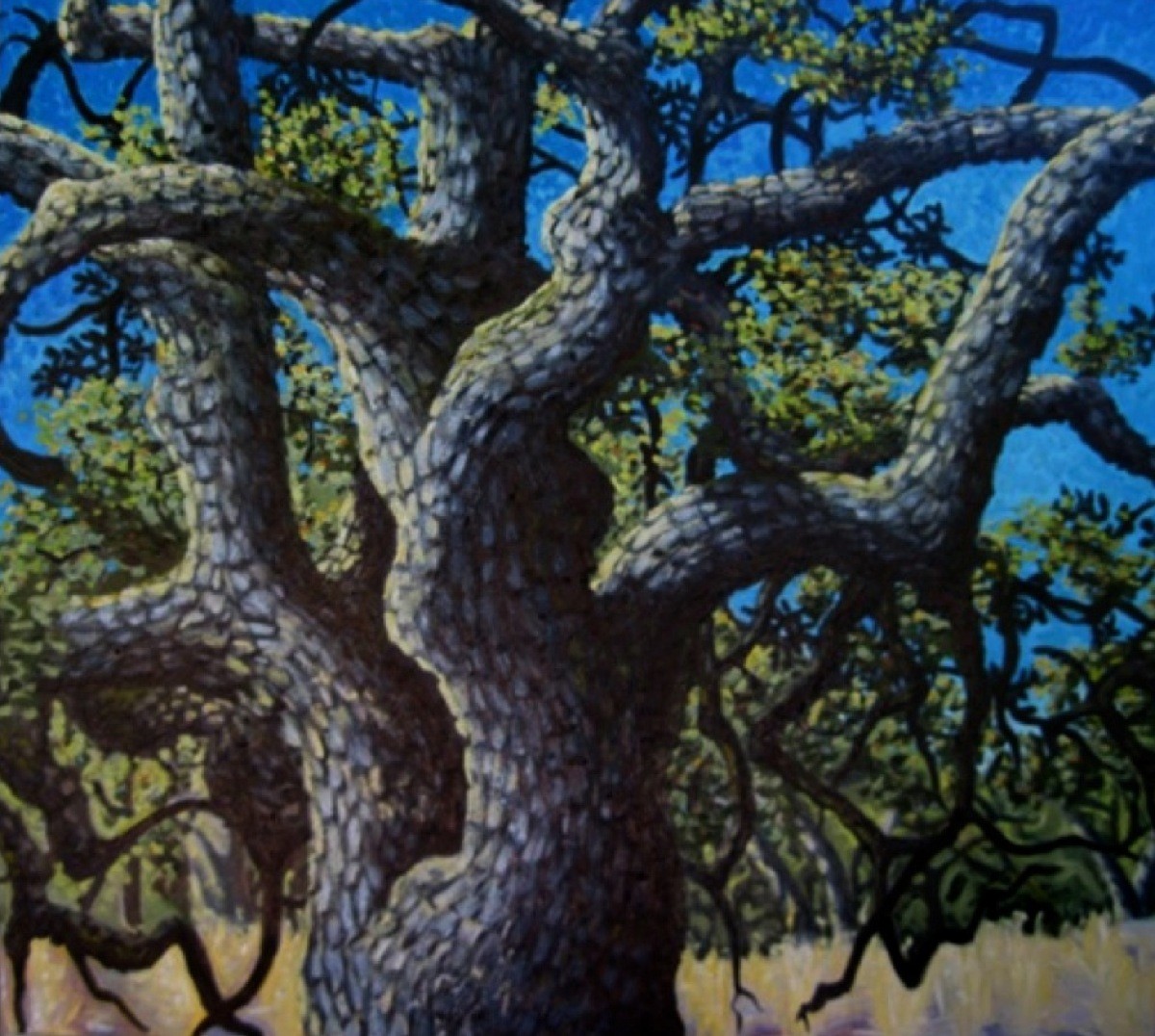 Mabrie… We've talked about the jazz, but I'm also inspired by nature. I do a series I call the garden series — impressionist, expressionist gardens. In November I will be the featured artist here at Art & Soul and I'm hoping to have many of my garden pieces. They are almost abstract.
I got a job house sitting a place with a beautiful garden. I just put an easel out there and it was another evolution. In still life you can get real detailed. With garden art you can't get every leaf on a bush, you've got to abstract it.  It's beyond illustration, it's brush strokes. You've got to paint. That is what happened to me in the garden, I really started painting. I started to get the concept of abstraction. Then, I thought, "I wonder if I could mix the drawings of the jazz players with the abstract I was learning from the garden." A whole new world opened up. The rhythms of the garden, the rhythms of the jazz… One thing led to another and I ended up with what you see today.
Marcus… You've been involved in the Briscoe ArtWing project to help teach art to kids at the middle school. What was that like?
Mabrie… They were doing print making and I've done plenty of that. I'm also confident about art and can project that to the students. One kid, I remember, was very hesitant about trying this. I said, "hey, what the heck, why don't you try that, and this too." Giving him plenty of options, lots of freedom to explore. In the end he looked at me and said, "this looks just like the stuff my mom likes in the mall. I think she is really gonna like this." I said, "glory hallelujah."
Marcus… What specifically was the project?
Mabrie… It was taking imagery from an African source and using them in a painting. They combined painting and printing. My job was to help them learn linoleum print making. The idea was to create something in your piece of art that related to paradigm shift. Most students could barely relate to that concept. But it was good, it got them thinking. They didn't want to talk about global warming or make some sort of political trip out of it. And to make it more complex, they were doing this in a Spanish class so they had to take their word, their concept and translate it from English to Spanish, then render that idea into art. One of the things they could do was use words in their art piece. Some turned these into Mothers-Day gifts. The young man I was referring to was doing just that.
Marcus… That is a pretty heavy concept for middle-school kids to wrap their heads around.
Mabrie… No kidding, but it worked great. It was a lot of fun. middle school kids are thinkers. Once kids get to high school they are so worried about their coolness that they shut down. I love working with this age group, they are still so open to many things.
Marcus… Is there a person who was influential in making you the artist you are?
Mabrie… My father was a bohemian. He really admired artists and writers especially. I think that is the root of what influenced me. I grew up in Washington DC. My mother would take us to the National Museum of Art. I had favorite paintings in that museum when I was six years old. We also went to the Smithsonian.
Another influence in my life was my first love. He was a potter, and an artist through and through. We were together two years; then, he up and left and I never heard from him again for 40 years. It was a sad story. He was obsessed with art. I was 17 when I met him. He was 19. I know that he influenced me and I really admired him. He was the only one of my boyfriends who knew my dad. My dad died tragically in his mid-40's. I was 23.
Marcus… Did you work through that loss with your art?
Marbrie… I did, but much later on. He was part of my first installation exhibit in graduate school — 140 feet of drawing installation.
Marcus… Sometimes loss can be an impetus for creativity. Maybe a bit darker, but powerful. How did that effect you?
Mabrie… It is interesting. My drawing and my photography were very dark, but my garden series, and the jazz pieces are very light, playful, full of color. Maybe it was hope, or faith, or something, but now I just love color. As an artist I sort of need to stay in the light. If I delve to deep into my dark side, I can't get up in the morning. You know what I mean.
Marcus… Peaks and valleys of life. We appreciate the peaks more because we have been down in the valley.
Mabrie… It was thirteen years till I dreamed of my dads funeral. It took me that long to accept that he was dead. Those are journeys. They enrich us and help give us compassion for our fellow man. We all have our struggles, our stories to tell.
Marcus… It's important to listen to others, have empathy for them. Allow the stories to be told. We have lost a bit of that in our culture. We need to get back to that. It connects us all. We see ourselves in the other.
Mabrie… One of the ways I learned a lot about people was when I took on a portrait project back in the mid '90's. I undertook to do a wall of 200 portraits, oil paintings. Each one was a three hour sit. During that time those people would tell me their stories. Most of them I didn't know when they walked in the door. That project totally opened me up. After that I was able to study acting, get on stage, be in a production. Things I couldn't do before. I'm starting to sing jazz. It's because I really started to know people.
Marcus… We start to understand our interconnectedness like that. We feel less alone, and less inhibited. We let go of our fears.
Marcus… Why should people buy your art?
Mabrie… (long pause, laughing together…) Well, supporting a living artist is a valuable thing to do. I think my paintings give back all the time. You see different things in them in different light, the oil paintings especially.
Marcus… What sets you apart from other artists?
Mabrie… I made up my technique. It was in response to seeing a leaf stain on the sidewalk after a rain storm. I saw that and thought, "wow, I want to do that in paint, the texture, the veining, the crazy colors." Everything I do is unique, but that is true for any artist I suppose. That is the wonder of fine art.
Marcus… What is your favorite time of the year?
Mabrie… I am loving this Spring. It is so dynamic, so green. This has been such a beautiful time. I love the big clouds, big storms. I like times of change.
Marcus… That goes hand in hand with paradigm shift, times of change. You wanted to talk about a project you are working on called…
Mabrie… "Shifting Patterns." It is a collaboration between artists and scientists and sponsored by the Jefferson Nature Center. It is coming from the predictions science is making about the Rogue Valley specifically. They say it will be 15 degrees warmer here in 80 years. How do we get people to make the shifts that they need to make to help ameliorate the situation or adapt to the coming change. The visual artists are working with the scientists because we can help people understand this information better through art. Maybe a scientific report is a bit over some peoples heads. The visual artist can work with this information and, as cultural workers, help to change the mindset — helping people transition into this uncertain and very dynamic future.
Marcus… Agents of change. Using artists to help change the vision of the future.
Mabrie… There are ways to ameliorate the coming changes. How do we prepare for the creek rising 20 feet? How do we ready ourselves for the inevitable changes that are going to take place. If we see it coming, we can lessen the impact because we are prepared for it, maybe 15 years ahead of the event. The turbulence, the dance with the unknown. It is an improvisation, like jazz.
Upcoming Exhibitions
–MidSummer's Dream Art & Music Festival at Briscoe ArtWing Grounds, June 11 & 12.
http://midsummersdreamfestival.com
www.midsummerfest.com
www.facebook.com/midsummersdreamfestival
—Art & Soul Gallery in downtown Ashland in November.
—Lithia Artisans Market, along the creek, most weekends throughout the season.
—James Snidle Fine Arts, Chico, California. Solo opening in August and September.