Articles
Maria DiMagio – The Spirit of Cooperation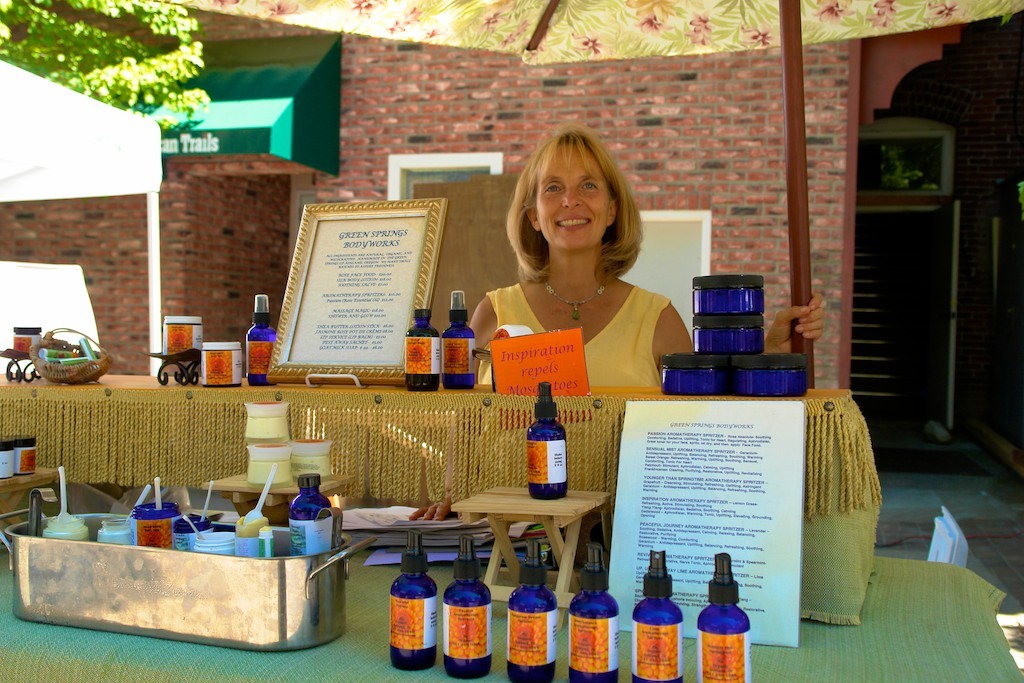 Maria DiMagio is the manager of the Lithia Artisans Market and the owner of Greensprings Body Works — an organic body-care product company established here in Ashland, Oregon. As if that doesn't keep her busy enough, she and her partner, Roy, are jointly working on a new business called "Higher Power Raw Foods" and will be selling their delicious raw snack foods, trail mixes, and yummy desserts at the Rogue Valley Growers and Crafters Market. I recently had the opportunity to share tea with Maria and we talked about the many hats she wears.
What is your main inspiration when making your craft?
Maria… Mother nature is my guide. Living in the Greensprings, nature is all around me — inspiration is everywhere.
How did you take that inspiration and turn it into a product line?
Maria… It was something that came second nature for me because I have been around organic foods, and natural body-care products for a long time. I am naturally curious and I creatively experiment a lot — learning by trial and error.
I remember shopping for the perfect face cream. I couldn't find what I was envisioning. Either the product had the wrong ingredients, or it didn't feel good on my skin. I decided to experiment with my own recipes and seek out good quality raw ingredients. This eventually led to the development of one of my best selling products — a face cream I call "Face Food".  One of the stores that carries my line told me they thought this product should sell for over $50 dollars — I sell it for $20, so there you go. I have just a few products. I try to keep it simple and concentrate on consistently making a quality product.
How long have you been here in Ashland?
Maria… I moved here from Clearwater, Florida 11 years ago, where I managed a 15,000 square foot natural foods store with 100 employees. I have lived and breathed the holistic lifestyle for a long time.
You've managed the Market for six years, what is it like to manage the artists on a day to day basis?
Maria… It is a great group of people — my extended family. I receive a lot of support from this group of artisans. I really couldn't do it without them — very caring, loving, nurturing people. I feel very privileged to be part of this group of people.
What has it been like working with the City of Ashland, Parks and Recreation, and local businesses?
Maria… It has been an interesting journey and quite the learning curve as I have been dipping my toes into a little bit of politics. Parks and Recreation and the City of Ashland have shown tremendous support for the market by making us feel welcome and secure in our space on the Calle. The restaurants on the plaza and most merchants are very supportive of the market. Situations occasionally arise that create stress between the various businesses who enjoy the common use of Calle Guanajuato; however, when we work together we work through the problem to find solutions — everyone benefits from cooperation.
You are a raw foodist. What does that mean and why have you chosen that lifestyle?
Maria… I have immersed myself in the holistic lifestyle for about 36 years. I starting as a vegetarian, then became a vegan — many of these changes happened for health reasons. Within the last four years I've gotten into living foods — foods that are not heated above 112 degrees so they keep their enzymes intact. Enzymes help us with digestion and cellular health. The idea is to eat foods that are as fresh as possible — right off the vine. Fresh is best!
You and your partner, Roy, have a new product line that has been accepted to the Rogue Valley Growers and Crafters Market? Tell us about that…
Maria… The business is called "Higher Power Raw Foods' ." We have created some new recipes like a nori (sea-weed) cracker, a tomato cracker, and yummy desserts like a chocolate cream pie and things like that. We are excited to bring these super healthy products to the market.
What do you most appreciate about the Lithia Artisans Market?
Maria… I like the interaction with the customers and with the market vendors — the camaraderie and the creative energy. It keeps me pumped. Many of the single women in the market are so independent, focused, determined, and creative — it's made a big impact me. It takes blood, sweat, and tears to be a successful artisan. It takes passion!
What do you like to do with your free time?
Maria… A walk in the park, camping, swimming, biking, yoga…playing games, the list is endless. I would never be bored. I guess gardening would have to be at the top of the list.
What is your favorite time of the year?
Maria… The summer — I love hot weather. The community comes to life in the summer.
Where do you like to shop?
Maria… Look! I am wearing an opal heart pendant carved by you (Marcus Scott), Heidi Carlson's  hemp clothes, and Lynn Powell's earrings — all artisans at the Market. I love to shop at the Market, the Growers Market, and the Co-op.
One of the things I have learned is the need to minimalize our impact and support local. I can't just go into chain stores that support sweat-shops in other countries. My purchases need to match my consciousness.
People are talking about the need for a fundamental shift in thinking to save the planet — a paradigm shift. How do we artisans affect the paradigm shift?
Maria… I believe that begins with each one of us. When I look at the artisans and what they make, the energy they put into their art is sealed in that piece. Keeping the heart in what we do is so important. Holding each others hands instead of putting up our fists. Taking time to listen, because we all have a story. We all have our stuff to work through, and it is important to be there to lift each other up, in good or bad times.
To learn more about the Lithia Artisans Market go to www.lithiaartisansmarket.com.