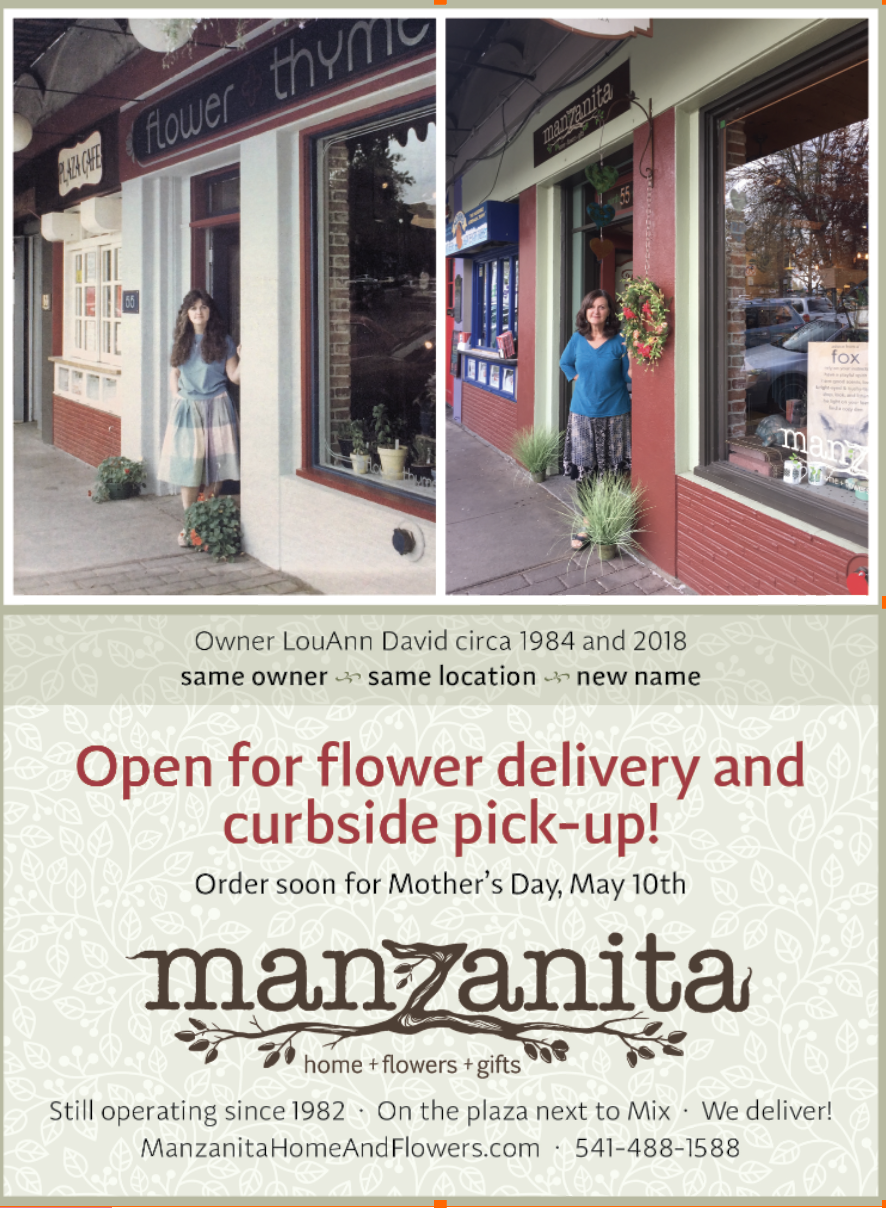 Manzanita
Open for Delivery and Curbside Pickup
How ironic is it that my February interview in the LocalsGuide was focused on the advantages and pleasures of shopping in a brick and mortar store compared to the online shopping experience? I talked about the ability to engage all five senses while shopping at Manzanita… experiencing the fragrance, the visual stimulation, the ability to touch and feel the merchandise, the sound of the garden chimes, to taste a sample of chocolate truffles. You can't do that online! Little did I know that 6 weeks later, that choice would be taken away by a virus.
My shop (originally named FlowerTyme) opened during a recession in the fall of 1982. We started out slowly and carefully. At the beginning of 1997, my shop cleaned up and reopened after a major flood ravaged downtown Ashland. In 2001, 9/11 sent a chill through our country and dampened our spirits, but FlowerTyme made it through. 2008 brought a banking calamity that caused a sudden slowdown in my shop's sales which was a huge challenge to navigate. But we survived. And now, this ordered closure of all shops and restaurants to walk-in customers and adding in the closure of OSF until September, I think, will prove to be the greatest challenge of all.
Being a flower shop has been my saving grace through this challenge. People have called from all across the country to have Manzanita deliver flowers to loved ones on their birthday, to cheer up someone who is feeling lonely, or to celebrate an anniversary. Flowers are a beautiful way to connect with someone, and I see the joy it brings when I make the delivery… no contact, of course!
I so look forward to the day when I can have my talented staff working by my side again, and when I can chat in-person with my beloved customers who have supported me through the past 37 and a half years of business. I have a shop full of carefully-curated merchandise ready for the day we can have shoppers come in. But in the meantime, Manzanita Home and Flowers is open and taking orders for flower delivery or for curbside pick-up. With your support, my shop will make it to 40 years and beyond! Thanks for the love you've given my shop since 1982!