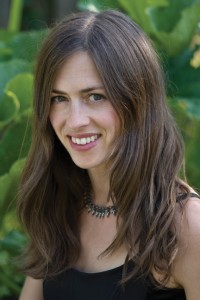 Sequoia Pettengell, owner of Sequoia Photography, specializes in weddings and surrealistic portraits. She focuses on subjects in a setting that illuminates their character and helps portray the essence of their personality.  The effect is an image that creates a certain altered reality, like a whimsical scene from a fairy tale. Sequoia thanks for taking the time to speak with us today.
To begin with can you please tell us how you first discovered photography?
Sure, while in high school, I took a photography class and learned how to develop black and white prints, mostly of my friends. Then I found my mom's  color negatives from her Indonesian travels in the '70's and printed them in black and white. Later I shot color slide film focusing on travel, nature, landscape and re-creation with aspirations of being a National Geographic photographer.
What have been some of your favorite photographic adventures you have gone on?
After my boyfriend-now-husband Ray and I graduated with photojournalism degrees in 2000 we gave ourselves the assignment of travel photography. For 5 months we traveled to Nepal and India, reveling in the openness of the people and extremes of the landscape. Both Nepal and India are so different than our country, I felt like everywhere I turned there was this intense beauty that I wanted to capture, even in the dirtiest cities with beggars swarming us I felt like the people were so real and raw. It's hard to explain, but even in the remote mountain villages of Nepal the people seemed happy and at peace with their simple life styles. Although we did not travel to Tibet, I really connected with the Tibetan refugees living in Nepal and India. One day I visited The Buddhists temple where the Buddha attained enlightenment. I was sitting beneath a Bohdi tree (an offspring of the original tree planted there 2000 years ago) and a Tibetan monk was meditating beneath the tree. He offered me an orange slice and we began a friendship that has lasted to this day, we write letters to each other still.
You are also a Mother. Tell us about how this has shaped your photographic work.
It is a natural transition to slow down when you are a mother of a baby and I can't think of a more sweet and innocent subject than a new-born.
When my daughter was born in 2004, I began to focus on babies and children which is a part of my work today. It's a delightful challenge to capture an image of a child when he or she is not posing.
Do you have some favorite things you like photograph?
My photos have been of people outdoors in nature or in an urban setting. In either case the setting and the subject are equally important in creating the mood of the photo. Unlike a traditional environmental portrait of a person in their home or work place, I look for an outdoor setting that is inspiring. I've combined my love of nature or human made environments with portraits of people. I like the look of the subject who's unaware of the camera, as well as a whimsical/fantasy look and feel that is especially fun to capture with kids because they live in their imaginations.
Over the years how has your style evolved?
Transitioning from the film to digital photography has made it possible to shoot unlimited numbers of photos. I have shifted from photographing exclusively nature, wild life and outdoor recreation to combining portraits with the environment. I use a studio, but if the weather allows I prefer to shoot outdoors using natural light.
What were your first impressions when you started your photography business?
My first wedding I was paid to photograph was in 2002. I remember working hard and thinking, "wow, I can get paid for my photography! Now I'm in business!"  It was a gorgeous wedding of friends and so much fun. I loved that experience so much I committed myself to shooting weddings. I am a romantic and never get tired of capturing those magical moments.
As a professional, what's your advice for young people just starting out in photography?
There's nothing better than spending as much time as possible behind the camera photographing what you are most passionate about. Skills come with experience and that shines through the images.
What's the cost of a portrait session?
I charge $150 for an hour shoot of one to four people. Included in the price are five 4X6 prints of your choice. With online viewing you have the option to order more at reprint costs or purchase digital copies.
You have lived in Ashland before. Why did you move back here?
That's easy. I have always loved Ashland. I lived here for a year with my dad when I was 5, then again for three years with Ray while we attended Southern Oregon University.  I moved back to Ashland last summer from Mt. Shasta where I've lived on and off since age 11 so our daughter could start Kindergarten. Mt. Shasta is a beautiful place, but the town is very small. There are more business and cultural opportunities in Ashland. Although I love to ski, I was eager to move away from the annual 5 feet of snow that accumulated outside our house because I also love gardening. I haven't had to give up skiing and I'm already pleased with the longer gardening season in Ashland this summer.
Any favorite quotes you would like to share which relate to your work?
I have two. "Do all I can with what I have, in the time I have from where I am." And " f-8 and be there." Which refers to your depth of field on your camera. To capture any great sunset you have to already be set up while it is happening, not driving down the road.
What has been your experience in photographing children?
Children are so expressive once you get past the pasted on "cheese" smile. It is challenging for sure, but so rewarding to capture that expressive moment especially since children rarely sit still for any length of time.
Your restaurant or place to shop in Ashland?
I used to work at Lela's Café on A Street. I loved eating there even after I stopped working there which is a good sign of a good restaurant. It has been sold and is now called Playwrite, I look forward to eating there, hopefully soon.
What projects are you currently working on?
I 'm creating photographic art work for a show next spring, a collection of scenes that will enhance your home or office printed on canvas and then wrapped over a wooden frame like an oil painting. My goal is to have the viewer ask, "Is that a painting or a photo?" That is where photography as the art form comes in. If the images move you in some way, then I have expressed my artistic self and that's where the magic is shared. The show is planned for Pangea next May 2012.
To receive a 20% discount on a portrait session, mention this article and book by November 15, 2011.
For more information, to book a photo session or for a wedding consultation call Sequoia at (530) 261-1755 or email s@sequoiaphotography.com. To see more work visit www.sequoiaphotography.com