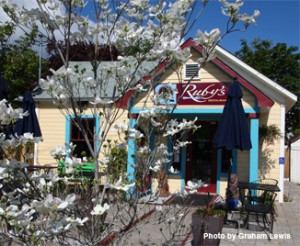 When I hear "Let's eat at Ruby's" I think of a restaurant in my hometown that serves thick milkshakes by 1950's-styled servers on the end of the Seal Beach pier. But the Ashland Ruby's is an entirely different culinary experience than the So. Cal. Ruby's I grew up eating.
I have to say I much prefer the Ruby's in Ashland.
For starters, the menu is ripe with healthful and tasty food choices, organic coffee and tea, fruit smoothies and organic sweet treats.
The location of Ruby's in Ashland is almost as ideal as the Seal Beach Pier; its on Pioneer Street between Lithia Way and B Street , across from the 4 hour parking lot , only a block from the Oregon Shakespeare Festival bricks.
The interior of Ruby's is very cozy with only 6 tables and brightly painted walls. Ruby's front yard has 8 umbrella-covered tables facing Pioneer Street. Not only is it more festive to eat outside but its also great for people watching.
I visited Ruby's twice in two weeks. The first visit was on a Thurs morning at 10am. There were a few open tables outside and two open tables inside. At Ruby's, orders are placed at the counter and delivered to your table. There were two people in line ahead of me. I was so hungry that I ordered the first item on the menu: a breakfast burrito, spicy. "Spicy" means that jalapenos are added to the burrito. If you order the burrito "mild" then no jalapenos for you.  Ruby's has a myriad offering of breakfast burritos which can be ordered all day. The burrito I ordered was fairly standard: eggs, tomatoes, cheese, picadillo salsa, in addition to Ruby's "swine" and the spicy jalapenos. The Ruby's swine is a combination of three parts of the pig all grilled together to create the perfect amount of fat, spice and taste. The burrito can also be ordered vegetarian without the swine, it $8 either way you order it.
I ordered the burrito to go because I had only half an hour to spare for a meal that morning. The burrito arrived to my outside table in a timely fashion and my plan was to eat half of it there and take the rest to go. The first bite proved to be above and beyond my expectations. The eggs were very fresh and fluffy, the tortilla (whole wheat flour maybe?) was soft and tasty, the veggies were organic and juicy but that swine just sent me to pork fat heaven. The three types of pork: chorizo sausage, ham and bacon make the swine a perfect blend of spiciness (chorizo), crispiness (bacon) and saltiness (ham). If you are a meat eater you must try the swine. Never in my wildest dreams of breakfast burritos would I ever have thought one could be this tasty, fresh and perfectly balanced.
Needless to say, I couldn't wrap my second half to take with me. I couldn't imagine waiting to finish that perfect burrito, so I scarfed the whole thing down in 20 minutes and washed it down with an organic iced coffee.
As I waited for my burrito to arrive, I saw many "RGB Burritos" delivered to tables that morning; it seemed to be the menu item of choice. I wondered if it was code for something, like when you go to In-N-Out and order your burger "animal style". But, its an actual menu item. If I thought I'd have time to really dine that morning I would have ordered the Ruby's Benedict served on a homemade english muffin "breakfast plate". The "breakfast plates" are for dine-in only, not to go. So, I decided I'd have to make a second trip to Ruby's to dine-in and order the Ruby's Benedict with spinach and tomatoes (instead of the traditional ham, which is also offered).
So, I planned my next trip to Ruby's on a Saturday at 10:30am. Saturday was super busy at Ruby's. After scouting out a table (there were two available inside and only one outside) I got in line with 6 people ahead of me. It was 10:40am. I already knew what I wanted to order, the Benedict. And I was starving. As the few people in line ahead of me started to place their orders I spied two groups of four outside and a few two tops who had yet to receive their food. It was now ten minutes to 11am and there were still four people in line ahead of me. Breakfast burritos and breakfast plates appeared in the window from the kitchen to the front counter and the cashier kept excusing herself to deliver the breakfasts soon after they appeared in the window. This was a noble effort on her part as almost all 14 tables were seated and she was the lone cashier and food runner. As I moved ahead in line I could see both orders for the four tops come up. The cashier excused herself twice from the front counter to deliver food, once just before the person in front of me ordered and the second time before I ordered. I was just about to order when two smoothies came up in the window and she excused herself again to deliver them. This was understandable because it was a very warm day and those smoothies needed to be consumed immediately. She said to me "I'm sorry but we are packed and I'm the only one working the front." I then sorrowfully asked "Am I too late for the breakfast plate now that its 11am?" She said, "I will see if the chef can make you a plate, what would you like?" I happily exclaimed "Ruby's Benedict with spinach and tomato" and the chef nodded his head sideways and told me that he had run out of home made english muffins. I made a mental note to arrive at Ruby's to order the benedict much earlier, especially if its on a Saturday. I pondered ordering the falafel salad since the Ruby's lunch menu starts at 11am and it was my first choice for lunch items. But, I was really in the mood for breakfast. I settled on the RGB burrito to see what all of the fuss was about. The person in line ahead of me ordered two RGBs to go, both cut in half for sharing. Smart move, as the burritos are really healthy portions.
I waited quite a while this time for my burrito. The kitchen was catching up from being slammed with orders from 10:30am to 11am. The cashier swiftly delivered it to my table, it was literally hot off the grill. I ordered my RGB with swine and this time ordered it mild. I should have ordered it spicy, the jalapenos were greatly missed. I can see why the RGB is so popular, its very healthful and fits a vegetarian diet if you order it sans swine. The RGB is stuffed with black beans and dirty rice so it really packs a protein punch. The cheese nicely balances the beans and rice and the perfectly ripe avocado added a creamy texture and good flavor. The swine was the standout in the regular burrito I ordered last time,  but in the RGB it doesn't get to be the star. It melds nicely with the other flavors but I think the RGB is better served vegetarian because the rice and beans textures are plenty "meaty" in themselves. I pondered a smoothie that morning but at $6 each it seemed I would want to order one as a meal instead of a beverage. So, I just ordered coffee. I was surprised to learn that the coffee brand is Great Northern based out of Jackson Hole, WY. Now why would a local restaurant want to get organic coffee from WY when there are so many good organic coffees in Oregon; as well as Noble Coffee in Ashland roasting organically and delivering locally? But, the coffee is very good. Maybe a relative of the owner works for them?
I will be back to Ruby's over and over and over again. The prices are good ($8-$9.50) for the outstanding quality and good sized portions of food. The menu choices are plentiful but not overwhelming, and the atmosphere is very cozy and neighborhood-friendly. Most importantly, everything tasted really fresh.
I would suggest to the owners of Ruby's to erect a tent with side panels (from Noel Lesley Event Services of Ashland) over the outside tables during the winter so that they don't lose more than half their seating. Locals will still want to patronize Ruby's during the winter and its more fun to eat there than to take it home.
I would recommend calling in your order ahead of time if you are short on time to dine. Ruby's is open seven days a week from 7am to 3pm.