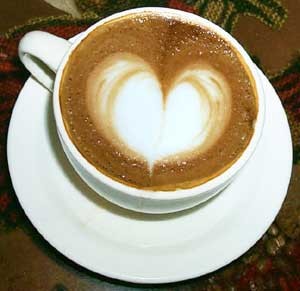 MMMM….Gelato. What could be better on a warm summer day than a cool creamy Gelato? Not familiar with Gelato? Neither was I until I stepped in to Case Coffee and received a short education in the creamy sweet treat. I had many questions and Kati Case was most helpful in answering them all.
First, my sons wanted to taste every last flavor in the case, and Kati happily obliged, even encouraged it. When they couldn't decide she told them they could get two flavors in the medium size cup and three in the large size cup. Once they stopped drooling, each picked out the large size cup and equal amounts of two different flavors: Tahitian Honey Vanilla, Chocolate Cookie Dough, Triple Chocolate and more Chocolate Cookie Dough. My choice was easy; the Coffee Toffee Chocolate. Other flavors available were Mixed Berry, Lemon Sorbet, Spumoni and Carrot Cake (which also contained flavors of cream cheese frosting–wow). We were all happy with our choices and the atmosphere at Case Coffee. We asked for water to drink and my sons were impressed with the presentation: water in wine goblets with round ice cubes. One son claimed it to be "fancy water" because it was served in such a "special glass with special ice." We happily scooped our gelato with the paddles given us and the inquisition of Kati Case began.
I asked Kati if the temperature of gelato is warmer than that of ice cream because I noticed I had not encountered a brain freeze while eating it. She concured that gelato is kept at a lower temperature than ice cream which contributes to its more creamy, less icy, consistency. Then she gave me the real comparison that every gelato consumer should know: Ice Cream, she said, is around 18% fat while gelato is 3-4% because the gelato she serves is made with milk instead of cream. Also, ice cream is around 80% air and gelato is around 20% air, which is why it tastes richer than ice cream. You also receive more product in the bowl because there is less air. I remarked that I liked the consistency and the richness of flavor that comes through the gelato. The gelato has a nice, smooth, mouth feel.
Case Coffee serves Noble Coffee, my personal favorite, and Kati can whip up coffee art in the steamed milk of a latte that is too pretty to drink. I took my Noble to go in the form of an 11oz bag of beans ground to the proper consistency for my coffee maker. Case Coffee also serves paninni sandwiches for those that need a substantial meal to have with their coffee and gelato.
My sons and I were enjoying the atmosphere at Case Coffee so much that we decided to play a game of checkers. There are two sets of checkers/chess games and magazines to peruse as well as free wireless internet at Case Coffee.
While we were playing another set of gelato consumers entered and ordered each of their gelatos as one flavor in the cup with a second flavor as a "topping". This is sheer genius. Kati filled the cup with the base flavor and then put a spoonful of the secondary flavor on top.
Case Coffee is a great spot for a study session, a coffee date or a family gelato run. Case Coffee is located directly across from SOU and plenty of parking can be found in the 7-11 parking lot or around the corner on Bridge Street.