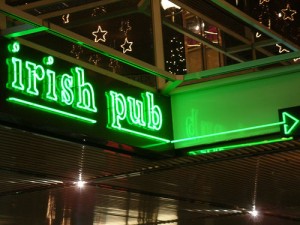 Its the Saturday before Halloween and two friends and I are ready to party. We head to Paddy Brannan's on 2nd street in Ashland around 8pm. Parking is readily available at the lot across from the pub, and we meet the Karaoke DJ as we are walking in the door.
New owners purchased the pub from the original owners in Dec 2010. The newer owner had taken a trip up to see his college chums in Corvallis for the Halloween weekend and left his dad in charge. I guess if you can train your parents to run your business, you are doing pretty well for yourself.
There were a few locals at the bar having cocktails and there were two different college football games on the two TVs at Paddy's. This made me happy…to be able to watch Pac 12 football (in triple overtime no less) and have a cocktail and some nosh is my idea of a Sat. night well spent.
We ordered drinks first. I was thinking I'd get a Guiness or Smithwick's because I know Paddy's pulls them the way they should be pulled. But when I asked what wines the new owner selected I heard "blah, blah,blah (nothing I like) blah blah blah (mass produced California wines)" and "Wooldridge". Aha, Wooldridge! I love Wooldridge. I love them because they are local, because they are environmentally friendly and because winemakers Greg and Cara are such nice and knowledgable people. Wooldridge sells their wines to restaurants in kegs. I ordered the Wooldridge Tempranillo. Often I have ordered Wooldridge at other establishments and have had wine that was oxygenated. But not at Paddy's. The wine was perfect. I asked how they got the formula for pouring wine out of a keg just right. The owner's dad explained to me that they don't use CO2 to force the liquid out, they use Nitrous which also gives them the perfect pull for their Guiness.
It tasted fresh, it was the perfect temperature and they gave me a very generous pour. Wine is usually sold in 5 oz. pours but I think Paddy's bartender gave me a good 8 oz. which has to be the absolute best wine deal in Ashland. One of my friends ordered the cocktail special of the evening which was a pumpkin flavored cream liquor and spiced rum over ice in a double shot glass. Her drink was really sweet but very tasty. At only $3 I consider this to be one of the best cocktail deals in Ashland. My other friend ordered a Long Island Ice Tea (told you we were ready to party).
We looked over the brief menu and easily made our choices for supper. There were about 8 choices of small plates on the menu, the most substantial being fish & chips and chicken fingers with fries. We opted for an order of fish & chips  ($10.95) . We also selected the Mediterranean Bruchetta ($7.95) and the Leprechaun Balls ($5.95). Paddy's has very reasonable prices for their food.
One of my friends does not like fish and refused to try it which just meant more for the remaining two of us. We concurred that the fish (Halibut) was nicely done, and tasty for having been frozen and fried. The three of us agreed that the fries were very close to fresh-cut even though they were frozen and fried. I asked the owner's Dad when they added the fryer, as the old owners baked their fish & chips (one of the things I liked about the old Paddy's). He told me they added the fryer in January, it was one of the first upgrades they made to the business. They thought it necessary to have a fryer in order to get the right taste out of the bar fare. I would have to agree. The food wasn't greasy and definitely tasty. We were told that because Paddy's selects the highest quality frozen fish, chicken and fries, the taste is comparable to fresh. The fish & chips came with the most delectable house made dill-tartar sauce. The sauce was so good I ended up dipping my fries in it and I am usually a fries purist–I usually don't even put ketchup on them.
Not everything is frozen though. Our bruchetta consisted of a house-made hummus, feta spread, roasted olives topped with a house-made red pepper sauce on a baguette. One of my friends thought this was one of the best bruchetta combinations she'd ever tasted. We all agreed that the bruchetta was different and delectable. It was easily dividable for four so we felt the portion was perfect for the price. We were not even able to finish it.
The Leprechaun Balls were a serving of Italian meatballs made from pork and veal in a house-made marinara. The chef at Paddy's is Italian and the recipe for the Leprechaun Balls is a family recipe. I am a fan of a good meatball. When I go to an Italian restaurant I am known to order spaghetti and meatballs, hold the spaghetti. The Leprechaun Balls were leprechaun sized and I prefer really big meatballs that are more of a meal within themselves. But I was the only one at the table disappointed with the size of the balls. One friend raved that they were some of the best meatballs she had tasted. I thought the marinara sauce very good: very fresh tasting as if it were made earlier that day.
All three of us felt the value and portions were right on and the atmosphere was really relaxed but still classy. In summing up our meal one of my friends felt that Paddy's had a nationality/idenity crisis going on, unable to decide what type of food to serve: Italian, Irish or Middle Eastern. My other friend felt that because Paddy Brannan's is an Irish pub he expected Irish pub food, not Italian meatballs with an Irish reference in their name. I like the variety and felt that if the chef knows she does a few things well, its her menu and she can serve whatever she desires.
We ordered a second round of drinks and by this time the bar starting filling up with local patrons ready to put their names on the karaoke. One patron asked if I had performed karaoke at Paddy's before. I assured him I had not and because I wasn't the one at our table consuming the Long Island iced tea, I wasn't likely to participate. He told me that the karaoke host was the best in the valley and that I should stay and sing. Yeah right. This patron was my vocal coach years ago and I can't believe he'd ask me to sing in front of a bar full of people when I'd only had two drinks. The crowd at Paddy's must be very forgiving.
The bartender who showed up for his shift at 9pm could really sing. He kicked off the evening's karaoke. Paddy's was standing room only by 10:30. We left at 11pm with full bellies and songs in our hearts.
I like that Paddy's has become a local hang out where the food is priced and portioned for locals and the atmosphere is friendly. Its a place to go where everybody knows your name and they're always glad you came.