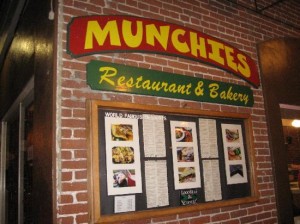 There are certain businesses in town that can be considered Ashland icons. Munchie's falls under this description.
Offering breakfast all day, lunch, dinner and deserts bigger than my head, Munchies  has something for everyone.
My breakfast companion and I paid Munchie's a visit on Father's Day, last Sunday. I was craving a breakfast of good portion and knew Munchie's could deliver.
I reminded my breakfast companion that he must offer his heartfelt opinion of his meal, to which he reminded me that he is not opinionated when it comes to food. This is true, but he knows what he likes and he stated that he really liked his breakfast. He ordered the french toast which is made with Munchie's home baked cinnamon raisin bread. We smelled the bread baking when we happened in the front door and it was tough to think of ordering anything else.
I opted for the breakfast sandwich which ended up being a folded over scramble of eggs, peppers, onions, cheese and my choice of bacon or sausage on a roll–Munchie's uses these same rolls for their hamburgers. My roll became a little soggy because of the moisture in the eggs, but maybe that was my fault for not eating fast enough.
Our server seemed in a bit of a hurry when she approached our table, asking to take our order before we looked at the menu. I think the Munchie's servers are programmed to expect the theatre crowd and the theatre does not have late seating–that's my theory anyway. Our busser was very cheerful, funny and always had the coffee pot headed our way just when we needed a refill. I often find that bussers are a little more on top of the needs of diners because they do not have to watch for food coming up at the kitchen window, they can concentrate on water, coffee, dropped silverware and needing more napkins.
For the very casual and family oriented atmosphere I found the coffee very tasty. Its from the Good Bean in Jacksonville, our busser explained. I also wanted to know if my roll was home made and the answer is that in the future the baker at Munchie's would like to make wheat based breads and rolls but right now the baker makes the rye bread and cinnamon raisin loaves that are offered in the restaurant.
Of course, the treats are baked fresh at Munchie's: pies, cakes, cookies and the like greet diners at the front door.
I like the idea that Munchie's is a catch all type of place. Its great for meeting for dessert and coffee or having a substantial breakfast, lunch or dinner. The menu has a variety of soups, salads, sandwiches, burgers and mexican entrees. The atmosphere is suitable for school groups in town for the plays, local families, tourists and those that want to grab lunch downtown during their work day.
Munchie's prices are so reasonable! Most entrees range from $8-$14, and Munchie's has a great kids' menu with proper sized and priced portions for those under 12.
I have been told that their grilled cheese rocks! and that they have the best hot chocolate because it comes out of the machine that whips it frothy.
Had I been visiting for lunch or dinner I would have been inclined to order the Ranch Dip which is a roast beef sandwich with grilled onions served with a side of au jus for dipping. I also enjoy the steak fries Munchie's serves with their non-breakfast items. I was tempted to substitute those steak fries for the home fries that came with my breakfast sandwich.
For the claustrophobic I would recommend Munchie's outdoor dining on Guanajuato Way. The interior of Munchie's is cave-like as it is underground. This can be wonderful when it is too hot outside but can be uncomfortable for a very tall person or someone who finds low ceilings disconcerting.
Keep the Ashland icon of Munchie's alive and well, pay them a visit any time of day. Just leave room for dessert.