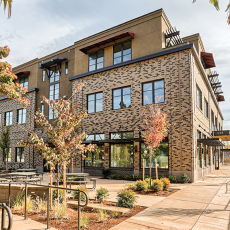 Most of you have noticed the beautiful brick building taking form over the past year and we have to say, the corner of Lithia Way and First Street has never looked so good. Rumors over the past year have circulated giving the impression the entire building was SOLD and there just wasn't much more information beyond that. With the chain link construction fence around the entire project it was difficult for even prying eyes to get a good grasp on the details. Well, we are here to put those rumors to bed and let you know there are officially four stunning, top-of–the-line downtown condominiums available in this handsome building known as Plaza West at First Place.
As we toured the building, it was clear from the beginning there was incredible attention to detail throughout. Not one detail went unnoticed; from the strategically placed nubs on the railing in the courtyard area to deter skate boarders from 'riding,' the heated ramp leading to the underground parking complete with individual charging stations for the owners electric car and then carried inside to the energy efficient interior lighting packages as well as heating/cooling system. We quickly grew to appreciate that the developers of this project thought of just about everything.
The residential portion of Plaza West is complete and the ground floor commercial component consisting of a bank and a coffee shop are well on the way to being open for business in the near future. There will be second and third phases of this project and we look forward to seeing them continue to transform this downtown corridor.
Representing a company such as Mahar Homes is an opportunity we feel very fortunate to have. This year commemorates their 25th year in the business and their company is comprised of key, invaluable members of our community. With a reputation for quality, they not only build an incredible property, they are also "of their word." In a day and age where so many will stand atop another for their personal gain, you simply won't find that in this reputable company. Hearing the love story of nearly 50 years between Michael T. and Mary warmed our hearts nearly as much as learning how decades of hard work and perseverance among a handful of buddies helped to create this legacy.
In a recent appointment with a client unrelated to Mahar Homes, we mentioned our excitement to be affiliated with such an incredible company and for the opportunity to represent them in selling their luxury condos. This prospective seller immediately welled with tears and went on to explain that more than 20 years ago when she found herself unexpectedly widowed with two young children, Randy and Mike quickly found her a home to live in.  Amidst her devastation, it was months and months later before it ever occurred to her that she had never actually made a payment to them and when she made contact with them to apologize and correct her error, they gently dismissed her oversight and let her start her payments from that moment forward. Who does that? Mahar Homes does that. Hearing her story warmed my heart but didn't necessarily surprise me. From our initial meeting we knew they were different and we couldn't be more thrilled to be working with them on a daily basis.
The Plaza West project exudes class and style. It's a rare opportunity to own a sophisticated, urban dwelling in a fantastic downtown location. Each unit is unique; some featuring the warm tones of the Pacific Northwest while others are more contemporary and a little bit sassy. The views vary and include downtown, the hilltops above the boulevard and Grizzly Peak out the back. Some of the additional features include radiant floor heat, balconies in some and gorgeous Alder wood windows throughout. There are one and two bedroom condos available as well as two condos featuring a Master bedroom Plus a den. Prices start at $595,000. Our ad on the inside back cover features a couple of pictures and our website, LivingInSouthernOregon.com provides a lot more detail on the available units. We would love an opportunity to show you these top of the line properties so if you have an interest, we hope you or your Realtor will give us a call to set up a private showing.
Many thanks to our loyal clients for a fabulous 2014 and we wish you and yours a very Merry Christmas.
We look forward to working together in 2015.