Interviews
Will Volpert Indigo Creek Outfitters Rafting, Tours, and Vacations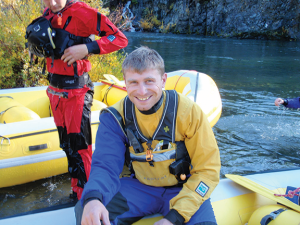 It was the summer of 1986 when Will Volpert went on his first rafting trip. 25 years later and after tens of thousands of miles working on rivers throughout the west as a rafting and fishing guide, he opened Indigo Creek Outfitters, a rafting, tour, and vacation company based here in Ashland. Will has spent the majority of his life on the river.  He grew up in a family of outfitters and spent his childhood summers floating Idaho's Middle Fork and Main Salmon Rivers. Whitewater runs in his family's blood – with nearly 40 years in the business, his parents continue to run Idaho & Oregon River Journeys, his younger brother Matt manages Kern River Outfitters, and the youngest brother Skip guides on rivers in Idaho, California, and Oregon. Will's experience in the adventure tourism industry has shown through the success of Indigo Creek Outfitters. In January of 2013, Will added another tour to Indigo Creek Outfitters' list of Southern Oregon excursions: Medford "On-Tap" Brewery Tours. I spoke with him on the phone to learn more about his passion for the outdoors, rafting, and how Indigo Creek has found itself in the middle of a booming craft beer industry.
Will, thank for speaking with us today. It sounds like you've been busy this winter.
Thanks for chatting with me, Shields. Yes, normally a whitewater rafting outfitter has quite a bit of downtime during the winter. This year, however, we added a new tour, which we're calling "Medford On-Tap Brewery Tours." It's been a nice addition to our business, has kept us busy during our normal "off season", and there has been  a great response from our customers who have joined us so far this year.
Let's talk about these brewery tours – how do they work? Are they similar to a wine tour?
The tours are offered every Saturday from 1:00 to 6:00 p.m. We provide transportation from our shop (130 'A' Street near downtown Ashland) to four different breweries and along the way we meet with the brewers, learn about their beer, and of course taste samples of each craft beer. The beer is excellent and the brewers provide quite the educational experience for those interested in brewing. I'd say that the tours are very similar to a wine touring experience, but that the breweries are a bit more casual and have more character than your average winery.
I laughed when you said that by the end of the tour, four breweries later, there are often a lot of hugs going around the group.
Haha, yes, it's amazing how just a little bit of beer makes everyone feel like family. It's a lot like a rafting trip in a way, because we're all traveling together and discovering new places. Along the way you learn a lot about the people who are also sharing the experience. The great thing about being in this business is that people are always happy and excited to visit and join a rafting trip or tour. It's not like a trip to the dentist – they're joining Indigo Creek because they want to have fun. We've gotten pretty good at delivering a phenomenal service that people love, and that's what we're all about.
Can you tell us about some of the breweries that the tour visits?
We start our tour at a nano-brewery called Apocalypse Brewing Company. This is probably one of the smallest breweries you'll ever visit. Their beer is brewed in very small batches and only available at the brewery. From there we go to Walkabout and get a behind-the-scenes tour of their operation. It's a very cool atmosphere and the beer is, of course, awesome. Next we go to Bricktowne. While we're tasting beer, Craig McPheeters (head brewer) gives a great presentation about different malts and grains used in his beer. While at Bricktowne we have a bite to eat before making our way to the final stop: Southern Oregon Brewing Company. SOBC is a much larger brewery with top-notch beer and we get a tour from Tom Hammond (owner). One of the fun things about the entire experience is that no two breweries are alike. The beers are different, the atmospheres are different, and the size of the breweries varies greatly. Overall it's a great representation of different businesses in the craft beer industry.
You mentioned that the brewers are an interesting lot of people.

It took me awhile to figure out why I enjoyed these tours so much. Then I realized that, just like in the rafting business, it's all about the people. Of course you have to have a quality product or service to offer, but what people remember most are the folks who deliver the experience. Brewers are a lot like river guides in a way: they love what they do, are passionate, and have a great sense of humor. In this case, it doesn't hurt that they've got great beer to back them up.
Let's talk about rafting. How is the season looking for us?
The 2013 rafting season is shaping up to be our best one yet. Since the flow on the Rogue River is mainly dam-controlled, having too much or not enough water is never really an issue. Our opening day is May 18th and we'll run through the middle of September. We do have limited space on all of our trips, so it's important for those who are interested to call ahead or book online.
I love the photo of two of your brothers duct taped to a chairs on your website. Did you do this or was this just a way for your parent to keep you boys under control when you were growing up?
My brothers and I spent our childhood summers in Idaho because our parents ran an outfit that offered vacations on the Middle Fork and Main Salmon Rivers. In between trips we lived in a "guide house". Sometimes there would be 15 or more people preparing for trips living at the house at once. Things could be pretty chaotic, but it was always fun and there was great energy. Plus we had the best role models any kid could ask for in our own parents and the dozens of guides we interacted with over the years. I'm sure my brothers and I brought a crazy amount of energy to house. Apparently, duct tape was good at slowing us down.
What are some of your all time favorite rafting trips you have gone on?

I've been down it nearly a hundred times, but the Middle Fork of the Salmon (6-day trip, Idaho) is simply an incredible trip. There aren't too many rivers you can float 100 continuous miles and drop nearly 3,000 feet in elevation. The whitewater is technical and fun, but perhaps the best part of the trip is camping with incredible views night after night.

The Forks of the Kern in Southern California is a must-do if you want to run the best multi-day class V trip in the country. It's very water-dependent, though, so it's best to check with Kern River Outfitters to see when trips are scheduled. If you call them, chances are you'll talk directly with my brother Matt.
How about locally?
We're lucky here to have two world-class rivers within an easy drive from Ashland. First, the Rogue River is our most popular trip and it's easy to see why: it has something for everybody – from short half-day floats to four-day vacations – you can always fit a trip on the Rogue in your schedule. The Klamath River also has many different options. It's a slightly longer drive, but the Upper Klamath is known as being the best full-day whitewater trip in Oregon.
Will, where are you guys located and how can we get signed up with either a brewery tour or rafting trip?
We are at 130 'A' Street in between Oak and N. Pioneer. We normally have yellow boats parked out front and they are pretty hard to miss. The easiest way to book your trip is online at www.IndigoCreekOutfitters.com. We also take bookings over the phone at 541-203-0222. And of course you're welcome to stop by our shop and say hello whenever you'd like.
Now I know who all those giant yellow rafts belong to.
Yes, the rafts are a good landmark. Someone told me the other day that you can even see them from Google Earth!
Will, the beer lovers of Southern Oregon thank you for your services and I'll be looking forward to going rafting with you guys soon.
Thanks for the opportunity to talk with you about Indigo Creek Outfitters. Remember to make your reservations early – we've already got some summer dates blocked off. We're looking forward to a great rafting season and continuing to explore the growing craft beer industry here in Southern Oregon.
Finally any last words you might want to share with our readers or anything we forgot to mention?
If you live here in the Rogue Valley, please take time to explore the areas natural resources. We're lucky to have such great recreational opportunities at our fingertips. People travel from all over the world to experience what we have in our backyard. Also, have a local beer when you're done with your adventure. Trust me, they are all good.
Learn More:
Indigo Creek Outfitters
130 'A' Street #2B
Ashland, OR  97520
info@IndigoCreekOutfitters.com
541-203-0222
www.IndigoCreekOutfitters.com