Interviews
Ashland Institute of Massage – Celebrating 30 Years in Ashland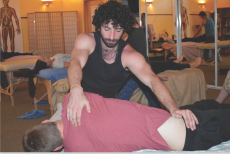 The Ashland Institute of Massage is celebrating thirty years of being in business in Ashland, Oregon. In today's interview I speak with local owners / directors, Laureen Sutton and Bryn McCamley to reflect on the growth and evolution of the school. 
Specifically we will discuss the meta-skills a practitioner may acquire which inevitably end up separating the good from the great. Anyone can be a highly skilled technician, but how do you take the next step further?
Bryn, Laureen, and I also discuss the fundamental elements that go into building and creating healthy and sustainable communities. Ashland Institute of Massage intimately connects and maintains relationships with nearly all of its students and alumni. The unique community of AIM ripples out into our greater community and world to create better practitioners who offer extraordinary bodywork to everyone that they touch.
Hi Laureen and Bryn, welcome back to the LocalsGuide.
Thanks Shields. We enjoy your thoughtful questions and it's always a pleasure to talk with you.
To begin with, I would like to offer a huge congratulations on celebrating thirty years with the Ashland Institute of Massage. What an amazing accomplishment!
Thank You! Birthdays are a great time for reflection, and thirty years does indeed feel like an accomplishment! We love what we do, and appreciate the opportunity to reflect on a few of the deeper pieces of why we do what we do.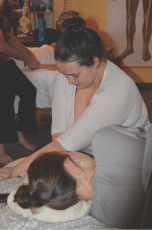 Laureen and Bryn, can you talk more about the unique community building aspects that AIM facilitates here in Ashland?
Our school is first and foremost a strong community in and of itself. Our small size encourages a deep connection amongst our students and staff. The nature of this work is intimate. The container of our school nurtures intimacy and authenticity, and allows our students to become accustomed to what these interactions feel like. All of this ripples outward – when someone changes how they interact in an authentic way, it shows up in all further interactions in their life.
Your new tagline even speaks to this; Transforming Community Through Touch, please say more.
You can't pretend to touch someone with compassion. You must be authentic. Our bodies always know the difference. We are all born understanding the language of touch and our nervous systems are wired to need touch in order to thrive. When individuals thrive, so do the communities formed by those individuals!
Ashland Institute of Massage is truly a unique business. Can you please give us an overview of all that you provide?
We are a small private training school for massage therapists, a professional massage clinic (Chrysalis Massage Clinic), a provider of quality continuing education in our field, and even a retail store for massage supplies. The school is of course the backbone of what we do, but the other pieces enrich and feed into that educational goal. AIM has long had a reputation for excellence in the state, and continues to lead with high standards. We're proud of that.
This truly sounds like a rarity in this age and time.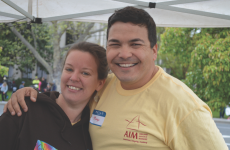 There is current trend in the massage industry towards larger schools owned by chains. While we have nothing against most of these institutions, we "aim" for something quite different and are happy to be one of the exceptions to the general rule!
Laureen, in a recent conversation you and I were having, you talked about meta-skills making the difference between a good practitioner and a great practitioner. Can you speak more to what meta-skills are, and how AIM seeks to share and expose its students to this type of knowledge?
Meta-skills are those skills that supersede specific disciplines and are both broader and more important than someone's technical skills or knowledge base. They could even be defined as qualities of personality, or perhaps the best of what it is to be human. Most meta-skills can't be directly taught, but they can be nurtured, modeled and experienced. You can't learn things like compassion, presence, humility, curiosity, openness and the ability to connect in a book! We surround our students with instructors and mentors who embody these qualities in an environment in which they can grow and practice these larger pieces of self. Bringing such meta-skills to the table is what changes a good technician into an extraordinary therapist who can touch in deeply meaningful ways.
Last year AIM made several program changes that have created more freedom and flexibility for students. Please tell us about those.
We have changed our class schedule so our night program has weekends free all year, and our day program is now just four days a week. We also added more hours and depth to both programs. Both we, and our students, were working hard to keep the pace as it had been, and we realized that was antithetical to the point of our craft! We wanted to walk our talk better. We wanted to provide an opportunity for our students to find more balance in their lives in the midst of a demanding curriculum. We are delighted to now see the process of our schooling better match the outcome: greater relaxation and alignment with life!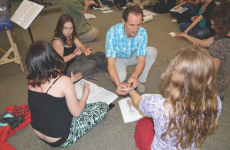 You also have a new renovation that is in the process of being completed. Please tell us about it.
Yes, our Chrysalis Massage Clinic is newly upgraded with seven treatment rooms, some of which are now available for professionals to rent. Our newest project is to add another classroom, student kitchen, and study center. We recently got the keys to the suite next door to our main school, and are transforming that space into this expansion.
Tell us about the silent auction event you are holding to help raise funds for this new study center.
In order to help fund this new project, we need to raise money! We held a really fun community rummage sale earlier this summer, and are gearing up for a more upscale Silent Auction Fundraiser this fall. Donors from around the valley have gifted us with incredibly generous items and services, so we are confident it will be a great afternoon of browsing and bidding. Accompanied, of course, with wine, food, and music, the festivities are on Saturday October 27, 4-7 pm at our school.
Massage therapists are in high demand, however with increased costs of living and tuition you sometimes need to find ways to bridge that gap. What are some of the ways you are doing this?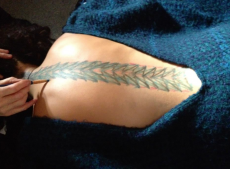 Tuition funding is the largest challenge our students face. We are beginning to make funding arrangements with local employers of massage therapists, which creates the lovely win-win situation of students having tuition loans and employers finding the therapists they are so desperately seeking. We can't train nearly enough therapists right now to meet the employment demand! We also steer eligible students towards the DreamSavers Individual Development Account savings/grant program, which is really a fantastic option for them. Many of our students move to Ashland in order to attend school, and finding housing can also be tricky. We maintain a housing list of rooms for rent and are always looking for more options to add to that list!
How do you see the importance of touch right now?
There is plenty of suffering, pain, fear and separation in the world. It is easy to feel helpless in the face of all that. And it seems that many of our current solutions only isolate us further through technological interfacing. But touch is a simple thing that makes a direct and positive impact on people's lives. Why not grow that common goodness? We feel good about directing our energy towards something so positive. More human contact is good for everyone!
Let's talk more about the unique nature of the AIM community. How do you see AIM growing year after year and what are the magic ingredients to having and maintaining such a special community?
Our community is like family, and as with any family dynamic, we are always growing our awareness of how to participate and support each other. Most businesses cannot, or do not, operate with the kind of close personal connections we encourage. The fact of this industry as an intimate profession allows and necessitates the building of these strong connections. We love what we do and who we do it with. That is something to foster! Our students, clients, and faculty bring us joy.
You both spent time as students in AIM. What are some of the values and insights that you decided to implement based on your own experience?
Authenticity, integrity, humility, being in a state of constant learning, bringing heart to all that we do – these are things we live by. Every year we assess our students' needs and how we could better serve them, and then we make changes. Everything we do is infused with the principle of improvement with the best interests of all in our community.
Where do you see things moving forward into the future? 
Our immediate goal is to complete this physical expansion. That will give us the breathing room we are craving following the program expansion we accomplished last year. After that, we'd like to let all of these moving parts integrate for a while. Down the road, we dream of building our own facility with student housing attached, but we aren't leaping in that direction yet!
It must be sweet to know you have touched many lives and to feel the connections you both have made.
Yes, it truly is sweet and is the essence of why we are each so committed to what we do. Every new group of students starts as our innermost ripple and as they grow out into the world they carry that widening ripple with them. We are so fortunate to have such a constantly evolving community! Most of our grads check back in with us at regular intervals and stay connected with the school and its current students. Some grads directly participate in the classroom and at various community massage events. Others weave in and out of our lives on more personal levels. Sometimes it seems that staying in touch with everyone is the biggest and most important part of what we do!
I am curious to learn where each of you learned about the art of community building, let alone administration, business management, and the thousand other skills that are required in doing what you do.
We are both mothers first and foremost, and there is a lot of education in building community with that job. The experience of being in the treatment room/space is an opportunity to build relationships on a very intimate level, and we engage that skill in a wide variety of settings on a daily basis. All of the other stuff – the practical business things – were trial by fire! We learned a whole lot by necessity and with a little mentoring as we took on the school in 2012. We've grown a lot in confidence, leadership, and self-care along the way. We appreciate the independent trajectory of our business. As with any parenting, it is a pleasure and an honor to nurture it along the journey!
Are there any events or opportunities coming up that you would like for our readers to know about?
The Silent Auction! If anyone out there would like to donate a service or item, we would love that! Just having folks come see our space and what we are up to would be the best gift. And of course, there are the ever popular student clinic massages available each spring – get on the mailing list now. Call the office for details – 541.482-5134.
Finally are there any last thoughts or comments you would like to share with us today?
Effleurage, Petrissage, Friction, Vibration, Tapotement . . . You know you need a massage!!
Learn More:
Ashland Institute of Massage
280 East Hersey Street
A-8 Ashland, Oregon
www.AimAshland.com
(541) 482-5134