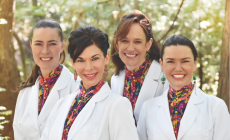 Walk into GLOW, and you will see beauty in every detail. Walk out, and you will feel nurtured and fabulous. At GLOW, we embrace the fact that we are all aging, and yet science and tools can help us look and feel beautiful at any age. GLOW, Ashland's premier medical spa, is a special place where you can invest in yourself. The estheticians at GLOW are recognized as elite experts with an innovative approach to skin care renewal. Their team, led by creator Tasa Painter, will guide you based upon your individual needs to enhance your radiance and beauty. Here you will relax into a private and intimate setting where you can escape and rejuvenate, while still experiencing transformational results. Under the medical direction of Dr. Margo Herron, Board Certified Plastic Surgeon, GLOW offers the best options available in the industry. Dr. Herron says, "As soon as we met Tasa and saw what she had created with GLOW, we could see that her vision was in line with ours at Elizabeth Institute–treating clients with the utmost care, utilizing innovative technologies, and delivering the most amazing natural results. We continue to appreciate our partnership!"
Thanks for talking with us today Tasa. What makes you a standout in this industry?
Our continued commitment to education and training, as well as our personal passion for serving people, means personalized attention to each client's needs. We find our connection to our clients immensely rewarding and inspiring. Our team puts emphasis on continuing to grow with improved offerings as each year passes. We offer services that include traditional esthetics, such as facials and peels, as well as our noninvasive medical treatments. Our clients will tell you that the individualized attention we give them helps them feel appreciated and beautiful. For example:

"I went to a different spa and left feeling old…their paperwork referred to me as a "60-year old female" and the pictures of my face that they took scared me, especially their claim that I had some of the worst rosacea of anyone in my age group (not true). I always appreciate how youthful I feel when I'm at Glow. By comparison, Glow is a breath of fresh air and I will never go anywhere else for skin treatments!" J.L., Ashland

Because professionalism and client safety are key components of our business model, our medical esthetic skin treatments are in partnership with and under the supervision of Dr. Margo Herron. We strive always to be the best in the business, from the beautiful design details in our spa to the amazing treatments and results. Given our success at attracting clients, many of whom return for more, we are a premier med-spa!

Why do clients come to GLOW?

We attract people with all sorts of concerns about their appearance: facial skin concerns, such as acne, wrinkles, spider veins, rosacea, and age spots; and body changes, such as sagging skin and pocket areas of unwanted fat. Once clients work with us, they come to understand that self-care begins with them—exercise, healthy eating, good sleeping habits, and the use of high-quality, science-based skin care products without harmful ingredients. Through our consultation process, our team can offer a treatment plan to prevent, maintain, and improve on areas of concern for you—tailored for any budget. As we age, our bodies change, and medical spa treatments can enhance the results of our self-care, bringing out the best of who we are!

Ours is a whole-self approach to long-term skin maintenance and a lifestyle of healthy skin that we model every day. We care about our clients and this shows in the overall nurturing experience you'll receive. We approach each client as a beautiful being, and it shows in how people respond to our services and return for more. Thus our clients value self-care and the quality that they experience at GLOW. One client recently wrote to us:

"Thank you for the excellent consultation…I now feel confident that laser for face and chest is what I need, and that your care and thoroughness make your prices a good value…" I.G., Ashland

By creating individualized packages and combination treatments, we elevate your results; packages include special extras that enhance and beautify how you look and feel. GLOW continues to be about you. Come into GLOW for a complementary consultation and find out for yourself.
You've invested in a lot of interesting equipment in your business. Please tell us about that.
We have strategically approached our investments by researching the newest and best medical esthetic technologies on the market and evaluating our client base for their needs and requests. Our team regularly receives trainings, attends conferences, and researches the newest technology. We test everything on ourselves before making our decisions—with attention to quality, comfort, and safety, as well as excellent results. Just last year I trialed Vivace microneedling with radiofrequency. Although I was not actively looking for a new machine, we decided to invest in this amazing technology because of the results I received. We've learned that some companies sell machines that try to do too many things. These machines tend to be inferior in quality. When working with your face, a bargain should not be what you are looking for. The downside risk is more potential injuries and further skin damage.

We carefully select each machine to do just one type of treatment very well, and then we make sure we train ourselves in the best way possible before offering these treatments to the public. For example, we started with skin tightening, choosing Exilis Elite, a high quality radiofrequency device. And we have since upgraded to Exilis Ultra which helps tighten skin on the face and body, including around eyes, jawline, neck and other areas. As we grew, we added the Sciton Forever Young Broadband Light (BBL) laser, which gives remarkable results on redness, age spots, and uneven skin tone. I have been receiving laser treatments since my since my early 20's and love that we can offer this to our clients. As we built the GLOW team, we added body contouring with Vanquish ME, another type of radiofrequency that utilizes heat for body shaping and fat reduction. Vanquish takes skin tightening and body sculpting to the next level of quality results.

For all of our noninvasive treatments, we encourage maintenance treatments to provide long-term benefits. Our clients continue to be impressed with their appearance and many have added additional areas of treatment, attesting to their high satisfaction. To find out more about our treatment options in depth, please go to our website: innerbeautyouterglow.com
Tell us about the combination treatments with Dr. Herron.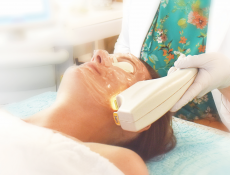 Because we have a direct partnership with Elizabeth Institute, our clients can also work Dr. Herron in areas where her expertise can enhance what we do, such as with injections. Dr. Herron is extremely gentle and makes sure her clients are comfortable, well-informed, and satisfied. She is well-known for her conservative approach and natural-looking results using Botox and other injectable fillers.

At the same time, Dr. Herron's clients often work with us after treatments where scaring can occur, whether through an elective surgery or skin cancer removal. We offer laser treatments to reduce redness and microneedling to help with scar reduction.
You have an event coming up on October 19. Tell us about that.
Join us for THE GLOW EXPERIENCE on October 19th, 6 pm at the Ashland Hills Hotel. Here you will learn about the various ways that GLOW can help you to be your most radiant and beautiful self. We will be providing education about our services, live demonstrations, raffle prizes, complementary wine and hors d'oeuvres, and special experiences for you. Space is limited with a registration fee of $100, and this reserves and ensures a future hydrafacial treatment at GLOW, a $200 value. This is our second event like this and we love the opportunity to share the amazing breakthroughs in medical aesthetics with our community! We will also introduce our staff—Amma Rowen and Jody Sage, as well as our newest esthetician, Danielle Laclare.
As a successful business, I'm wondering how you give back?
We believe strongly in the power of community to change the world. Each year, the team at GLOW partners with the Elizabeth Institute for the annual Bra to Spa event in honor of women who have survived or are undergoing breast cancer treatment. This day includes complementary spa treatments to help these women after their challenging experience.

Recently, we also led a campaign to raise money for a small community in Mexico that has used plastic straws, which add to the plastic waste. We set aside a day where all of our treatment revenues went to the project. From this we raised $5,000, thanks to our amazing clients and the team's willingness to volunteer that day! Now this beach town has raised its consciousness around plastic and uses stainless steel straws that can be cleaned, sterilized, and reused.

It is always uplifting for us to give back after all the support we have received!
What's the future looking like for GLOW?
This fall we will be unveiling our newest line up of advanced facials combining different modalities to elevate results. Because of our successful partnership with Dr. Herron, look for expansion in 2019. Details are limited at this time, but we are very excited to be able to expand our offerings and providers. GLOW will now be open on Saturdays.
What can you recommend for daily skin care?
At GLOW, we strongly believe that a healthy lifestyle translates into healthy skin. Good sleep, eating healthy foods, exercise, and staying well hydrated all contribute to radiant skin. We recommend daily use of hot towels to keep your face fresh and pores clean.  Coconut oil is a wonderful, nourishing and inexpensive way to hydrate the body. Sunscreen is an essential element in everyday care, too. If your hair is short or up, always remember to use sunscreen on the back of your neck and ears—a common site for skin cancer. Wash your face every night (you are collecting pollution, pesticides and dirt throughout the day). A smile is the most beautiful thing you can wear.
Learn more:
GLOW
638 N. Main, Suite D
Ashland, OR 97520
innerbeautyouterglow.com
541-488-5555