Interviews
Delaine Due Due for a Change – Prove it Challenge
Delaine Due is the owner of Second Generation, a Shaklee Independent Distributorship. Since our last interview with Delaine, she has been busy relaunching the family business with the new name Due for a Change. Delaine just returned from the Shaklee Global Conference so we touched base to discuss her relaunch and to see what she learned at the conference.
Hi Delaine. Welcome back to LocalsGuide. How's life going?

Life is very full. The decision to relaunch and rebrand myself and this family business while actually being in a family and overseeing the expansion of my other business makes for very little lollygagging!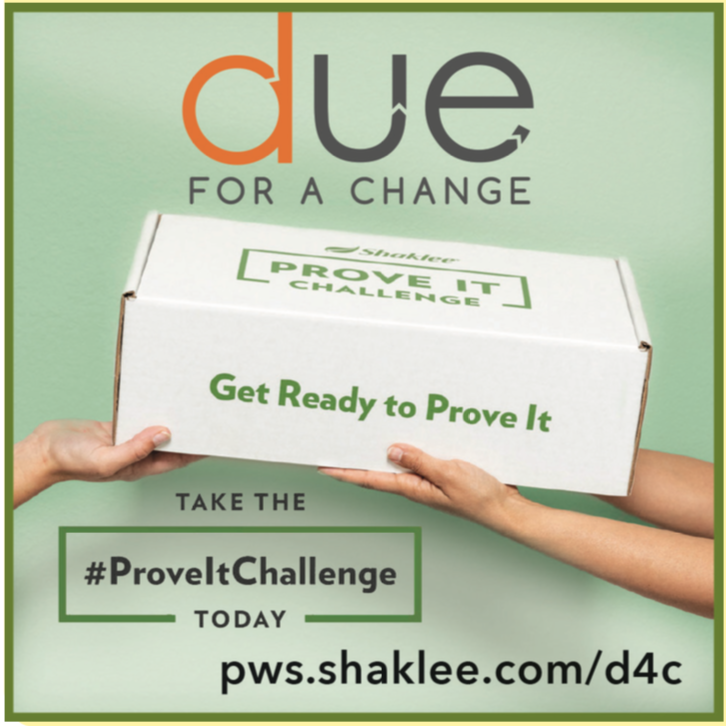 You just returned from the Shaklee Global Conference. How was it?
It was terrific. It was exciting to have two business team members attend with me. I was able to focus on the team and hosted a team retreat post-conference. I also always have a soft spot for meeting and learning from the successful business women from Malaysia at the conference. So many of them are engineers or biochemists. They are inspiring. And, I got to workout with Shaklee Olympic athletes. Shaklee is a wonderful business partner who is skillful at combining science and nature with business support. They also throw a really good dance club party.
What's new with your company?

Several months ago, I completed the Integrative Health Coaching Certification Program through Duke Integrative Medicine. This program served to bridge my clinical mental health skills with my health consultant work with Shaklee. While this training is not at all necessary to be a successful Shaklee Independent Distributor and Business Leader, it has helped me shift my mindset and has taught me a specific set of skills that I now use to provide a better, more comprehensive customer service experience.

I also finally get to use my name to its full potential! I rebranded as Due for a Change, which was exactly how I was feeling, professionally. I worked with a great local designer, Robert Frost, to create a new logo and am working with a web designer to launch a website specific to Integrative Health Coaching.
Delaine, you have a very special and interesting family history with Shaklee. Will you please share your story with us?
I grew up with Shaklee in all my homes (grandparents, parents, and adoptive/surrogate family). Not only did all three of those homes use Shaklee products, they all ran Shaklee businesses from their homes. My grandmother sold fresh ground flour, fresh eggs, and Shaklee products out of her office on their organic farm in Indiana. My mother developed an $80,000/year income with her Shaklee business (with a high school diploma). And my second mother raised 5 kids, plus me while running her Shaklee business, putting most of that income into retirement savings. So I'm a Shaklee brat and certainly prodigal daughter coming back to a family business after getting some hard knocks from the world of other businesses.
What were some of the key tenets of Dr. Shaklee?
Dr. Shaklee was a contemporary of other doctors at the turn of the 20th century who came from a naturopathic practice. He maintained his commitment to respecting nature and each person's nutritional needs for healing when most of the western world shifted to a pharmaceutical focus. Nutritionally, he developed the first multivitamin sourced from whole foods in 1915. He was also a fierce environmental advocate and developed green, organic cleaning products starting in the 60's. "Why are Shaklee products so outstanding? The only answer I can give…because the creator of these products [is] Nature." –Dr. Shaklee
The business model that Dr. Shaklee developed is very interesting and has helped millions of people all around the world. Please say more.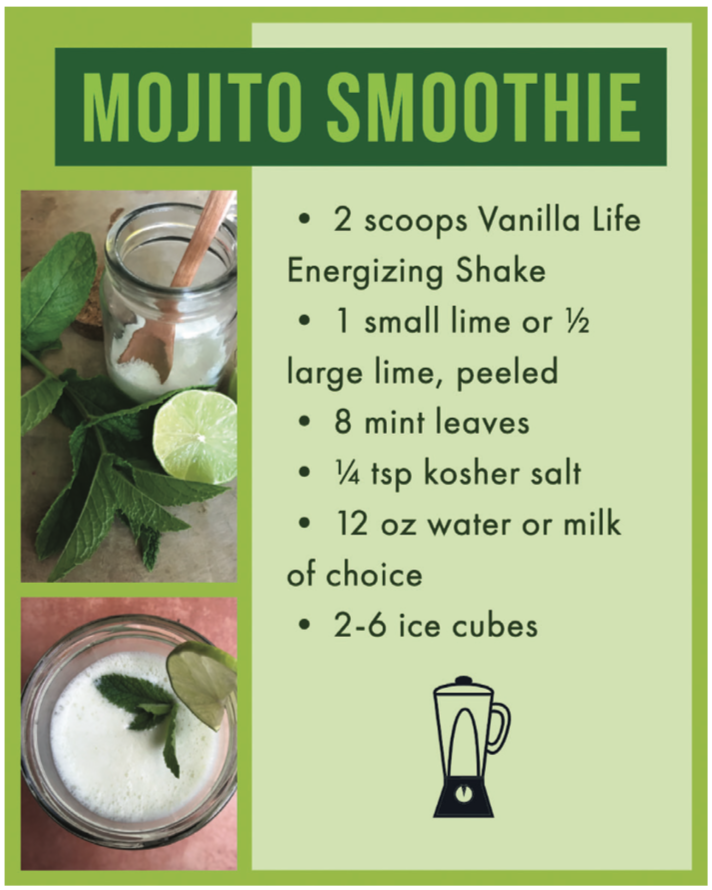 Dr. Shaklee and his sons recognized the benefits of social networking in the 50's and decided to forego retail stores and traditional sales forces. One of his sons specifically developed the model of independent distributors and the compensation plan to address pitfalls of sales structures of the time (limits on income, limits on region, unhealthy competition). It's a simple two-step process: 1) Experience the products and better health for yourself. 2) Share those things with others. Do those two things over and over again and you can run your own international business from your kitchen, porch, and even from your smartphone.
Delaine, what are some of the social values you appreciate most in regards to your current involvement with the Shaklee company and products?
I really like that the business is available to anyone who is willing to learn and put in the effort. I like the commitment to service the Shaklee family has, at a corporate level with Shaklee Cares (aid to first responders and survivors of natural disasters), and individually with all of the charities started and supported by Shaklee family members. The freedom of time and financial ease created by a Shaklee business lets people follow their bliss in other amazing ways that positively impact others and the planet. And, the business model reinforces an interest in the success of others. Without helping others feel better and live better, you don't succeed.
After 60+ years in business, Shaklee's products tend to speak for themselves. What are some of the most popular Shaklee products today?
The Prove It Challenge. The challenge is to use our best set of nutritional products for 30 days and prove that you feel better–most people experience better energy, better sleep and better focus. If you don't feel better, you get your money back. Simple. Kits include 30 days of our clinically proven, well-loved combo of Life Energizing Shake (20 grams protein) and Vitalizer (vita-strip). It comes with a free 7-day Healthy Cleanse, free shipping and a free membership. One of the really lovely parts of the program is, if you know someone who wants to do the challenge and feel better too, you can get a $25 "thank you" for referring them.
This sounds like a no brainer. What do you like most about this challenge?
It's so simple with so little to lose–except maybe a couple of pounds and some sleepless nights. It's fun too. I started my own Prove It Challenge with my team and a few thousand other Shaklee family members at the beginning of August. During the 7-day Healthy Cleanse (Part 1), I ate wonderfully from the Grower's Market and my back yard. I got closer to my pre-injury (haven't been able to cycle) state with a loss of 6 pounds and 2 inches. My digestion became fine-tuned and my sleep became more blissful. Part 2 gives me a daily "strip and shake" to start my day off with sustained energy.
Delaine, Shaklee is really an extraordinary company. Not only do they offer the Prove It Challenge, but they have a business model that allows anyone to set up their own business and begin working for themselves. Please say more.
This is a turn-key business opportunity that does not require a major financial investment. It does require a willingness to put in consistent effort and to learn as you go–just like any entrepreneurial venture. In this one though, you get a business leader and a team to mentor you through the process–to get you from where you are to where you want to go. Some people on my team want $200 extra dollars a month and others want to learn to build teams and create a 6-figure income they can pass down to future generations.

You also have a business partner in Shaklee that takes care of most of the heavy lifting (R&D, manufacturing, shipping, accounts receivable, marketing materials and training). It doesn't really matter what your background is, if you have a desire to thrive, make a positive impact, and you are coachable, then you can be in business. I've met everyone from plumbers to aerospace engineers, moms to cancer researchers and college students to Olympic athletes who are also Shaklee distributors.

Shaklee believes financial stress is a significant contributor to disease and so we recognize that whole health includes financial ease and stability.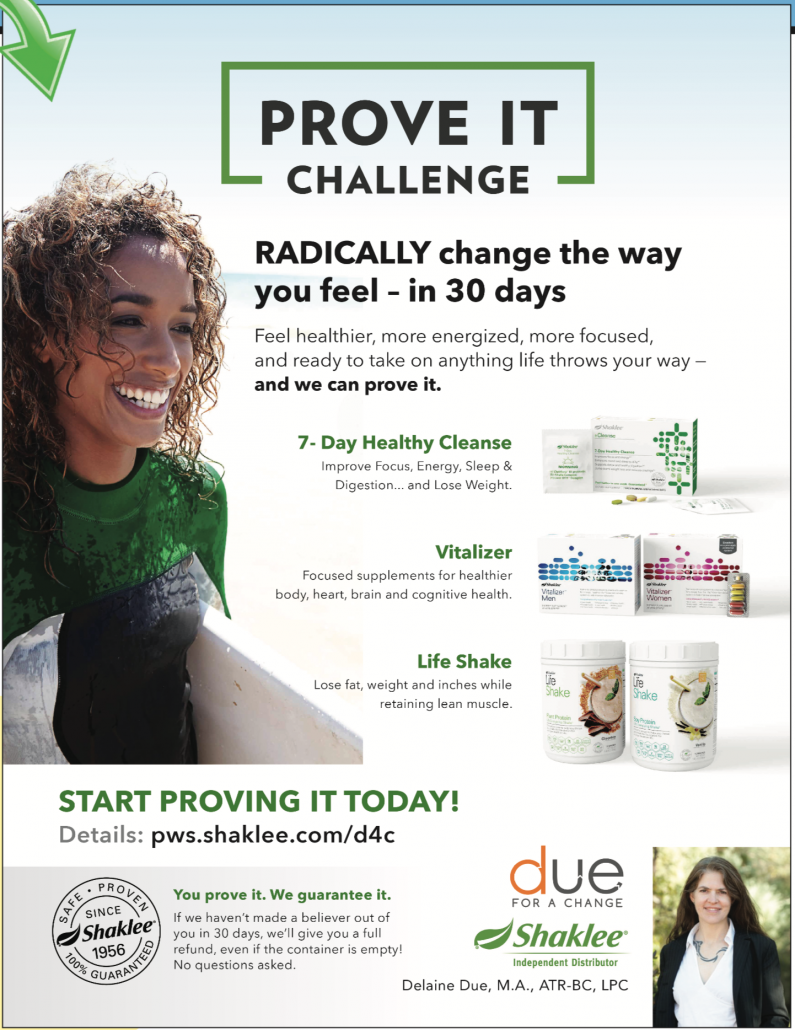 Delaine, please talk about the freedom and joy that your business has provided for you.
The first significant change my Shaklee business afforded me was to quit my corporate non-profit job and stay at home with my son, Jack. That certainly contributed to both his well-being and mine. Working remotely (never left my living room) with people in other parts of the country is how my business grew to include a vacation to Mexico with Jack and my sister–all paid for by Shaklee. The next blessing of my Shaklee business was surviving the recession. It was still extremely difficult and stressful, but when my art therapy practice lost all of its contracts, the Shaklee business continued to provide me with a foundation. The Shaklee business also made it possible for me to semi-retire from it for three years to focus on re-opening my private practice without needing a business loan. Now I'm Due for a Change and have my sites set on the freedom to be able to go back to school to earn my doctorate in art therapy.
How do you see your clients' lives change?
This week I spoke to someone who started the Prove It Challenge and reported better sleep and mental clarity. The part of his experience that surprised him was a change in his confidence. With better nutrition, he gained clarity and energy about a professional goal and called a meeting with higher ups at his work to discuss his future! Actually, especially with my added health coaching skills, I'm seeing a lot of confidence boosts in people who are taking the challenge. Even my friend Christine who is already so incredibly stro-ong, has felt a difference.
Delaine how can our readers learn more and take the next steps?
Well, accept the challenge! Follow the directions on the HUGE ad next to this interview. Thank you, Shields, for that suggestion. Go to pws.shaklee.com/d4c and click on the Prove It Challenge. Of course, contact me with questions. Oh, and you can find more healthy cleanse and smoothie recipes on the Due for a Change FB page www.facebook.com/due4achange
Learn More:
Due for a Change
Ashland, OR and Beyond
pws.shaklee.com/d4c
541-499-5214