Interviews
People's Art – Delaine Due, Art Therapist
When I met with Delaine Due recently to catch up and hear about the exciting new developments in her thriving art therapy practice here in Ashland, she was busy studying for a Board Certification exam.  By the time this interview goes to print she will have taken the exam and certainly will have passed with flying colors.  Art therapy is serious business.  You must have a Masters degree in psychology and art therapy, including extensive supervised post-graduate clinical work in the use of art psychotherapy.  Art therapy won't focus on teaching you to sculpt or paint or draw.  Art therapy will however focus on helping you address emotional challenges without relying on verbalization as the primary method of healing. 
"Trauma and emotional pain can often be beyond words," explains Delaine.  "No art experience or skill is necessary to take advantage of this way of allowing the unconscious to speak to the self and heal."  Working with individuals as well as groups, Delaine Due is facilitating healing and positive change in the lives of many.  Read on to learn more about her important work.
Thanks so much for taking time out of your busy schedule to talk with us.  In our last interview with you Delaine, you informed readers about the difference between art therapy and regular talk therapy.  Tell us more about how a typical private session looks.
Typically, a client has an idea of what is important for them to look at in the session. I usually support that by suggesting imagery that will help them explore that particular issue. For example, what does that specific fear look like? From there, the issue is explored and expressed through lines, shapes and colors. Typically, 10-15 minutes is spent making an initial personal image. When the client says it's complete, I ask them what they see. The image is a mirror for their internal experience. Often, another image will be made in response to the work done with the first image, or changes may be made to the first image throughout the process. Art therapy is different than art class. The focus is on the treatment. The art therapy and verbal interventions are supportive of the client's treatment goals. Psychology, images, the creative process and how these components interact are all part of the mastery of an art therapist.
Case Study #1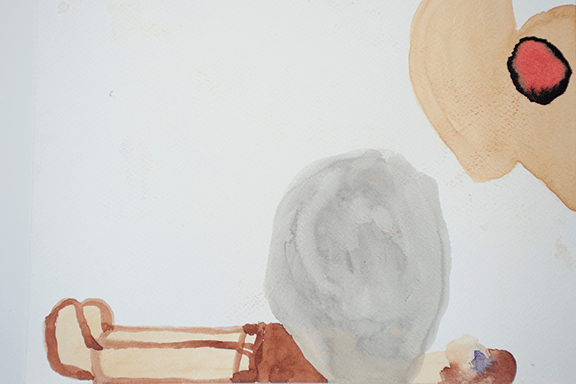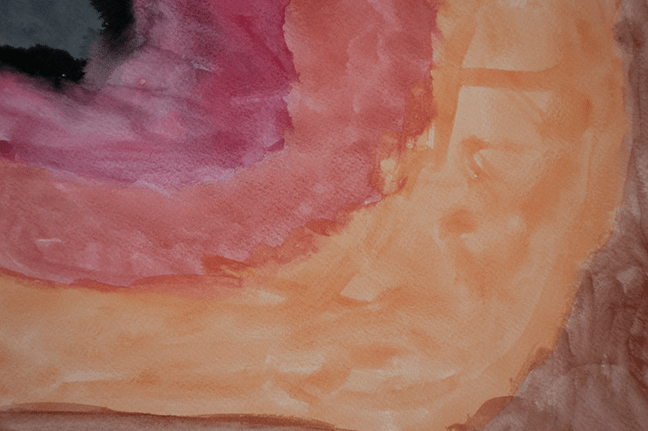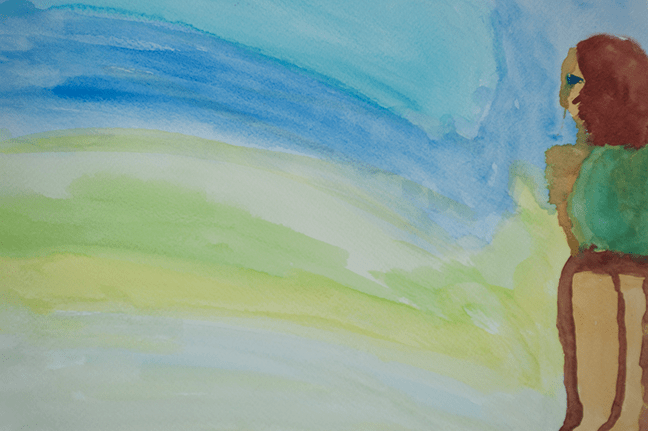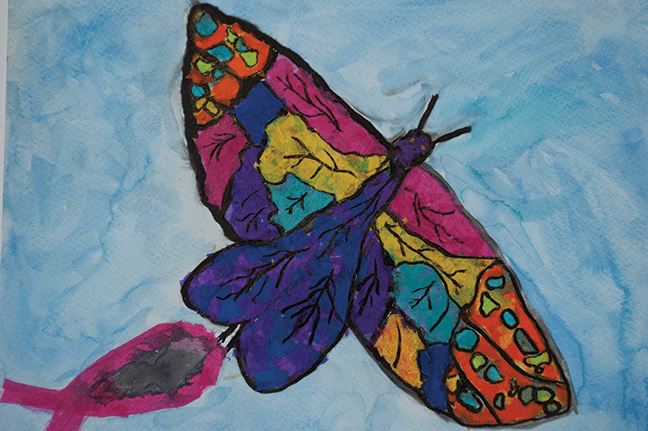 What is it about art therapy that is not possible in other forms of self-inquiry work?
Art therapy provides two main unique aspects in the therapeutic experience. One is the opportunity to tell the story without talking. This is especially helpful in cases of traumatic stress or post-traumatic stress where it is important to allow the experience to be processed, but is often "unspeakable." The other wonderful aspect is the creation of a concrete product. It's a personal power-point slide that accurately and deeply describes a personal experience. The image is a first-hand recording that can be referred to later and becomes evidence of changes. Art therapy images are part of the client's treatment record and are confidential. Permission was granted from the clients whose work appears here. I'm always humbled when a client is willing to share their work outside of the therapeutic setting.
Case Study #2 – These images describe the healing journey of an adult who experienced childhood sexual abuse.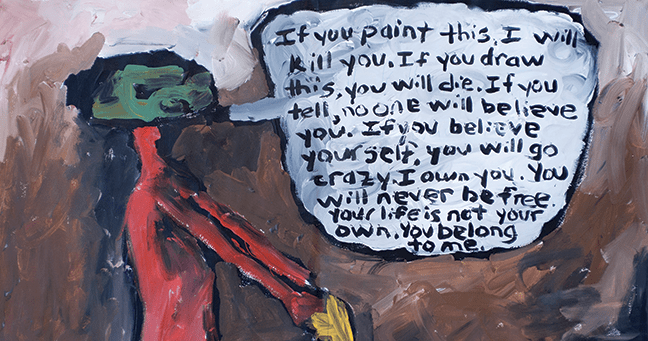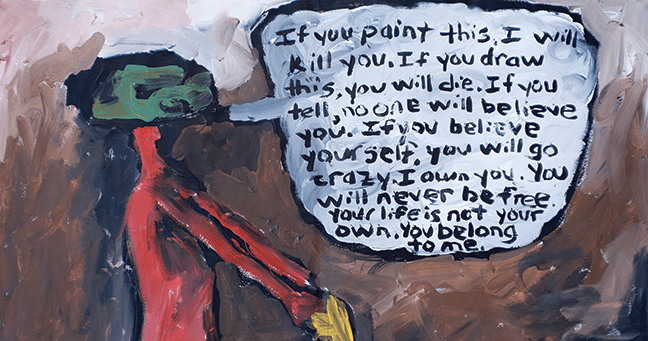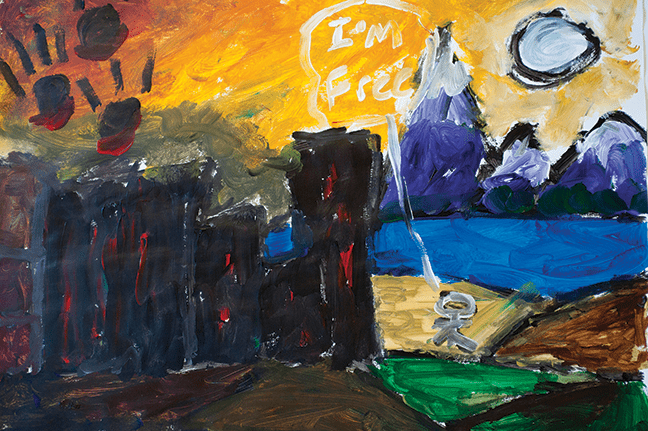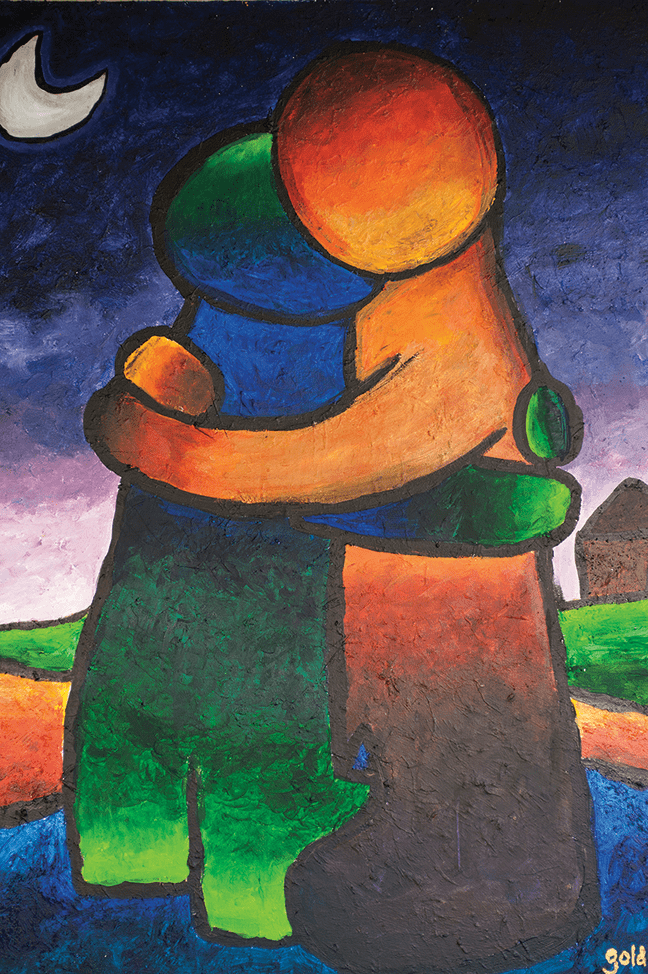 How does your own art process figure in to this work?
One of the markers of an art therapist is one who engages in their own personal art making process regularly. It is unethical to ask a client to engage in an art therapy intervention with which I am not familiar. An art therapist must understand the power the creative process and images have in bringing unconscious material into consciousness. I have kept a sketchbook practice for personal expression for over 25 years. I continue to learn various art techniques and I continue to step into the art therapy process to see my own experience differently. Once in awhile, I will work on a simple image in a group with clients and I am usually heard exclaiming, "Huh?" or "Ooohhhhh," as I gain an insight from the image as it happens.
In addition to seeing private, individual clients, you also run a number of groups.  Can you tell us about this aspect of your practice?
Typically, an art therapy group is structured in one of two styles. An art psychotherapy group is usually more directed and focused on a common issue such as adult survivors of sex abuse, grief and loss, or addiction recovery. The direction of a group like this means that the art therapist prepares a topic to address each session. An open art therapy group is a format in which client-artists may have a common life experience, but each group member works independently on their own image-making, at their own pace. Some members may spend several sessions on one image.

I am passionate about the work that happens in a group. The layers of processing, insight, and support possible in an art therapy group are rich. When a group establishes a positive culture and becomes cohesive enough to take in and practice the skills I am sharing, it is a beautiful thing to witness. A great sign of success in a group is when group members begin to support each other. I hear them remind each other to own their story, catch their comparative judgment, or defend themselves against an inner critic attack. Honest, kind humor is also a wonderful marker in a well facilitated, functioning group. When clients can imitate or make fun of me in the therapist role, I know they have integrated positive change.
Why are art therapy groups so successful?
In addition to each person's story in an art therapy group, there is each person's image. The imagery provides a mirror for everyone in the group so multiple projections can be shared. If the client-artist is open to hearing what other people in the group see in their image, it supports flexibility in thinking, positive reinforcement, and empathy that can create movement for the client-artist. Sometimes a group might imagine parts of different images hanging out together. For example, what would happen if my Panic met your Trust for lunch. What would they do? What would they learn from each other? Art therapy groups also provide a shared reflection of understanding or change in someone's work. For example, when someone changes a part of their image to improve the situation for a figure in the image, everyone in the group can benefit from the collective sigh of relief evoked by seeing the new image. Besides the record of progress for each client, art therapy groups are also uniquely suited to the balance of individuation and merging that people work with in relationships. There is always a natural flow in an art therapy group with time to connect with others and individual time to make imagery.
What kinds of organizations and agencies are you currently contracting with?
Right now, People's Art provides an open studio medical art therapy group for Providence Cancer Center that was initially funded by the Haines Foundation. Rogue Valley Manor has an open art therapy group for some incredible elders. Kolpia Counseling included an art psychotherapy group from the start of their intensive out patient addiction recovery program.
Case study #3 "What does sobriety look like?"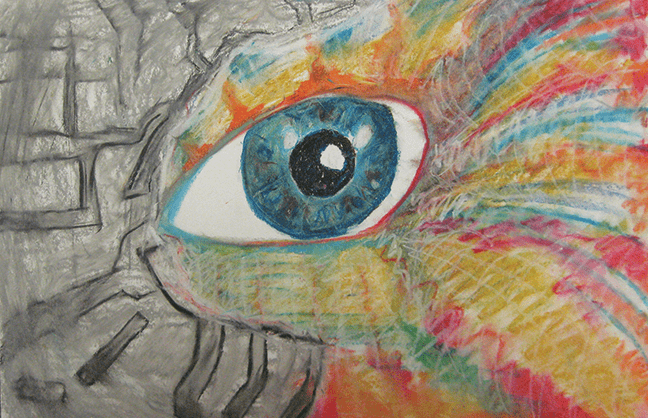 With what other kinds issues or populations would you like to do this type of group therapy?
I would love to work with veterans and adult survivors of sex abuse. Can you tell working with traumatic stress is one of my passions? I'm always up for working with adolescent and young adult men, which has been a specialty population of mine for many years. An art therapy group supporting people through gender transition would be wonderful. I'd also like to work in groups with people living with chronic mental illness again, out-patient or in-patient.
Is there anything coming up that you are excited about?
I'm waiting to hear about a grant to provide an art therapy group for veterans who have returned from deployment this summer. If so, that project will likely begin in October and run through December. I'll be facilitating an online art therapy group during September: a 30 Day Challenge, if you will. This is a great way to dip your toe into the art therapy experience. It's also great for busy people or someone with a disability. I'll also be working with Marla Estes again this year to provide a lovely monthly Saturday Night at the Movies event: food, film, art and intelligent discussion. From now through November, I'm teaching small workshops on various topics in art therapy at the Ashland Art Center. These workshops offer CEUs for other therapists. And, I'm really looking forward to having completed the licensing process for Oregon so that I can provide services for more people.
Tell us more about this online class coming up in September.
InsideOut is a program that includes a daily prompt for making a personal image and some suggestions for processing or journaling along with the image. Since the prompts are designed to be completed in as quickly as fifteen minutes they can be used as a daily meditation. Each person may spend as much or as little time on any image as they choose. Images and comments are shared in a password protected online group space within my website. I respond to every image that is posted and I am available to each group member for a twenty minute phone call during the group. It's very fun and rich with a group that participates both in the image making and posting, and in providing reflection to each other. Another great aspect about this group is that members are not bound by geography. It's delightful to experience a group with people from various places in the country.
Are there any other opportunities you would like readers to know about?
Oh yes! The Inner Fire Outer Light retreats are amazing. The last one was in Santa Fe in April. The next one is in Utah in September. This retreat is for anyone wanting to rejuvenate and support their creative bones. In April, I was one of several facilitators including a drummer and a writer. Patricia Morrison hosts the retreats and provides practical business support for any creative at the retreat who wants it.

People who come to the retreats vary greatly and it's one of my favorite aspects. We've had people who just really needed to get away from regular life to rest, grieve, or heal. We've had people attend who have very left-brain work and want to see what their right brain can do in a playful environment. On the other end of the spectrum, we have Creatives in all disciplines that want to turn their creative passion into their livelihood. Some of them are already earning income with their creative gifts and some of them want to have a plan for being able to quit one of their twelve jobs. Some people want support in finishing an album or book and some people want to reconnect with a long-asleep creative practice.
Do you have any testimonials from clients that you'd like to share?
"Art therapy has moved me toward recognition about the communication within myself between my critical mind and my supportive mind. Waking up that conversation is difficult, and I have been wholly supported by her."

"Art therapy is positively challenging in a growth provoking way. Delaine creates a safe environment in which to discover and see new things about myself. Through art therapy with Delaine, I am increasing my self-worth and self-confidence through letting go of old defensive strategies that keep me from being my best."

"Art therapy has opened my inner eyes to what I am thinking."
What's the best way for readers to learn more about how they can work with you?
The People's Art website is a good place to start. You can get more info about me, as well as see events and classes coming up and some examples of art therapy imagery. If you want to talk to me about individual art therapy sessions or contract work, call or email me.
Learn More:
People's Art Creative Arts Therapy
Delaine Due, M.A., A.T.R.
541-499-5214
www.peoplesart.net