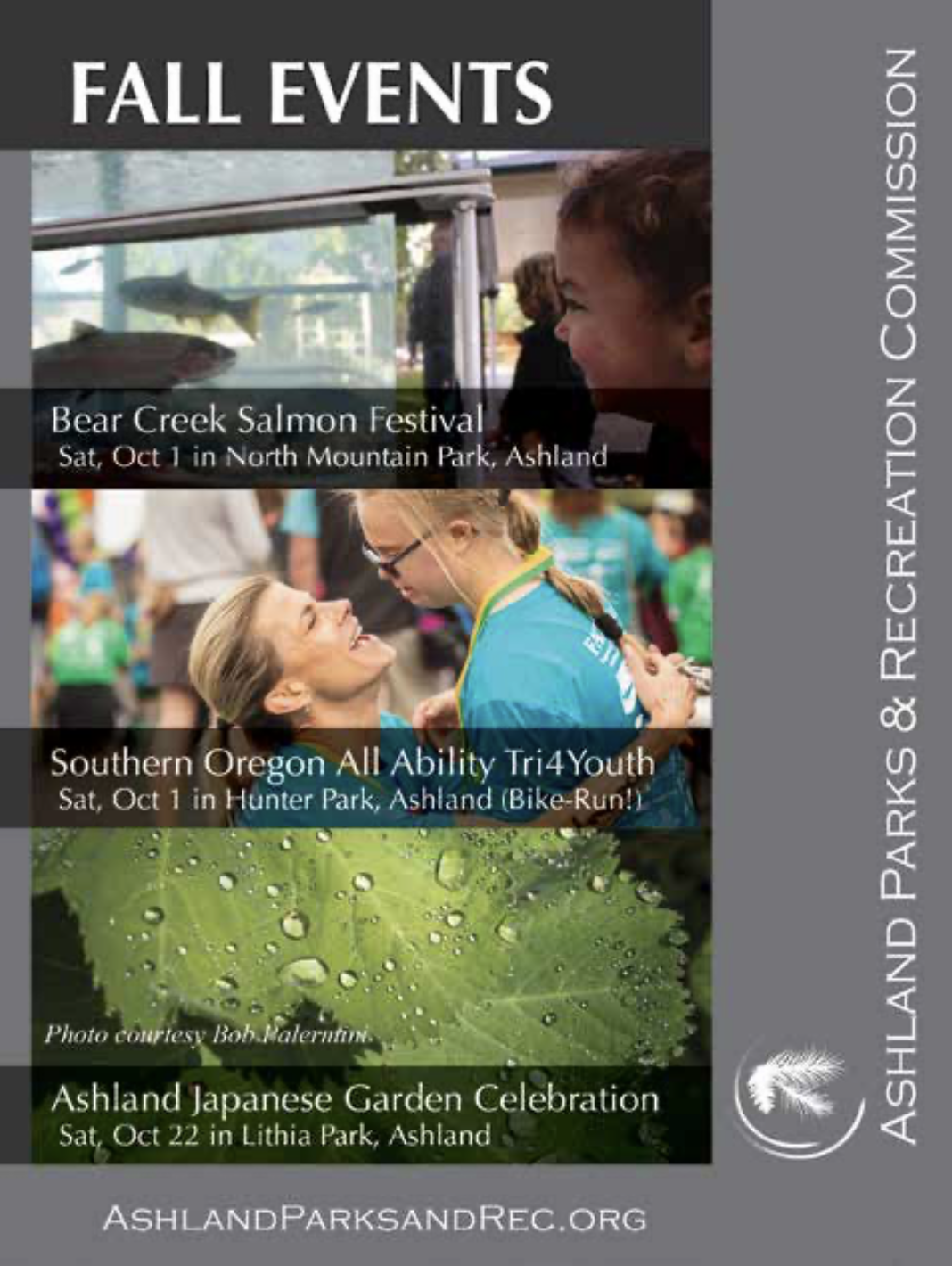 PARKS…
Ashland's beloved Lithia Park has seen many changes since its grand opening in 1916, and the park continues to delight – and to evolve. This fall, we are thrilled to announce the grand opening of a renovated Ashland Japanese Garden on October 22, 2022. Just like Lithia Park, where the Garden is located, the Ashland Japanese Garden is a gift to the public from your Ashland Parks and Recreation Commission and very generous donors. We invite all members of the public to join with the Ashland Parks and Recreation Commissioners, to dedicate and open the Ashland Japanese Garden. We hope that you will join us to experience this extraordinary gift of landscape artistry and cultural expression. Stay abreast of garden opportunities at AshlandJapaneseGarden.org. 
RECREATION… 
Our 2022 Fall Community PlayGuide… What to Do! is out and registration is OPEN! View the current guide and register for programs at ashland.or.us/register. 
JOIN US for the FIRST Southern Oregon All Ability Tri4Youth Bike-Run
We are partnering with FACT Oregon and Bridging Communities to bring Southern Oregon an accessible Bike-Run event that will help remove barriers and improve access to community-based sport and recreation for youth with disabilities on October 1, 8:30 a.m. to Noon! Everyone is invited to join in family-friendly fun and cheer on athletes succeeding in healthy activity. Visit factoregon.org/tri4youth for more information.
Lithia Park Happenings in September! 
 • The free Lithia Park Guided Walks, led by trained volunteer naturalists, are a 1.5-hour stroll through the park where you will learn about trees, flowers, birds, climate, water, geology and the park's history. Walks are every Thursday and Saturday at 10 a.m., meeting at the entrance to Lithia Park.
 • Silent Disco will take place the first Friday of each month with our partner, Silent Movement International. The fun kicks off at 6 p.m. and is for all ages – Family-friendly! Enjoy the music of local and traveling artists who will be laying down the tunes for SILENT MOVERS! 
Bear Creek Salmon Festival – The first Saturday of every October!
The Bear Creek Salmon Festival will return to North Mountain Park this fall – mark your calendars for October 1, 11 a.m. to 4 p.m.!  Join us to celebrate our watershed with learning, music, crafts and culture. Complete information at BearCreekSalmonFestival.net. 
VOLUNTEER… 
Join us every Thursday at North Mountain Park to battle invasive species, plant native trees and shrubs and help care for this wonderful park. The work party runs from 8:30 to 10:30 a.m. Tools and friendly training provided. Drop-ins welcome. Check the front porch of the Nature Center for info on where the work will be happening that day.
For all volunteer opportunities, to learn more, sign-up or to join an email list, please call or email Volunteer Coordinator, Sulaiman Shelton, at 541.552.2264 or Sulaiman.shelton@ashland.or.us. 
For more info visit AshlandParksandRec.org, email ParksInfo@ashland.or.us or call 541.488.5340. Follow us on Facebook and Instagram @AshlandParksandRec and use the hashtags #APRCstayConnected #AshlandParksandRec #APRC #FunItsInOurNature #AshlandWhatToDo