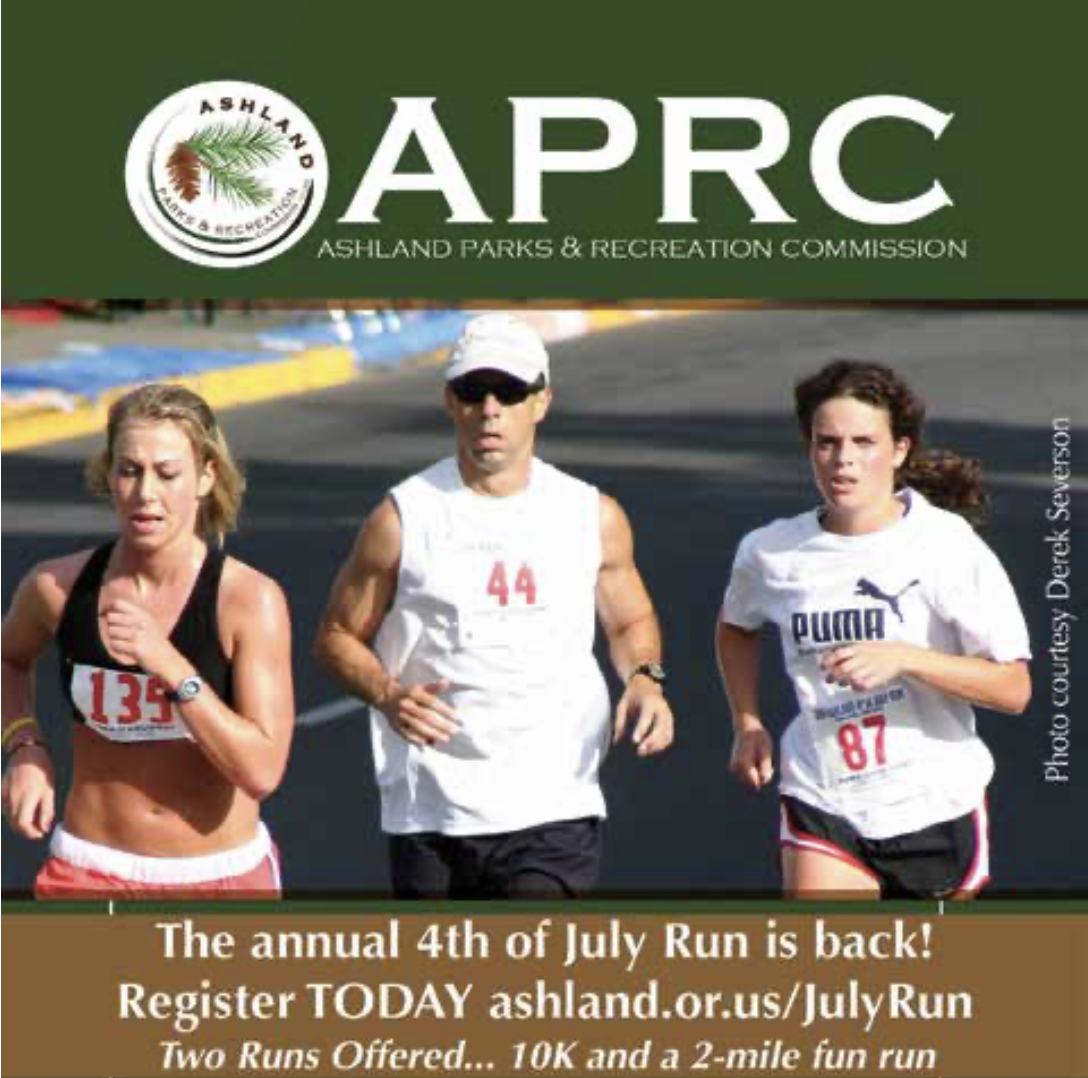 RECREATION… 
Our 2022 Summer Community PlayGuide… What to Do! is out and registration is open! View the guide and register for programs at ashland.or.us/register. 
The annual 4th of July Run is back and in person this year! This run is steeped in tradition dating back to 1976. Two runs are offered, a 2-mile fun run and a 10K that attracts local competitors as well as running talent from other regions in the U.S. See the map, learn more and register at ashland.or.us/JulyRun. 
The Daniel Meyer Memorial Pool is open for the season! Our seasonal pool offers recreational opportunities for the community and most importantly, teaches kids how to swim! Swimming provides many health benefits and is a crucial life-saving skill. Info at ashland.or.us/Swim or 541.488.5340. (Be sure to check the online calendar BEFORE heading out to the pool!) 
Lithia Park Happenings this summer! 
 • The Ashland City Band will offer free concerts at the Butler Memorial Bandshell, 6:15 to 8 p.m. every Thursday evening.
 • The free Lithia Park Guided Walks, led by trained volunteer naturalists, will take you on a 1.5 hour walk through the park where you will learn about trees, flowers, birds, climate, water, geology and the history of the park. The walks are every Thursday and Saturday at 10 a.m., meeting at the entrance to Lithia Park.
 • Silent Disco will take place the first Friday of each month with our partner, Silent Movement International. The fun kicks off at 6 p.m. and is for all ages – Family-friendly! Enjoy the music of local and traveling artists who will be laying down the tunes for SILENT MOVERS! See you there.
SENIOR SERVICES… 
Our Senior Services Division offers many services and activities at Ashland Senior Center and The Grove. Learn more and sign up at AshlandSeniorServices.org or 541.488.5342.
Our annual Ice Cream Social for Seniors and their families is back in person! Join us on Wednesday, July 13 for music and fun in Hunter Park at Ashland Senior Center, 1699 Homes Avenue. Sponsored by Village at Valley View and featuring a performance by the Ashland Brass band. Register at 541.488.5342.
VOLUNTEER… 
Join us every Thursday at North Mountain Park to battle invasive species, plant native trees and shrubs and help care for this wonderful park. The work party runs from 9 to 11 a.m. Tools and friendly training provided. Drop-ins welcome. Check the front porch of the Nature Center for info on where the work will be happening that day.
Join the volunteer gardening team at the North Mountain Park Demonstration Gardens! Work parties are held every Wed, 9 -11 a.m., Mar through Nov. All experience levels welcome. Adopt a garden for the season or drop in anytime. 
For all volunteer opportunities, to learn more, sign-up or to join an email list, please call or email Volunteer Coordinator, Sulaiman Shelton, at 541.552.2264 or Sulaiman.shelton@ashland.or.us. 
For more info visit AshlandParksandRec.org, email ParksInfo@ashland.or.us or call 541.488.5340. Follow us on Facebook and Instagram @AshlandParksandRec and use the hashtags #APRCstayConnected #AshlandParksandRec #APRC #FunItsInOurNature #AshlandWhatToDo