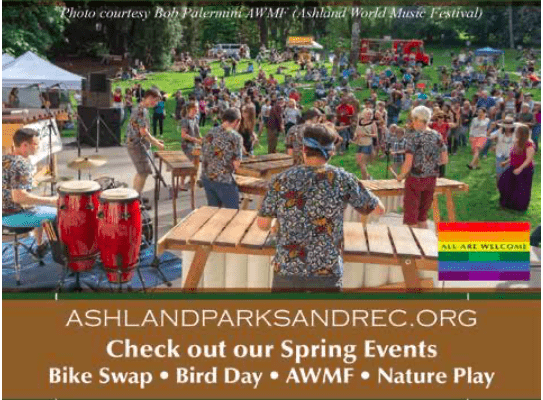 RECREATION… 
Our 2022 Summer Community PlayGuide… What to Do! is out and registration is open! View the guide and register for programs at ashland.or.us/register. 
Mark your calendar for upcoming events. Check website for details, AshlandParksandRec.org: 
 • Rogue Valley Bird Day on Sat, May 14 – RogueValleyBirdDay.net 
 • Ashland World Music Festival on Memorial Day Weekend – RogueWorldMusic.org/AWMF 
 • Opening celebration for the Nature Play area at North Mountain Park on Wed, May 11
The Daniel Meyer Memorial Pool will open for the season in mid to early June 2022! Our seasonal pool will offer recreational opportunities for the community and most importantly, teach kids how to swim! Swimming provides many health benefits and is a crucial life-saving skill. Are you looking for a job? We are hiring lifeguards and swim instructors. Info at ashland.or.us/Swim. 
PARKS & RECREATION COMMISSION… 
Parks and Recreation Commissioners hold their regular business meeting the 2nd Wednesday of each month at 6 p.m. Study Sessions are typically held the 1st Wednesday of the month. Check the APRC public meeting calendar at AshlandParksandRec.org. You can also learn how you can participate, contact the Commissioners, and view Commissioner bios and goals, agendas and minutes. 
SENIOR SERVICES… 
Our Senior Services Division enhances the lives ?of seniors by promoting healthy aging, well-being, dignity and independence.  We empower older adults as valued, contributing members of the community and together advocate for the diverse needs of seniors and their families throughout Ashland. We offer many in-person activities at Ashland Senior Center. Learn more and sign up at AshlandSeniorServices.org or 541.488.5342.
VOLUNTEER… 
Volunteers are needed to help out for the Ashland World Music Festival this Memorial Day Weekend. Help volunteer, take in some great tunes and 'whistle while you work!' RogueWorldMusic.org/AWMF
Join us every Thursday at North Mountain Park to battle invasive species, plant native trees and shrubs and help care for this wonderful park. The work party runs from 9 to 11 a.m. Tools and friendly training provided. Drop-ins welcome, check the front porch of the Nature Center for info on where the work will be happening that day.
Join the volunteer gardening team at the North Mountain Park Demonstration Gardens! Work parties are held every Wed, 9 -11 a.m., Mar through Nov. All experience levels are welcome. Adopt a garden for the season or drop in anytime. 
For all volunteer opportunities, to learn more, sign-up or to join an email list, please call or email Volunteer Coordinator, Sulaiman Shelton, at 541.552.2264 or Sulaiman.shelton@ashland.or.us. 
For more info visit AshlandParksandRec.org, email ParksInfo@ashland.or.us or call 541.488.5340. Follow us on Facebook and Instagram @AshlandParksandRec and use the hashtags #APRCstayConnected #AshlandParksandRec #APRC #FunItsInOurNature #AshlandWhatToDo