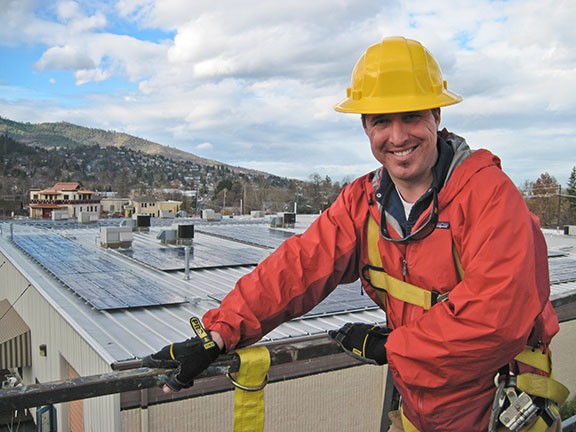 Hey guys, last month had an amazing response to our interview in the LocalsGuide. We received many phone calls and inquiries with one of the biggest questions being "how can I get started with going solar?".  Here is a quick overview our our process here at True South Solar.
1) To get started "going solar" simply give us a call 800-947-1187
2) We'll come out to your home and measure its solar potential. That process entails evaluating the impacts of any shading on your roof or ground mount site.
3) Next we'll measure the amount of space that we recommend installing solar on. Based on those evaluations and available space we can discuss your options, energy production goals, and or budget so we can put a proposal together for you.
4) Then we'll come back another time to discuss it you. At that time we can also discuss financing opportunities if you're interested in going that route.
5) Once you choose to go solar it only takes a few weeks for us to get your permits, incentive reservations, and equipment in stock. Most of our installations take a week to complete and then you'll be enjoying the benefits of your new solar electric system.
Bonus
Adding solar to your home is as easy as making a phone call – reaping the benefits is easy as well. While you're going day to day business your solar electric system is silently working hard for you. What's it doing? Over the life of a fourteen panel, 3 KW system, it will offset 76 tons of CO2. That's the same as:
• Planting 1,771 trees.
• Driving reduced by 152,000 auto miles, or 7,752 gallons of gasoline.
• Recycling 240 tons of waste instead of sending it to landfill.
• Displacing CO2 emissions from the annual electric use of 9 homes.
That same electric system is also saving you money. Conservative estimates for a 3 KW system have it paying for itself in four years and saving you $10,000 over its twenty five year warrantied life. That's a 20% internal rate of return; not a bad investment.
Call us today at 800-947-1187 or request a quote from our web site at truesouthsolar.net. We're looking forward to working with you. Go Solar!