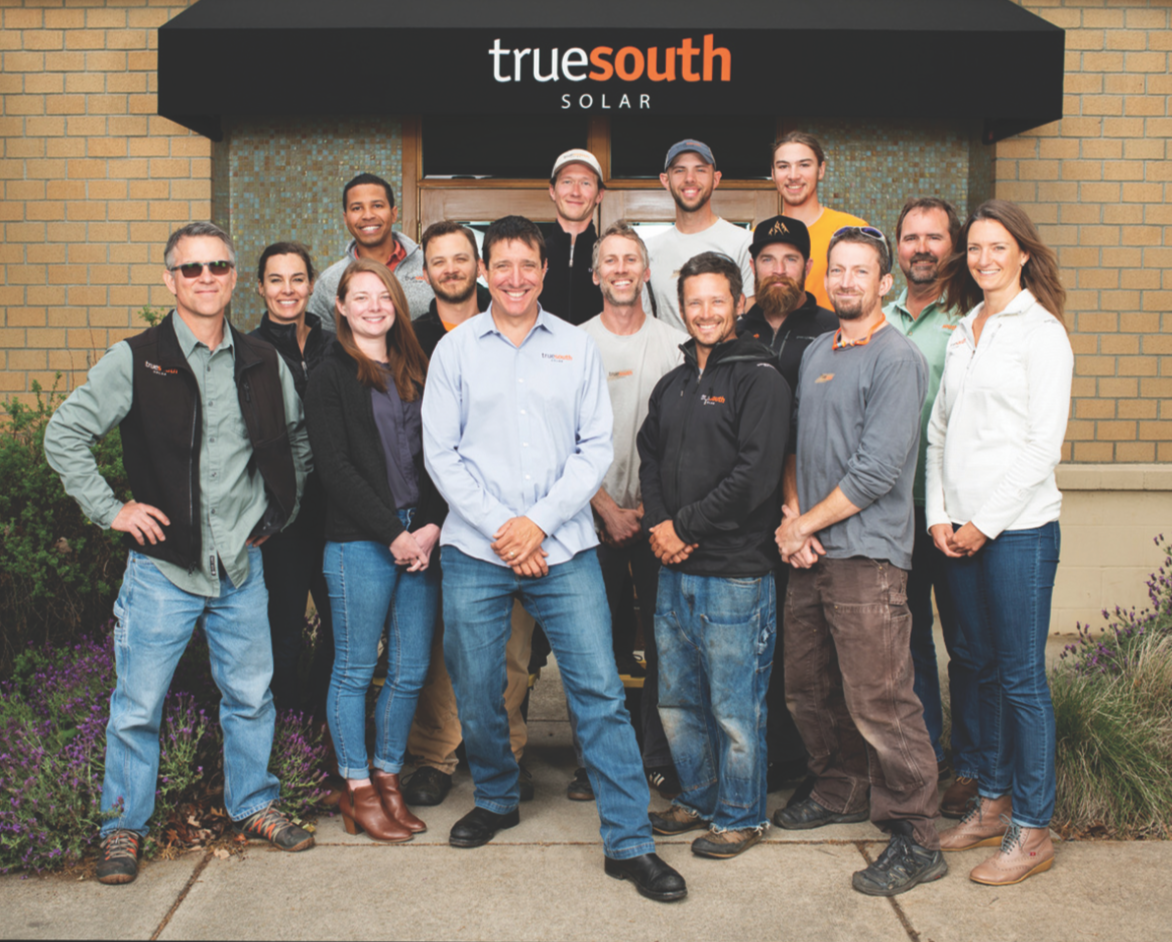 Interviews
True South Solar – Rooftop + Storage Revolution
For the past 9 years we have been closely following the Southern Oregon Rooftop Revolution. There is a great cultural shift towards generating and creating one's power. So if you're paying a monthly electric bill then you need to be paying attention!
In today's interview I speak with the CEO and Founder of True South Solar, Eric Hansen. With a pioneering and adventurous spirit, Eric and his team have grown from a small company into a leading provider of solar electric services here in the Rogue Valley. In our interview Eric talks about huge advances in battery technology that is expediting change and taking Southern Oregon towards a net zero future with its own micro power grid.
Hello Eric, and welcome back to LocalsGuide!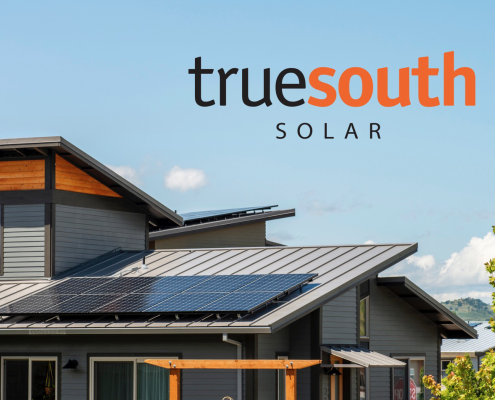 Thank you Shields. It's always a pleasure to share this time with you and our LocalsGuide readers. We're super thankful to our community who have been so supportive of solar throughout the years.
Catch us up to speed on what you and the company have been up to at True South Solar?

True South Solar, like the rest of the solar industry, has been moving forward, growing and progressing. We're installing super-efficient systems, breaking records, working on storage solutions, hiring new folks, and as always, supporting our wonderful community through outreach and sponsorships. We're also working with the solar industry on innovative solar policy bills in Salem.

May 2019, the US solar industry passed the 2 million installation mark. It took the solar industry 40 years to reach 1 million solar installations, it only took us 3 more years to install another million. We're expecting to hit 3 million solar installations by 2021. You can't look online without finding a new state or city committing to 100% renewable energy goals. Solar installer was the fastest growing job in eight different states in 2018. Now is a great time to be part of the solar revolution.

This year will be especially busy for us. The Federal ITC (Investment Tax Credit) is getting ready to step down this year, and we're gearing up for a busy second half of 2019. Currently the ITC provides 30% tax credit relative to the cost of an installation for residential, commercial and utility solar projects started in 2019. If the project started in 2019 the tax credit eligibility last 4 years, if started in 2020 it lasts 3 years, and if started in 2021 lasts 2 years. The ITC will drop down to 26% in 2020, 22% in 2021, and then expire for residential projects in 2022 and stay at 10% for commercial and utility projects indefinitely.
Let's jump right into the key talking point which is huge advancements in battery technology and availability. Please explain what is happening.

We're now offering the Tesla Powerwall II! These Lithium-Ion batteries utilize the same tech as Tesla electric vehicles. The batteries allow you to capture your solar electrons, store them, and use on site in the event of a grid outage.

We're seeing solar + storage technology shifting an entire industry. When I attend trade shows there are always more solar + storage solutions. I'm excited by the potential of innovative storage technologies to improve efficiency, reliability, and resiliency of our electric transmission systems.

We recently got the good news from the IRS, who determined in 2018, that batteries installed with a solar array can receive the ITC if they are charged 100% by on-site solar. Deploying energy storage needs to be at the center of our ongoing effort to move towards a cleaner more reliable electrical grid.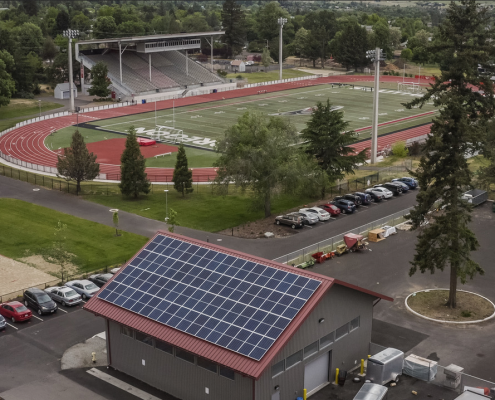 That sounds awesome! Why is battery storage such a hot thing right now?

Oregonians want storage for power in the event of a grid outage or natural disaster, we call this resiliency. Sometimes we also want to keep our solar power on site, instead of "selling" it back to the power company, for a self-powered home.

In other markets, utility companies charge Time of Use that make electric rates higher or lower at a certain time of day. This is sometimes referred to a Peak or Off-Peak rate. In Southern Oregon, we aren't seeing Time of Use yet so the batteries won't have an effect on electric costs. Its main purpose is to enable you to use your solar electrons in the event of a power outage.
I'd love for you to talk more about the idea of storing and exporting power back into the community. This sounds like a total game changer.
It absolutely is a game changer. As batteries become more and more common our levels of autonomy and sustainability get higher and higher. I see a future where Southern Oregon is an independent micro-grid that exports solar power to other communities.

We already have whole communities going solar. Verde Village in Ashland, for example, is the first "Net Zero Ready" community is the state of Oregon. Sixteen out of forty-nine homes have solar so far — with more installations on the way! These homes were built by KDA Homes and SunCrest homes to be net-zero capable; they are super energy efficient and were given enough roof space, with an ideal orientation and pitch, to produce all their own energy needs. All homes in Verde Village are Earth Advantage Platinum certified and some have achieved their Zero Energy certification.
Eric, are we looking at an emerging market of energy storage on the horizon?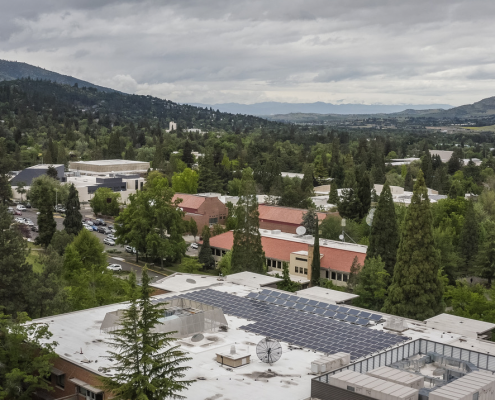 Absolutely! The storage market is growing for both residential and commercial applications. There are already large commercial installations using batteries in manufacturing and other sectors to reduce demand charges and remain operational in times of power outages.
Over the past 9 years True South Solar has worked across our community installing state of the art systems on private homes as well as commercial properties. Please say more.

We've done over 700 installations throughout the Rogue Valley including Medford, Ashland, Grants Pass, Eagle Point, Jacksonville, Shady Cove, Talent, Phoenix, White City, and the Applegate Valley. Our focus for homes has been to maximize power production specifically for each roof we encounter. Most of our residential systems are grid-tied but the size of the system depends on the consumption of the home. Residential systems need to be less than 25 kW per utility meter.

Our commercial focus depends on the needs of the company. Most systems pay for themselves in a little as 4-6 years. Commercial systems can take advantage of the Federal Tax Credit, utility cash incentives, and accelerated depreciation. Commercial systems vary in size as well but can go as large as 2 megawatts!

For example; we just installed the biggest roof-top system in the valley for Rogue Valley Precast, out on Avenue G, in White City. The system is 157.08 kilowatts, with 408 solar panels, and each panel is 385 Watts. Rogue Valley Precast produces manholes, catch basins, box culverts, vaults, custom designs, and now solar power!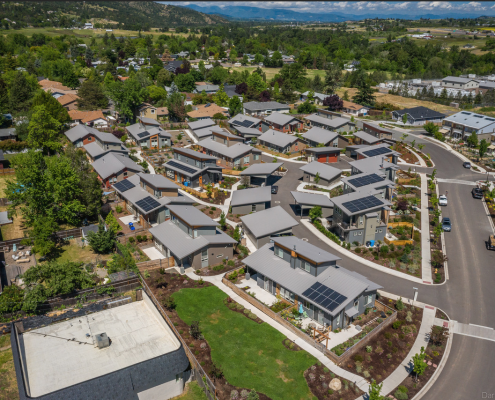 Can you give us an overview of the specific services you are providing?
We offer a variety of services like free consultations, solar design, solar installation, permit handling, incentive filing, data monitoring, and storage solutions. The process starts with us going out and getting to know our customer. This helps us understand the goals and desires of the customer as well as familiarize ourselves with the site.
Eric, in a nutshell, can you describe what your customers are looking for?
Easily, all of our customers are looking to save money and the environment.
I know you couldn't do all this alone so would you please introduce us to your team?
Gladly!

Shawn Schreiner is our Co-Owner, Sales, and Operation Manager.

Lance Aryeff is our Field Manager and Lead Electrician.

Beth Nolan is our Office Manager.

Shaun Franks is our Inside Sales and Marketing Manager.

Brooke Hansen is our Commercial Development Advisor.

Matt Shore is our Solar Advisor.

Samantha Willis is our Solar Advisor.

Josh Neale is our Lead Installer and LRT Solar Electrician.

Oshia Golden is our Installer and LRT Solar Electrician.

Mike Goglin is our Installer and LRT Solar Electrician.

Dan Ropel is our Installer and LRT Solar Electrician.

Stan Lempka is our Installer and LRT Apprentice.

Noah O'Connor is our Installer and LRT Apprentice.

Steve Cossin is our Installer.

Sonia Findley is our Solar Administrator.

Teresa Rasmussen is our amazing Bookkeeper.

And finally, myself, I am the Principal Owner & General Manager.
You guys have worked really hard to create a strong company culture. Please talk about this.
True South Solar is a family driven organization. We know our team is our secret sauce; when our team is happy their energy is palpable and our customers are happy. That's why we go above and beyond to create an empowering company culture that allows for professional growth and personal creativity. Our mission remains the same, Solar on Every Rooftop & Best Jobs Ever!
Eric, please talk about the company commitment to community education.
Our culture of empowerment extends beyond our employees. We have a strong commitment to community education. Last year, with Talent Maker City, we co-chaired the Raising Innovative Solar Engineers (R.I.S.E) workshop; Talent Middle School students learned about solar installations alongside solar professionals. They learned about the diverse roles in the solar industry along with hands on skills for solar installations.

This year we have worked with a variety of classes at Talent Middle School and New Bridge High School in Grants Pass to educate students on the benefits of solar technology. And of course, we always enjoy educating the kids at the Rogue Valley Earth Day celebration held at ScienceWorks each year.
How do you envision the future and what are some things our kids could look forward to that are only a dream now?

We envision a future with a cleaner environment, solar powered homes and businesses, and more electric vehicles to power our commutes. You can already see this happening with homeowners and businesses like Pie + Vine utilizing solar and electric vehicles for their daily use.

Kids around the world are demanding their leaders commit to transitioning to clean energy. More cities and states are advocating for 100% renewable energy policies, solar panel technologies continue to increase output and efficiency, and solar + storage is becoming more popular. Imagine a community powered 100% by local, renewable energy. The future is bright!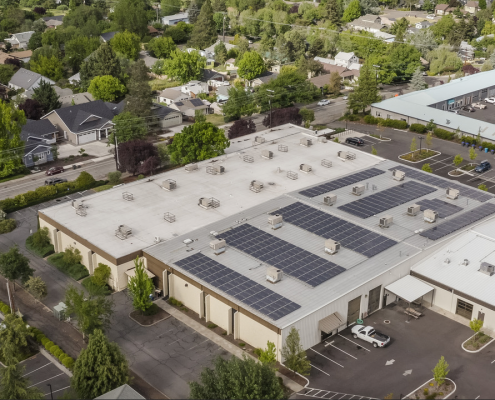 How much money on average are people saving when converting over to solar?
It all depends on the system size and access to the sun. Our average residential installation in 2018 was a 6.6 kW system, depending on the roof tilt, orientation, and shading, which can save as much as $1,080 annually. Our customers save by taking advantage of tax credits, cash incentives, and ongoing energy savings.
Something we've always talked about is your great attention to detail. Recently your team has been going back and auditing past projects to see how they have lived up to expectation. What have you discovered?

We have been very methodical about how we assess the performance of our past projects. For many of our installations, we've found that they are performing better than expected. We've also been able to identify and remedy underperforming arrays thanks to our data monitoring.
Could you please share any highlights from the past year and/or a testimonial or two with us?

Solar technology is rapidly changing our society. In our community, we have done over 700 installations, and over 5 megawatts since we started in 2010. In 2018 alone, we had 128 installations totaling 1,195 kW.

Here are a couple testimonials from our customers:

"True South Solar is stellar!" – Allen Hallmark
"True South was amazingly professional from start to finish so I have complete trust in them." –Scott Bandoroff
"This is a commercial installation and we wanted everything to work properly and be attractive (or be invisible).  The installation is very clean and we are producing a lot of power. We have to make a point of telling people we are solar powered because the system blends in so well." -Greg Schultz
"True South Solar is committed to the local community." -Bill Jennett
From planning to financing to installation. True South Solar has you covered.

That's true. We have you covered from start to finish. If you're in the initial phases of exploring solar, reach out and give us a call. You'll have a great team behind you helping you every step of the way. We give free consultations and have great financing options for both residential & commercial customers.
Eric, thanks so much for speaking with us here today. Do you have any last thoughts or comments you would like to share with our readers?
Thank you to everyone who has supported us through the years. Thank you to our customers, fans, friends, and solar tribe. If you're considering solar, stop by our office, visit our website, or give us a call. We're more than happy to help.
Learn More:
True South Solar
125 Clear Creek. Dr. Ashland, OR 97520
TrueSouthSolar.net
800-947-1187