Introducing Dr. Dana Schmidl of Schmidl Orthodontics. With offices in both Ashland and Medford, Dr. Schmidl and her team seek to deliver superior orthodontic care in a fun, friendly environment. Schmidl Orthodontics provides affordable treatment options with braces and Invisalign, as well as treatment of TMJ issues and sleep apnea. As both an orthodontist and a mom, Dr. Schmidl will address your concerns with a gentle, compassionate approach and meticulous attention to detail. With over a decade of experience in the exclusive practice of orthodontics, she has brought beautiful smiles to thousands of patients.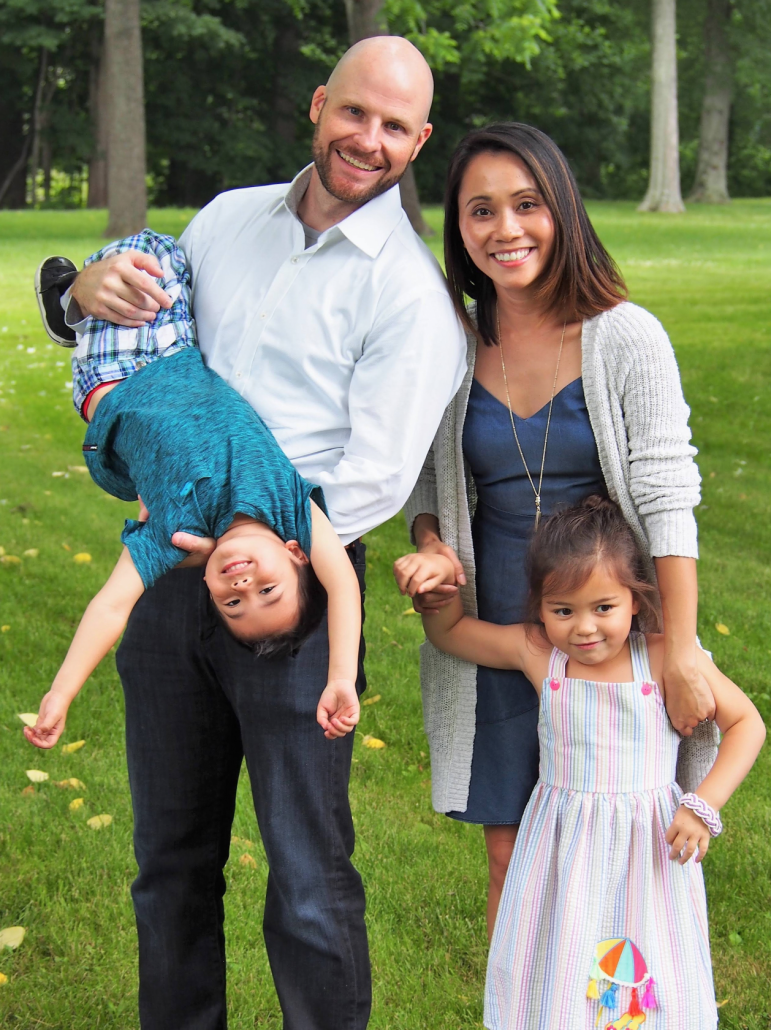 Hi Dr. Schmidl, welcome to LocalsGuide and thanks for taking the time today with us to do this interview.
Thank you very much. I'm very happy to be here!
To begin with, please tell us a little bit about your background and journey to becoming an orthodontist.
I was born in Vietnam. My family and I immigrated to the United States when I was about 10 years old. When I arrived in Southern California, I didn't know any English. But with hard work and determination, I quickly became fluent and excelled in my studies. I was always interested in science, but wasn't sure what career path I wanted to pursue. My older sister suggested that I follow her footsteps to become a dentist. In retrospect, I'm so thankful that she gave me such wise guidance that has led me in this direction. After receiving dual Bachelor's degrees from the University of California, Riverside, I earned my Doctor of Dental Surgery degree from the University of California, San Francisco in 2004. I decided to specialize in orthodontics, so I continued on to Loma Linda University for my orthodontic residency to earn a Specialist Certificate and Master's degree in Orthodontics and Dentofacial Orthopedics.
Wow… that's impressive. What were some of the biggest lessons you have learned along the way that you now enjoy sharing with others?
Well, while I've worked really hard to get to where I am now, I've always tried to maintain a good work life balance. "Work hard, play hard", as they say. We live this life only once, so we need to do our best to make a positive impact on the world, and to have fun while we're doing it.
Dr. Schmidl, you are joined in your practice with your husband Joe and together you have two children. Please tell me more.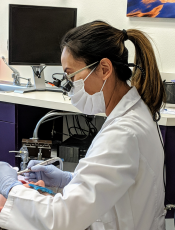 Yes, I met my husband, Joe, in San Francisco while I was in dental school. I'm so thankful that we're partners on this adventure. He is the most supportive husband and the greatest daddy of all time. Our daughter, Quinn, is almost 8, and our son, August, is 5. They are balls of energy and tons of fun. They challenge us and keep us on our toes every day. I truly feel blessed.
Please tell us about your decision to base your practice here in Southern Oregon. What were the key qualities in both your personal and professional life that this community meets for you?
I was a practicing orthodontist in California for many years. My husband and I were growing tired of the traffic, pollution, crowds, and hectic pace. We would both spend 2 to 3 hours each day just commuting to work. We found that we didn't have enough time to spend with our young children, so we realized that we needed to make a change. We decided to relocate to a community where the lifestyle is slower, neighbors are friendlier, and the commute is shorter. Southern Oregon met all of our criteria. It so happened that as we were charting our course, Dr. Katzen decided to retire and listed his orthodontic practice for sale. We flew up here in August 2015 and immediately fell in love with the area. The rest is history. The practice has been such a wonderful opportunity, both personally and professionally. Southern Oregon is our home, and we love it!
Can you please give us an overview of the services you offer at Schmidl Orthodontics?
Schmidl Orthodontics is a full service orthodontic practice that goes above and beyond to address each of our patient's concerns with personalized care throughout the course of treatment. We provide orthodontic treatment options with traditional braces as well as Invisalign. We specialize in early intervention methods and orthodontic devices which may eliminate the need for tooth extractions or jaw surgery, which, as you can imagine, are not at the top of anyone's bucket list. While the majority of our patients are kids, we also see a large number of adults. Sometimes parents watch their child's smile transform and decide to get treatment themselves. We often see adults who were previously treated with braces as a child, but they did not continue to wear their retainer so their teeth relapsed. Our patients' ages range from as young as 6 years-old to seniors in their 80s and 90s. We enjoy interacting with patients of all ages. Each person is unique and has a different situation and dental concerns. Aside from the outward cosmetic appearance of straight teeth, there are also functional and structural considerations that I assess. Along those lines, we also treat temporomandibular joint (TMJ) disorders as well as mild sleep apnea. We utilize the latest technology, diagnostic tools, and treatment methods, so I'm able to provide a customized treatment plan for each patient and keep a mindful eye on the progress.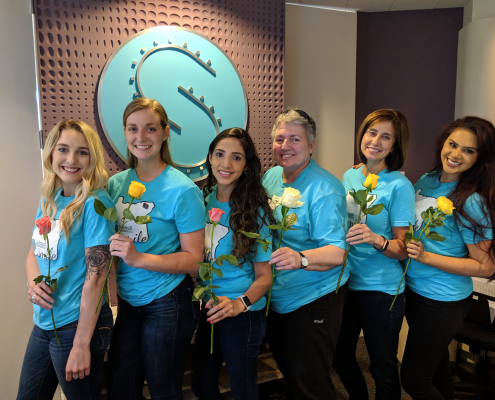 You have offices in both Ashland and Medford?
Yes, that is correct. My team and I work in each office on different days in order to provide convenience for our patients. Medford is our main practice location, where we spend more days per week. We really appreciate our time in the Ashland office, as do our patients in Talent, Ashland, and Northern California. We are continually implementing improvements to both offices to make for an even better patient experience.
Is there anything in particular that really helps to differentiate your practice?
I think what differentiates us the most is the time and personalized care that we provide our patients. Being that we are a relatively smaller practice in the area, we pride ourselves in our personalized approach. That is reflected in all of the wonderful compliments and online reviews that we receive from our current and former patients. Considering that orthodontic treatment can often take around two years with regularly scheduled office visits, we are able to get to know our patients and their families very well. I am also happy to have such a wonderful team that works so well together and help make our patients feel welcome and comfortable. When we say that we'll put a smile on your face, of course we will straighten your teeth and adjust your bite, but we are also committed to making you happy along the way. We do that by providing stellar customer service, compassion, meticulous attention to detail, clinical expertise, and a fun friendly environment.
Please tell us more about your specialty training to become an orthodontist.
All orthodontists are dentists, but only a small number of dentists go on to receive additional 2-3 years of residency training to specialize in the field of orthodontics. That additional training provides further depth and understanding about the complex diagnosis and treatment of orthodontic patients. I trained at Loma Linda University in Southern California, which was one of the first dental schools to have a 3-D x-ray machine (CBCT). During my residency, we became very comfortable utilizing and reading these rather complex 3-dimensional images. In fact, my master's thesis focused on the utilization of this imaging for orthodontic treatment. Another unique aspect of my residency was that one of my co-residents was an implant specialist who happened to decide later in life to become an orthodontist. I was fortunate enough to get first-hand training on how to place mini implants, which is a very important new technology that allows for the treatment of more complex orthodontic cases.
Are patients able to come to you on their own or do they need a referral?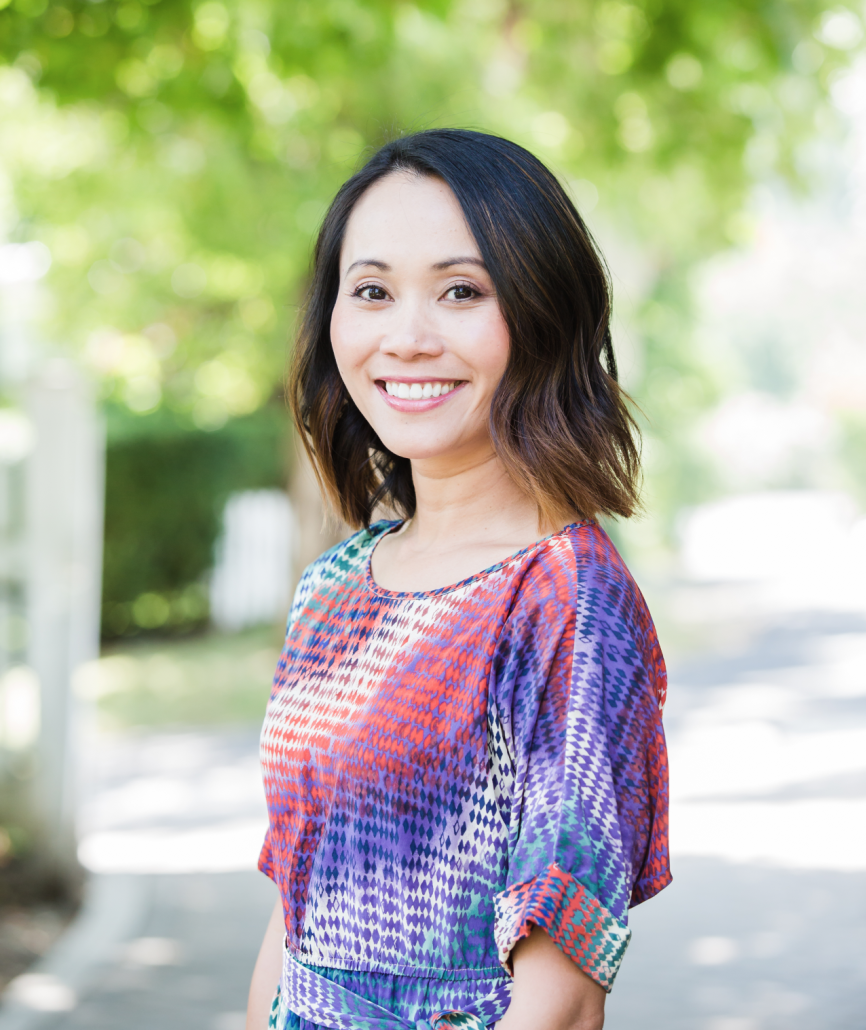 Patients are definitely able to come to us on their own, no referral needed. Often times, patients or parents will identify the need for orthodontic treatment. For example, they are unhappy with their crooked teeth or they don't like that they have a big overbite. They can contact us directly and we will gladly schedule them a complimentary consultation. Many patients, however, are referred to us from their dentist, since proper teeth and jaw alignment is an essential component of overall dental health. Speaking of referrals, we are proud to receive many internal referrals; in other words, when our own patients recommend us to their friends, family, co-workers, etc. Also, of course, in this day and age people tend to do online research, so patients often find their way to us via online reviews and social media.

Whether or not a patient has a referral from their general dentist, we always communicate with their dentist before starting treatment in order to ensure that there are no oral health issues or planned dental procedures. We also provide updates to patients' dentists during the course of treatment.
What are some signs or symptoms that the patient might notice that leads them to work with an orthodontist?
The majority of patients will come to us with cosmetic concerns. Often times, patients already know that they have crooked teeth, but they may not realize that they have an improper bite or other underlying issues in their mouth. During my exam, I point out the cosmetic, functional, and structural issues of the teeth and jaw. With that information in hand, the patient and I then discuss treatment options and strategize a plan.
Over the past few years, you have put together an impressive team. Please introduce us to them.
Yes, I feel like I have a Dream Team. We have a group of all-stars who work well together and bring so much talent and energy to the practice. Donna is our office manager. She has been with us from the start, and was previously with Dr. Katzen for over 2 decades. She wears many different hats and keeps the practice running smoothly. We have lovely Kathy, our receptionist and Communications Coordinator. She likes to call herself the "chick at the front desk". Kathy is always smiling, bright and happy to greet anyone who comes through our door or calls on the phone.

Now let me introduce you to my wonderful clinical assistants. We have Azucena, who is a certified Expanded Functions Orthodontic Assistant (EFODA), which means that she has special certifications and advanced skills in orthodontic assisting. Azucena was with us in 2016, left on maternity leave for a little over a year to spend time with her newborn son, and returned to us over a year ago. We're so happy to have her back! We also have Celia, who is also an EFODA. Her calm, cool, and collected demeanor makes our patients feel comfortable. She is currently on maternity leave, but we are very excited to have her returning to our office later this month. Next we have Sharon. She is an orthodontic assistant who is always happy and as sweet as can be. I might add, she's also an amazing karaoke queen. Last but not least, Kylie is our newest team member. She is a recent graduate of the dental assisting program. Out of the gates, she has proven herself to be an asset to the team and a joy to work with.

Finally, we have my husband, Joe Schmidl, who is the behind-the-scenes man. He is proudly in charge of the office "honey-do list". Luckily, he is a jack of all trades, so he helps with marketing, graphic design, equipment and building maintenance, information technology, and payroll.
Dr. Schmidl, it seems that you make team building a priority. 
Yes, it is very important to me and Joe that our entire team share the same philosophy when it comes to patient care and customer service. Our team members are extremely helpful, sweet, and kind. They go above and beyond to help each other and our patients. We often do team building activities to foster the great dynamic we have together. As a matter of fact, we all just got pedicures together last week. Last month, we took the team to Los Angeles to attend a national orthodontic convention. We make a point to celebrate birthdays and milestones. We enjoy being around each other, and that makes for a better place to work, and a better place for our patients to visit.
Your work takes years to come to fruition. What are some of the joys and benefits of this process?
Oh there are so many joys in orthodontics. The number one joy is seeing the huge transformation in our patients. Imagine a shy, self-conscious teenager walking in to our office for their first visit. Over time, since we see our patients every 6 weeks or so, we get to know both the patient and family. As we earn their trust, and continue making improvements in their smile, they blossom in front of our eyes. Not only do their teeth and smile transform, but so does their whole personality and attitude. After completing treatment, the patient leaves our office with a beautiful new smile and newfound confidence. This is a common storyline in our daily life at the practice. It may sound like a long time to come to fruition, but it seems to go by fast. Another benefit of this process is that the fruits of this relatively short treatment period can be enjoyed for the rest of the patient's life. Well, that is if they listen to me and wear their retainers.
What is Invisalign treatment and how is it more preferable than braces?
Traditional braces use brackets, which are typically metal or ceramic, that are bonded to the teeth and slowly move teeth with the use of metal archwires and other devices. Invisalign treatment, on the other hand, uses a series of customized clear aligner trays to straighten teeth over time. The aligners are similar to clear retainers in appearance. There are pros and cons to each of these treatment modalities. For invisalign, the allure is that it is invisible. In fact, I have been wearing Invisalign myself for almost a year. Most of the time, when I speak with someone, they are surprised to learn that I have an aligner in my mouth. Invisalign treatment is a good option for patients that are self-conscious of wearing braces, such as the majority of adults. Another benefit is that it is a comfortable system that allows you to eat, brush, and floss like normal when the aligners are not in the mouth.

Historically, Invisalign was mostly used for minor crowding or retreat cases. But thanks to advancements in the technology, many complicated cases can now be treated with Invisalign. Trained orthodontists such as myself can use Invisalign to treat a wide array of malocclusions and orthodontic issues. I have taken multiple continuing education courses specifically with Invisalign so that I can become more proficient in treating these difficult cases, not just the straightforward ones. I am a Preferred Invisalign Provider and took part in the Invisalign Master's Program.

Aligner treatment is becoming more and more popular, but it does have limitations. It's also not perfect for everyone. One of the biggest drawbacks is compliance. While traditional braces are always actively engaged, Invisalign only works if the patient wears the aligners 22 hours/day. For example, a teenage boy who eats all day or is prone to repeatedly losing his aligners in the laundry may not be the best candidate for Invisalign. I help guide my patients towards whichever treatment modality that best addresses their orthodontic needs and best fit their lifestyle.
Will you please share some recent customer reviews with us?
Sure, I'd love to. Please see some recent reviews below:

"Schmidl orthodontics was a great experience for my daughter. She was made very comfortable by how kind and compassionate they were as sometimes she had uncomfortable things happening in her mouth. Doctor Schmidl is very competent, wonderfully kind, very good with kids as are her staff. They are efficient and effective. Highly recommend."

"Always looked forward to coming in every time. They greeted you with smiles and asked you how your day, school, or summer was going. It's was always a great visit and I'm glad I chose here for my orthodontist experience."

"Absolutely awesome! I took my 8 year old in for braces and the results are amazing! Great professional staff and great, flexible offices!"

"I am an adult patient (let's just say over 55!) who needed correction on relapsed teeth. In an effort to prevent future dental problems, my dentist referred me to Dr. Schmidl. 18 months later I have a beautiful smile, a corrected bite, and a mouthful of straight teeth. Thanks to Dr. Schmidl's professional competence, excellent explanations, a very supportive staff, and a warm and inviting office, my months of treatment flew by! 5 stars all the way!"

"I felt very confident and comfortable with the Dr. Schmidl and her staff in doing the best possible job in orthodontic treatment. They are very friendly and skilled in the work- my teeth look great! It was a complicated case and they did it without surgery and with the least amount of invasive or aggressive procedures to produce an excellent result. I trust Schmidl Orthodontics. Thanks!"

"My 11 year old had a great experience with her braces here. The staff were caring, technically excellent, and good with kiddos! Dr. Schmidl is very skilled, efficient, kind, and proactive with treatment. I wholeheartedly recommend her and wouldn't go anywhere else!" 

"Finally done with my invisalign treatment! Schmidl Orthodontics is the best! I highly recommend them. Everyone has been great. I am a nurse and work nights and have difficult schedule to work with but they accommodated me. Dr. Schmidl is fantastic. I love how detail oriented she is. She did not rush the process and made sure to do micro adjustments needed to give me the perfect smile. Thank you so much!"

"Excellent experience! My son was very reluctant to get braces. Dr. Schmidl's gentle approach was exactly the key fact to my son having a positive and successful experience.He got his braces off today!! Beautiful smile! Thank you Dr. Schmidl and staff."

"Dr. Schmidl and her team are exceptional. As a pediatric dentist, we are grateful to work alongside Dr. Schmidl to serve our patients! We continually hear our patient families return from their office with glowing reviews of their experience! They will take care of you while being honest and ethical!"
You are very committed to staying at the top of your game. What are you currently studying to strengthen your skill set?
I make it a point to regularly attend the national and regional orthodontic society conferences. I find that being at these meetings, I am able to learn so much about recent developments, research, and the latest technologies. Orthodontics is an ever changing landscape of technology, appliances, tools, and treatment methods. By learning about the latest and greatest advances, I am better able to identify technology and techniques that can help my patients and my practice. I also participate in multiple orthodontist forums where we share knowledge and discuss various treatment strategies. Lastly, I am an active member of the American Orthodontic Association.
Finally, are there any last thoughts or comments you would like to share with our readers?
If you are looking to change your smile or bite, we want to help you get the beautiful smile that you deserve! Give us a call or visit schmidlorthodontics.com to schedule a complimentary consultation, no strings (or floss) attached. We look forward to answering your questions, addressing your concerns, and providing you with an amazing experience that will bring a smile to your face. Thank you!
Learn More:
Schmidl Orthodontics
254 Palm St, Ashland
SchmidlOrthodontics.com
541-482-4343