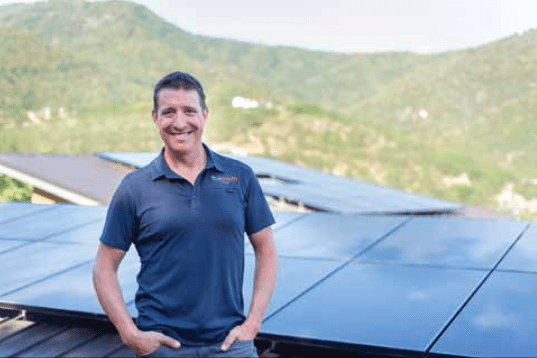 Now entering its twelfth year of business here in Rogue Valley, True South Solar is a leader in residential and commercial solar installation in our community. Now having completed over 1000+ installations, their local experience and knowledge is second to none. In today's interview, I speak with True South Solar founder and local owner Eric Hansen about his multi-generational vision of a rooftop revolution here in Southern Oregon. 
Hi Eric, thanks so much for taking the time to speak with me today, and congratulations on entering your 12th year of business here in Southern Oregon with True South Solar.
Thanks Shields, we appreciate your support, and that of all the readers too. Collectively we're really making a difference.
Eric, you personally have over 22 years of experience of work in the industry, as well as many of your staff who have now devoted their lives to bringing cleaner and more sustainable energy choices to our community. 
It's true, True South Solar is made up of 30 professionals all dedicated to the solar industry. Each and everyone of us has a great story of how we got here. 
For example, our Sales Manager, Shawn Schreiner, has been here since the beginning in 2010. He first worked in the industry as a photographer back in 2005 though. He shot mostly commercial installations in California for SolarPro Magazine back then. From those articles and photos, he learned what was possible at a time when the Oregon market was still getting off the ground. Now he's leading a Sales Team of five that's solving all kinds of residential and commercial solar solutions.
And Lance Aryeff, our Supervising Electrician, worked as an electrician back in the early 2000s when solar was a very new option in Oregon. They did some small solar jobs back then, but he got a taste for it and looked forward to jumping in full-time when the industry matured. Now five years into his leadership role at True South he's installing solar and batteries everyday, leading a team of thirteen talented craftsmen, and contributing to advancement of the industry with cutting-edge solutions. 
For me, looking back to 2000 when I first got into the industry, Europe was still leading the solar charge on both the policy and technology front. And we were behind on both — it was hard to connect solar projects to the grid. Emerging technologies made it possible, but state policies were still developing, and it took years to pass Net Metering laws in other states. Now designing and installing solar is relatively easy and inexpensive. I'm looking forward to reporting on even more progress in another twelve years…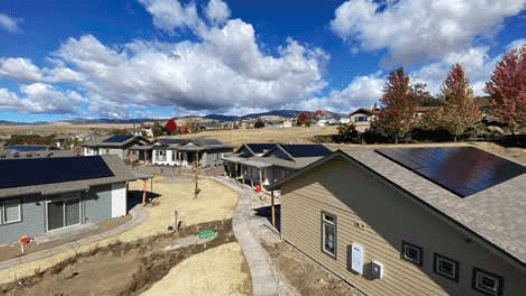 When we spoke on the phone you talked about the multi-generational vision that you and your company are holding. This is so important. Please say more.
I do think it's going to take a multigenerational effort to transition 100% to renewable energy. Looking around the Rogue Valley there might appear to be a lot of solar getting installed… And there is a lot of solar going up… But solar electricity is still less than 5% of our total energy mix. We have a lot of work to do to get solar on every roof. That's why it's important to set ourselves up for success in the short- and long-term with solar-friendly policies and a robust solar industry. And hopefully the next generation will be able to make bigger impacts with future resources.
Eric, True South Solar is celebrating 12 years here in the Rogue Valley. That's amazing! Please talk about the secret of your success.
We wouldn't be here without our awesome customers. They've supported us, pushed us to grow with the industry, keep up with current technologies and offerings, and in doing so we're continuing to get better and better. For example, twelve years ago our average system size was about 12 panels, now it's twice that for about the same cost. And now customers trying to go 100% solar and net zero is commonplace, and sometimes coupled with battery storage. And all of those systems we've done over the years have exponential referrals from really happy customers — the real reason for our successes.
I love hearing this and best of all seeing this in action. Eric, let's talk about the current status of solar electricity and its accessibility.
There are two newer programs in Oregon making "Solar Within Reach" for low-to-moderate income homeowners. One is from the Oregon Department of Energy, and the other from the Energy Trust of Oregon. Coupled together for qualifying folks, these two programs pay for almost half the costs. Incentives like these are changing all the time so please give us a call for an update and to learn more.
There are still other tax credits and incentives available for folks that don't qualify for "Solar Within Reach," like the 26% Federal Tax Credit.
True South Solar has always offered an enormous variety and opportunities for financing solar. Please say more. 
We do offer several different financing options, including our more traditional loans. But our latest financing offering is a zero-down and zero out-of-pocket, twenty-five year loan with a  payment close to your electric bill. Folks using this loan recognize they're already paying an electric bill, and now re-investing that money back into their own property by going solar. The obvious upside here is it's getting more solar on roofs, and making more happy customers that otherwise wouldn't go solar without it.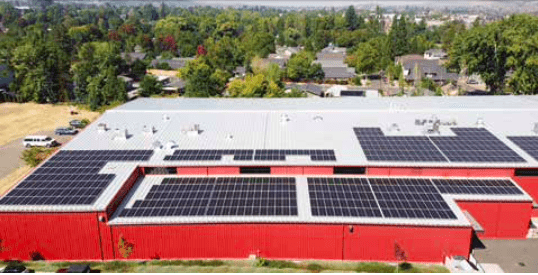 Once again, amazing. Why would anyone say "No" to such an opportunity? As I understand it there are even opportunities for non-home owners to become involved in community projects if they were interested?
Yes, you're talking about Community Solar projects. Consumers can now buy into Community Solar projects that make solar electricity somewhere else in Oregon and get a credit on their bill. And it's not just non-home owners that are taking advantage of this. It's also folks in multifamily dwellings like apartments that don't really have a roof to put solar on. And it's also folks that don't have good solar sites at their homes that are buying into community solar. To learn more, visit the Oregon Community Solar Program's web site at oregoncsp.org
Eric, can you please give us an overview of the services you and your team are providing?
Sure thing, we're a residential and commercial solar-electric contractor, offering turn-key systems. Our team handles everything from beginning to end; including site survey and free proposal, to contract, inventive filings, design/engineering, permitting, construction, inspections, and customer's final walk-through. And after the sale we're here for questions, service work, maintenance, and community resources.
How much time goes into planning a solar electric system and when does one need to get started to meet the timelines with your company?
It's never too early to start planning. We love to talk solar early and often… So please get us involved ASAP and we'll help make the process easy.
Designing and installing the system, beginning to end, usually only takes 2-3 months. The bulk of that time is spent waiting for permits and utility approvals. Once we get all our ducks in a row our installations go fast; as little as one day for many residential systems. 
Eric, you are also joined by your wife Brooke Hansen in running your company. Please say more. 
Yes, Brooke is an amazing addition to the team as Marketing & HR Manager. She's smart, passionate, and cares deeply for the mission. She has a business degree with a masters in conflict resolution, and when I met her was Dean of Students at Rogue Community College. And after years of contributing great ideas, advice, and guidance into the business, I asked her to join us. She accepted. And I couldn't be happier to work with her.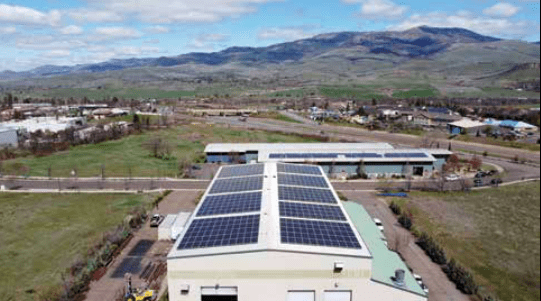 Let's talk about the vision of True South Solar moving forward. Where do you see the company going and what will this require?
We're aiming for a net-zero Rogue Valley that exports surplus power to neighboring markets. To do this, we'll continue to stay local, grow with the industry, and practice good business for our customers and employees. I know we'll need to add locations to accommodate more teammates and equipment, and I'm looking forward to getting better connected with folks near there. 
You have touched on this heavily above but I will cover it again. You guys have awesome customers! What are some of the unique characteristics you see in your customers that you enjoy?
Yeah we do! They care about our environment, they're forward thinkers, leaders, and like to save money.
Eric, can you please cover any last details that are important for our readers to know that I may have forgotten to ask?
Sure, thanks, we covered a lot of ground today. I will add that going solar is easy, give us a call, let us show you how.
Finally, thanks so much, and congratulations to the entire team at True South Solar for working to create a positive future here in Southern Oregon.
Thank you Shields, and thank you Southern Oregon!
Learn More: 
True South Solar
125 Clear Creek Dr., Ashland
truesouthsolar.net
800-947-1187