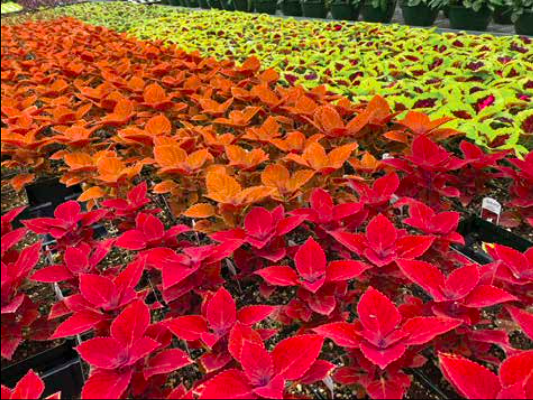 Ashland Greenhouses is located at 650 East Ashland Lane, directly across the freeway from the city of Ashland, just off of Butler Creek Road. With the use of 31 greenhouses, over 2 million starts are grown each year on-location. In today's interview, I speak with Ashland Greenhouses retail manager Sarah Messenger. 
Hi Sarah, thanks so much for taking the time to speak with me today. How are things going at Ashland Greenhouses?
Things are going well over here! We are so excited for Spring to really kick in, we love seeing all our plants go to new homes. 
Sarah, Ashland Greenhouses has an enormous selection of plants, flowers, and garden supplies. Will you please tell us about them?
Ashland Greenhouses specializes mostly in bedding perennials and annuals. We also do several vegetable starts throughout the year. Plants are grown for every season here at Ashland Greenhouses. We also have a selection of soil, fertilizer, and an array of planters to choose from. You can also find some pest repellents here if you are currently battling anything.
You have several local favorites. What are they and why do they grow particularly well here in the Rogue Valley?
Salvia 'Hot Lips' is a very popular perennial here. People love it because it is deer-resistant, drought-tolerant, and the bees and hummingbirds absolutely love it. It is a great addition to your garden, especially if you are trying to attract more pollinators. Our coleus selection is also a fan favorite. Coleus does well in shaded areas (some varieties can handle full sun). The colors are so vibrant and unique. I think people enjoy having foliage that really stands out.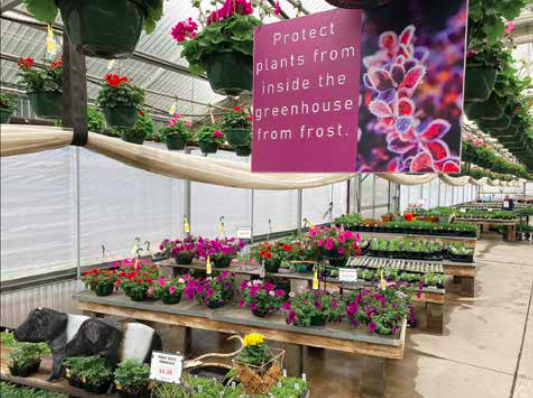 Sarah, please walk us through how the greenhouses are organized.
We have everything organized by sun requirements, whether it is a perennial or an annual, and by pot size to help make pricing easy to understand. Outside of the greenhouse is where you will find most of our perennials as well as some of our hardier annuals. Inside the greenhouse is where we have most of our tender annuals. Our store is made up of 3 greenhouses put side by side. Everything in the center greenhouse is very shade-tolerant, while most everything else can handle full sun! 
Ashland Greenhouses also has a large variety of drought-resistant plants. Please talk more about these plants and the special qualities they have.
We do have several drought-tolerant plants here. We have a list of our most popular drought-tolerant perennials available for our customers at our front counter. Once established, these plants have low water requirements, and tend to do well in dry environments. Yarrow, Salvia, Euphorbia, and Gaura are some of the more popular drought-tolerant options. 
Sarah, what are the most important tips you can offer for this time of year?
Fertilize regularly to keep your plants happy and continuously blooming for their season. Fertilizer is best applied in the morning to prevent burning your plants. There are so many types of fertilizer out there, just follow the guidelines on the package to know how often you should be fertilizing. 
Sarah, how do you see gardening and landscaping changing with climate change?
As it gets warmer and dryer, it only makes sense that drought-tolerant plants will become more and more popular. People also seem to be veering away from upkeeping a traditional lawn and opting for landscaping that is more heat-tolerant and uses less water. 
Sarah, will you please introduce us to your great team at Ashland Greenhouses?
We have a great team here at Ashland Greenhouses! My team and I are responsible for our retail space – our main greenhouse that all our customers shop from. Eliza Sorenson is our Wholesale Manager; she and her team take care of getting our large orders shipped all over the valley and beyond. Julie Collins is our Production Manager; she and her team make sure everything gets planted on schedule, filling up all 31 of our greenhouses on site. Sarah Valdivia is our Business Manager, she works closely with owner Kelly Brainard making sure everything goes super smoothly!
With Mother's Day right around the corner, what are some recommendations you can make?
Beautiful hanging baskets are a fun tradition for Mother's Day! We have a huge selection to choose from right now. 
Gift cards are another popular gift for the moms out there that love gardening. That way they can choose exactly what they want! You can now buy gift cards directly on our website! 
Sarah, what are some of your personal favorite plants and why?
I love coleus! We have so many colors this year and walking down those aisles is such a treat for the eyes! I love that coleus offers a foliage option that is something other than green. I think it adds interest to wherever it gets planted.
Plectranthus Nico is a new favorite of mine. I really like how the undersides of the leaves are a dark purple color. They are also deer-resistant, which is always a plus. 
Sarah, can you also tell us about lesser-known products that are offered at Ashland Greenhouses?
It is true that we have a few items besides plants! We carry a variety of organic bagged soils. We also have a selection of fertilizers – we have granular, water-soluble, and liquid. We carry some deer-repellent products, as well as some pest-repellent products. And finally, we also have several planters to choose from! We have window boxes this year, which a lot of people asked for last year, and we are thrilled to expand our selection. 
What are some of the most frequently asked questions you and your staff are receiving?
The most common question we get is "What will the deer not eat?" These Ashland deer have wreaked havoc on so many of our gardens. We have a list of plants that deer usually don't go for, and that is a good starting place! 
Another common question is "When can I plant ____?" Right now, all of our plants that are displayed outside the greenhouse can be planted right away, they have been hardened off and are ready to go in the ground. Everything inside the greenhouse needs to be protected from frost. As Spring goes on, frost becomes less likely, but it is good to keep your eye on the weather. If it is going to frost after you planted something tender, just cover it up to protect it! 
What are the best plants to be planted over the next several months?
There really isn't a right answer for this. 
It depends on what you want to see in your own garden. Maybe you want to set yourself up to have a ton of summer bloomers? Maybe you have an event in your backyard coming up, and you want the most perfectly curated pots? Maybe you are no-frills and are focused only on having a productive vegetable garden for the rest of the growing season. Whatever your vision is, we have your back!
What are your best tips for Rogue Valley planters?
I have learned so much about gardening from fellow coworkers and customers alike. I think we can learn a lot about gardening in our Valley from each other. If you love your neighbor's yard, let them know! Ask them what that plant is in the corner that you are having a hard time identifying. Are your best friend's hanging baskets blooming more than yours are? Ask what their secret is! Gardeners love talking plants, so let's all share what we know. 
Thanks so much for speaking with us today. Do you have last comments you would like to share with our readers? 
This spring season has already been so much fun. I love seeing familiar faces here at the greenhouses. Don't forget to visit us in the summer and the fall later on! We plant seasonally, so we have great things to plant all year round to satisfy that gardening itch! 
Learn More: 
Ashland Greenhouses
650 E Ashland Lane, Ashland
www.ashlandgreenhouses.com
541-482-2866