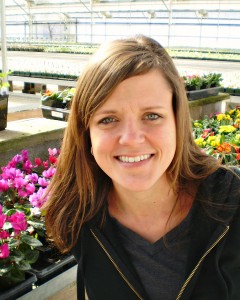 In the cold, dreary rains of March, respite can be found at Ashland Greenhouses. The benches are filling up with fresh annuals and perennials, cool weather veggie starts are ready, and many varieties of plants are starting to bloom.
I'm getting ready to put together some spring display containers for the entrance to the store. I'll be using mainly perennials because they are already hardened off to the cold. When choosing plants for a container, I think about varying heights and textures, and try to stick to 3 color groups.
Varying heights are sometimes referred to as thrillers, fillers, and spillers. A thriller is usually a tall and possibly narrow plant that will draw attention. Foxgloves and Lupines are great for this purpose. Fillers and spillers are just as they sound. The first fills in a container and is usually a plant of medium height. The latter is any plant that will cascade out of a container. Some good fillers for early spring are: English Daisies, Candy Tuft, and Forget Me Nots. And a couple nice spillers for the season are: Creeping Phlox, and Cool Wave Pansies.
Texture refers to the shape and feel of the foliage and blooms. For example, the smooth and waxy foliage, of the wide leaved Bergenia, can be contrasted with the fuzzy, small, and variegated leaf of Lamium.
When I devise a color scheme I consider the season. In spring I think of pastels: soft yellows, pale pinks, and light blues. In summer, the combinations get brighter and bolder, like deep red verbena with dark purple petunias. But I'm getting ahead of myself. Pansies and violas come in a multitude of colors that will round out any color scheme for spring.
To learn more about perennial selection, stop in anytime, or join us March 9th at 10:00am for our free perennial class. Call us at 541-482-2866 to reserve a spot. We also have a New Variety Showcase and Open House happening March 16th from 9:00am-4:00pm. Drop by to see what's new and upcoming for spring and plan your containers and landscapes.
Happy Gardening!