Interviews
Keeping Ashland Beautiful Ashland Greenhouses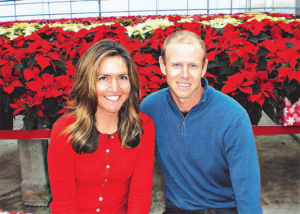 Founded in 1906 Ashland Greenhouses has played an important role in keeping Ashland beautiful. With over 31 greenhouses growing more than a million annuals and vegetables, 70,000 perennials, 7,000 hanging baskets and 10,000 poinsettias, local owners Kelly & Ben Brainard make sure to meet all the needs of Ashland's gardening  green thumb, and landscaping community. Ashland Greenhouses is located at 650 East Ashland Lane, directly across the freeway off of Butler Creek Road. I recently spoke with Ashland Greenhouse owner Kelly Brainard and business manager Sarah Valdivia about the operation and all that they have to offer to the community.
Kelly & Sarah, thanks for speaking with me today. To begin with can you tell us about your new location.  Many people might not have realized that you had a move to a new and even better location than before?
After the purchase of the business in 2007 the journey to our current location began. We moved and re-used most of the greenhouse support structures from the former location on Nevada street. The move not only gave us the opportunity to improve upon the retail area and growing houses but it also allowed for important changes for sustainability and energy savings. The greenhouses now have a lot more advancements like automatic roll up walls that allow natural air flow to cool greenhouses instead of less efficient options.  The lay out has also been greatly improved which allows us improved efficiency in our day to day operations. Before the property was divided by the dog park access road and we were driving all over the place to get things done.
Wow… Thirty One Greenhouses, how do you keep up with everything?
There are 6 of us that work year round, however in the spring and early summer we hire additional help to get through our busiest months and will have a total of 20-25 employees.  It's a constant challenge to keep up with maintenance but we do the most we can to free up time so we can focus on the plants. A lot of the facility is automatically controlled by thermostats triggering when walls should roll up, heat retention cloths should close, or if a heat source needs to kick on. Many of our products are hand watered for the best quality but we work in drip tubes and sprinklers across large consistent crops when possible.
Kelly, will you give us a quick overview of what you have lined up for this coming spring at the greenhouses?
Since the first of January we have been busy planting thousands of plants each week.  We always have something available each month and are looking forward to some new varieties of annuals and perennials we will be showcasing this spring at our "New Varieties Showcase and Open House" March 18th.
 I understand that If I am not able to make it out to your actual location I can also purchase your products around town?
That's right. You can get the same great quality flower and veggies starts from many of the garden centers in the rogue valley. Ashland Greenhouse plants are wholesaled to garden centers, florist, and nurseries in Southern Oregon and Northern California.
Sarah can you talk about the dynamic nature of the greenhouses and what you enjoy most about your job?
One of the coolest things about Ashland Greenhouses is that it's constantly changing! We grow 100% of the plants we sell so our inventory is always fresh for the seasons and you get a sneak peak of what's coming next. We stay open year round and in the winter there is a sea of red's, white's, and pink's as poinsettias are grown for Christmas. I don't know who wouldn't love working in such a beautiful place.  We're busiest in the spring but really there's something for gardeners hear all year round. We have a lot of regulars that stop by frequently. I love that there are some die hard gardeners in Ashland. They know so much and they are so great to talk to.
Sarah, I hear that you're not the only one who enjoys doing what you do and that one or two of your co-workers have worked at the greenhouse for as many as forty years?
Sarah-Our amazing production manager Gary Slack has been here the longest, for over 40 years. We swear he can remember everything, and he never complains no matter what the task. I remember my first year here there was a rainy day and some leaves were blocking a gutter so Gary climbed up on the roof to clean them out. Well the weather decided not to cooperate and it got windy  and then decided to snow. Sure enough happy as ever comes Gary busting through the door  after he's done and yells with a big smile "Bring on the elements!!". Even our growers assistant Jennifer Loizeaux and wholesale manager Marvin English and have worked here forever.  Everyone that works here is always happy, it's unlike anywhere else. 

Kelly- We have a great team of people who work here both full time and seasonally.  We're very fortunate to work together in such a happy, healthy working environment surrounded by plants and enthusiastic customers who range from expert master gardeners to beginners.
You also offer tours, and classes out at the greenhouses. Can you tell us more about this?
We keep increasing the amount of events we do here at the greenhouses because people love them so much. This year we have some great classes, tours, and open houses planned. The classes are taught by owner Kelly and our retail manager Sara Watson. They are both the greatest teachers and know a lot about gardening. For details on our events you can visit our website, or our facebook page. We send out reminders in our monthly newsletter that you can sign up for at the greenhouses or on our facebook page.

March 9th-Perennial Class
March 16th-New Variety Showcase/Open House
Hanging Basket Classes (6 times available April18-27th)
June 8th-Heat Loving Plants Class
June 22nd- Ladies Night
Nov 30th-Poinsettia Festival
Sarah, can you tell us about the plants you are growing for the valley and how what you are displaying when someone is visiting are the plants they should be planting?
Growing 100% of our own plants right here in Ashland is what separates us from other garden centers. Ashland Greenhouses grows plants that are meant for our area, so they thrive in your garden. We plan for our product to be ready when it's seasonally appropriate for you to plant it. Plants shipped in from central or southern California and from up North aren't always acclimated to our climate. They can take much longer to get going, or might not do very well at all. What's most important to us is that you get the highest quality plant at the time of purchase and that it performs in your garden after the sale.
Kelly, you have an extensive background of working with plants. From growing up on a farm to being an educator of agriculture and horticulture. What is your favorite thing about waking up in the morning to come to work at Ashland Greenhouses?
I am constantly telling myself how lucky I am that I get to do what I love.  I know that not everyone gets to say that about their job.  Gardening and agriculture are definitely my passions and I love that I can walk out my back door and into the greenhouses.
What are your top 3 favorite things that you grow?
Pansies-they provide color in the cold seasons when hardly any other plants are blooming.
Dragon Wing Begonias-these are visually striking, great for shade and heat, and can be used in landscapes or containers.
Calibrachoa – In containers and hanging baskets they are one of our top choices. They are tough and can withstand the heat, yet versatile enough to be planted in part shade areas as well as full sun. They come in a wide assortment of colors.
Your best three tips for local gardeners?
Don't Overwater-this is the most common problem we see when a customer brings in a plant for diagnosis.
Plant for Appropriate Lighting- knowing if your spot is full sun, part sun, or shade is very important. It's also necessary to know if you get hot evening sun versus gentle morning sun.
Know your Soil- Few of us are lucky enough to have perfect soil that we can plant straight into. Take appropriate measures to amend your soil and improve your results.
Finally, any suggestions for what we should be planting this spring?
Perennials-  Now is a great time to get perennials in so that they are established and colorful this season and years to come.
Learn More:
Ashland Greenhouses
650 E Ashland Lane, Ashland, OR. 97520

Telephone: 541-482-2866
Website: www.AshlandGreenhouses.com
Email: Service@ashlandgreenhouses.com