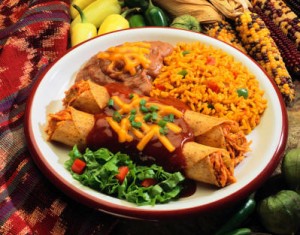 Go. Go now.  I mean it. Get in your car, take a lovely drive into Jacksonville and stuff yourself on home-made Mexican dishes at Las Palmas for very little cash.
Did I hear you say really? It's just a Mexican place, what's so great about it that I have to go now?
Everything! Everything is great about it.
I decided to approach this review at a tough time for a restaurant: The Monday after one of the most popular dining-out holidays, Valentine's Day.  Thinking that this might be tough timing for any restaurant, much less one in Jacksonville; a town that sees most of its tourism during June, July and Aug, I thought I'd have to make a few concessions for Las Palmas. I am happy to report this was not the case.
There were five other tables seated when I arrived which made the dining room seem just full enough. I was happy to have the company as my dining companion had just informed me he was not going to make it to Jacksonville to dine with me.
The menu is extensive. Not only are there typically traditional Mexican dishes but there were a few I had not seen on any other Mexican Restaurant menu. I decided to take a chance on an unknown and ordered the Paradilla Mixta. My server, Luis, opened his eyes very large and said that's a lot of food.  Well, I said, I'm hungry. I soon found out that his comment was an understatement. Within 10 minutes I had a platter in front of me of grilled steak, marinated and grilled chicken, home-made Mexican sausage, refried beans, Mexican rice,  a small cabbage salad and grilled onions and mushrooms a-top the meat. A side order of tortillas accompanied the meat mélange.  The steak and chicken were both pound thin and the sausage was out of its casing: crumbled and grilled with red peppers and green onions. The steak was savory, seasoned with garlic and pepper, Luis told me. The chicken had been in a spicy marinade and was seasoned to perfection.  Luis boasted that he makes the Chorizo sausage himself on the premises.  While Luis was explaining the process of seasoning the Chorizo, a friend and owner of a local gourmet food business entered the restaurant. I asked him to join me for some home-made Chorizo. To my delight, he sat and tried everything on my plate. "Oh, this is fantastic, he claimed."   This is the best Chorizo I have ever tasted.
Don't you make and sell Chorizo at your place of business? I inquired.
Oh yeah, we do. He answered his mouth still full of sausage.  And this is the best Chorizo I have ever tasted.
I asked my new dining companion to please order the large combination with a tamale, chile relleno and enchilada so I could not look like such a pig. I know the mark of a great Mexican restaurant is to be found in its chile relleno, but I usually judge a Mexican restaurant by the authenticity of its tamale. I needed to try both.
My dining companion decided the chorizo was enough to stop him in his tracks and not want anything else. I decided that the grilled steak had me at hello but we needed to press on in order to really experience what Chef Luis at Las Palmas was really capable of.
The chile relleno was very good, very simple and tasty. The tamale was fantastic, as if I purchased it at a roadside stand in Mexico. The chicken in the enchilada was very moist, I was pleasantly surprised. Luis told me the chicken enchilada is one of their most popular items. Why? There is so much more to experience at Las Palmas, so many delicacies to be had. And the entire meal, which was enough for four people, totaled only $25 in food!
"I don't know how these guys do it," said my dining companion, when I expressed my shock at how little they charge for so much home-made goodness. I added it up in my head: the meals, plus the price of gas to get to J'ville was still less than what I usually pay for just myself at any one of my favorite eateries in Ashland.
What separates Las Palmas from the other Mexican eateries is the simple fact that their cuisine is just better than most. Its prepared with care, with just the right seasonings and spices and with that touch of authenticity rarely seen at Mexican restaurants in this valley.  So go. NOW.