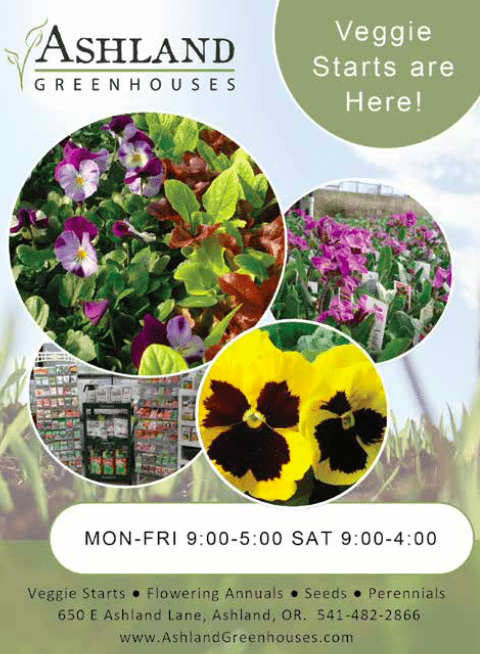 Are you ready for Spring? We are! Everyone at Ashland Greenhouses has been planting thousands of perennials and annuals for this season. You will see our benches getting more and more full each time you come visit us. In February, we planted our geranium cuttings. They are filling up ten long benches and they are doing so well! It's fun to walk through the geranium benches and take in all the colors and the sweet smell of all the blooms. 
March is the month that we begin planting a variety of warm weather veggies. I know I can't wait to plant my tomatoes for the year. The sun gold tomato is my favorite tomato to snack on. It's sweet, yet tart, has low acidity, and honestly, I have never even had one in a salad because I eat them all directly off the plant! This year we are growing a few peppers that we haven't had before. Some mild and some very hot! Follow us on our Instagram to get sneak peaks of fresh new arrivals as they hit the shelves. You can also keep an eye on our availability list. We update the list weekly, and you can find it on our website – www.ashlandgreenhouses.com. 
Speckled amongst our benches of flowers, herbs, and veggies you will discover a new assortment of metal sculptures. They are great for your yard and your patio; some are so cute they could go in your kitchen! You will find goats and chickens, frogs, and foxes – even flower arrangements and cacti! It's nice to have something colorful all year round that a deer would never go for! My personal favorites include a rainbow pinwheel (that really spins!) and cute little bees on stakes that can go into a pot or the ground. 
Reach out to us if you have any questions, our phone number is (541) 482-2866. You can email us at grow@ashlandgreenhouses.com. Or just stop by! It's nice to just meander through the greenhouse and ponder about what your next gardening endeavor will be. Happy March!