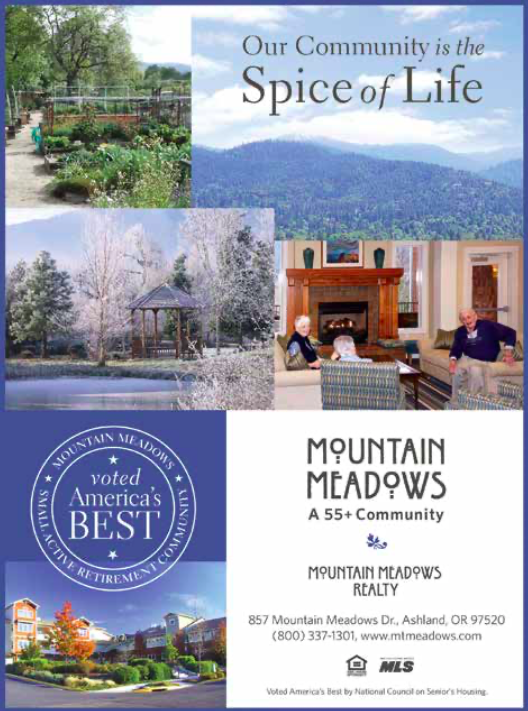 We have all heard that "variety is the spice of life" but what does that really mean? Have you ever really thought about this statement? As we are preparing for the holidays and baking, my mind goes to baking a pumpkin pie. Imagine a pumpkin pie without sugar, cinnamon, nutmeg, dash of salt and allspice – very bland, boring and not something to look forward to. So now imagine the "spices" added to the making of the pie and how exciting and wonderful it is. The spices added life to the pie.
Consider life in general without the "spices" to enhance our experience. Boring, bland and we would not look forward to our days with any excitement. It is the little extra things which are added that make life special. Perhaps it is grandchildren; travelling across the United States or Europe; singing in a choir; playing piano at a concert; planting seeds and watching them grow into bursts of colorful flowers; and the list goes on. These are the "spices" of life. 
At Mountain Meadows 55+ Community we understand. Variety abounds here! There are activities to choose from such as pool tournaments, challenges on the Wii machine, hiking the nearby trails and mountains, Bocce in the park, community garden planting and harvesting and fabulous music events. There are committees to get involved with and you can be part of a community that is owned and operated by the residents. 
One of the "spices" here is the large variety of floor plans and designs. We have custom homes ranging from 1300 to 2900 sq. ft. Some with views; some overlook the community park; some have fenced yards; some have one car garage, and some have 2. The exterior colors of homes are very pleasing, and the community is very well maintained. We also have a large variety of condominiums from small one-bedroom to large 4-bedroom units. Various styles and designs and loaded with special features to help with needs as we age. Some have fabulous views; some are close to the clubhouse; some have attached garages – something for almost everyone here. 
The community has a private dining room overlooking Ashland and the surrounding hills and this dining room is one of the best "spices" of Mountain Meadows. Residents enjoy the social atmosphere, the food and the comradery which forms. For Mountain Meadows residents, the variety and choices are superb! This Community… is The Spice of Life.
Happy Holidays to you and your family from Mountain Meadows 55+ Community.