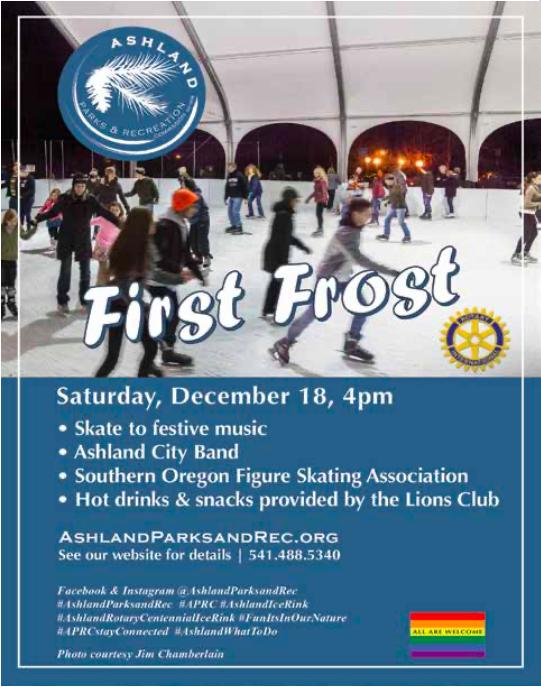 RECREATION… 
We would like to take a moment and wish you a wonderful holiday season! Please keep us in mind in the New Year for fitness and opportunities to expand your mind. Watch for the 2022 WinterSpring PlayGuide, slated to hit your mailbox the first week of January. You may also view the guide and register for recreation programs at AshlandParksandRec.org. 
The Ashland Rotary Centennial Ice Rink is OPEN! This magical, outdoor rink is in Lithia Park at 95 Winburn Way. Mark your calendar for our annual community, "First Frost," on Dec 18. Complete info at ashland.or.us/IceRink. (Please remember to check the online schedule before heading out to the rink!) Other activities for the season include a Winter SoundWalk in downtown Ashland… Walk, Look, Listen! Info at RogueWorldMusic.org/SoundWalk. Enjoy the Holidays in Ashland and eat local, shop local and recreate local. Many thanks to our community partners, Ashland Chamber of Commerce and Rogue World Music.
PARKS & RECREATION COMMISSION… 
Parks and Recreation Commissioners hold their regular business meeting the 2nd Wednesday of each month at 6:30 p.m. Study Sessions are typically held the 1st Wednesday of the month. Check the APRC public meeting calendar at AshlandParksandRec.org. You can also learn how you can participate, contact the Commissioners, and view Commissioner bios and goals, agendas and minutes. 
SENIOR SERVICES… 
Our Senior Services Division enhances the lives ?of seniors by promoting healthy aging, well-being, dignity and independence.  We empower older adults as valued, contributing members of the community and together advocate for the diverse needs of seniors and their families throughout Ashland. More info at AshlandSeniorServices.org.  
VOLUNTEER… 
Volunteers are needed to help eradicate damaging, invasive plants from our park land. You can make a difference in restoring our parks and protecting our native plants and animals by lending a hand. Volunteer solo or join a small group and help us remove Scotch broom, Himalayan blackberry and more. No experience necessary, and training and tools provided. 
Join in monthly restoration work parties at North Mountain Park from 1-3 pm, on the 1st Thursday of every month (Nov-Mar). Battle invasive species, plant native trees and shrubs and help care for this wonderful park. Tools and friendly training provided. Join our email list for work party updates!
Our Senior Services Division is seeking volunteers for a new program aimed at reducing social isolation for older adults. Volunteer for the Ashland Senior Phone Buddy program. Make a difference in someone's day from the comfort of your home with regular social phone calls. Apply Today!
For all volunteer opportunities, to learn more, sign-up or to join an email list, please call or email Volunteer Coordinator Sulaiman Shelton at 541.552.2264 or Sulaiman.shelton@ashland.or.us. 
For more info visit AshlandParksandRec.org, email ParksInfo@ashland.or.us or call 541.488.5340. Follow us on Facebook and Instagram @AshlandParksandRec and use the hashtags #APRCstayConnected #AshlandParksandRec #APRC #FunItsInOurNature #AshlandWhatToDo