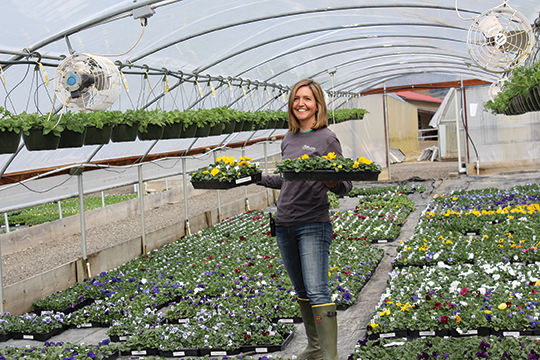 Poinsettias are flying out the doors! We grow six different sizes, 4.5", 5.5", 6.5", 7.5", 8.5", 10" and Baskets. We grow a selection of 12 different colors with even more variations within the individual colors. For example, we grew 4 different shades of red this year. It's hard to believe 8000 poinsettias can disappear so quickly. We've been growing them since July and within a few short weeks they'll be gone. We'll be open until Wednesday, December 16th, so hopefully you can stop by before we close for the year.
We'll re-open January 11th with our fresh assortment of new perennials and primroses. We grow over 70,000 perennials representing almost 250 different varieties of hardy perennials alone for the spring season. We plant them in October, November, and December. By the time January rolls around we'll have quite a few ready to be planted in your landscape. Keep an eye out for the early bloomers like Bellis (English Daisy), Iberis (Candy Tuft), Lithodora, Creeping Phlox, and Perennial Violas. Pansies and cool season vegetables will become available soon after in mid to late January. This year we also have a large selection of tender succulents for indoors including Echeveria, Senecio, Kalanchoe, Crassula, and more.
Each year seems to fly by and before we know it, it'll be spring again. From all of us at Ashland Greenhouses we hope you and your families have a wonderful holiday season and New Year!