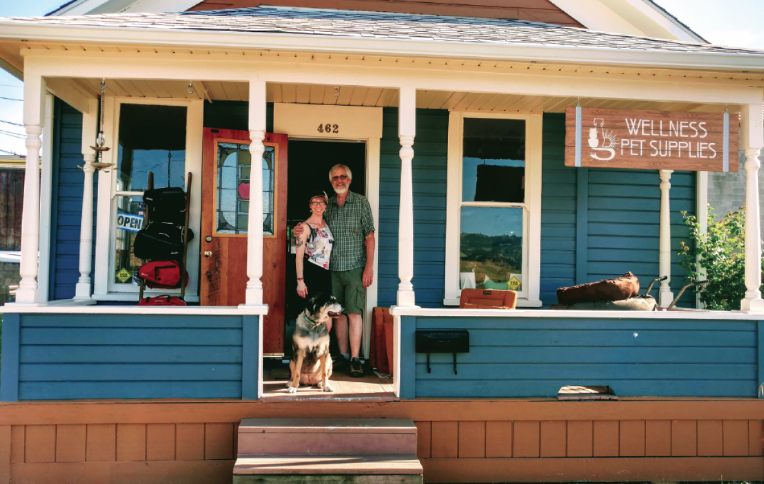 Like many residents of our community, Wellness Pet Supplies owner Billie Jo Vinson woke up in the wee hours of Tuesday, September 8th with a sinking feeling. The winds were howling and fire danger was high. A little voice inside her head insisted she wake her husband Doug before dawn so they could pack up and be prepared if evacuation was necessary. "I just knew something wasn't right," explains Billie Jo. "It sounds crazy, but I had a feeling we needed to be prepared for the worst. After stacking a few boxes of important papers and significant belongings in the center of the living room, Billie Jo and her husband left their home in Ashland's Quiet Village for work and tried to stay calm despite the intense heat and high winds. At 11am, Billie Jo's cell phone rang. It was her neighbor. Her house was on fire.
"I was literally stunned," says Billie Jo. "It just didn't seem real. After I hung up the phone, you would think I'd have high-tailed it home, but I was so shocked I couldn't move." After a few long minutes, Billie Jo jumped in her car and attempted to drive the 1.5 miles from the store to her home, but the roads were already blocked and jammed with people trying to evacuate. 'When I saw the thick, black smoke rising from my street, I had no idea there was much more than just my house on fire." Firefighters were just finishing up putting out the fire which had compromised the fence and garage of her home when she pulled up. "I grabbed the stuff we had packed earlier that morning and I stood in the driveway, paralyzed, trying to decide what to do next," says Billie Jo. She soon realized that her neighbors were evacuating because the fire had started in the field to the south of Billie Jo's house and had quickly spread to the pond at the end of her street. Sparks ignited the juniper bush in front of the garage and jumped to the gas meter which caught fire and spread rapidly to the fence and the garage. The firefighters did what they could and then headed toward Talent as the fire raged on.
Billie Jo stayed in close touch with her husband Doug as he made the painstakingly slow journey home from work in Grants Pass. With the power out and a cell phone battery on 1%, she hosed down the house and yard, drove away with a gas tank near empty, and hoped for the best. She later learned from a neighbor that the fire at her home reignited four times throughout the night, which prompted the couple to swing by the house once it was safe to return that evening only to find that a busted water pipe had been filling their home with water for most of the night. What they had hoped to salvage from their smoke-filled home was now totally lost to water damage and mold. "Sadly Doug and I were still in the acute recovery stage of severe mold contamination from our previous rental home," explains Billie Jo who has been actively recovering from mold exposure for the past 11 months. "We knew all too well what the consequences would be to the many belongings that remained in the house. We were devastated. We did what we could and tried to sop up the water in the dark. In the end, it was futile. The only thing to do was salvage what we could and walk away."
Amidst the intense stress and strain of being displaced by the fire and subsequent water damage, Billie Jo can't ignore the overwhelming experience of walking through this traumatic event with such a compassionate community of friends, neighbors, and customers. "Generous people showed up for us from the moment it all began," she says. "From the property manager at APM and the staff at the Ashland Springs Hotel to our neighbor who put out the fire when it continued to reignite and a good friend who showed up at just the right time to help me load my car, we were incredibly blessed to be met with such compassion and support every step of the way." But those who know Billie Jo are not at all surprised that such generosity would show up at the very moment it was needed.
Wellness Pet Supplies, located on A Street in the Railroad District of Ashland was the culmination of Billie Jo Vinson's passion for animals and natural wellness for beings of all kinds. Her years of experience as an herbalist and pet care professional in Portland and the Bay Area made opening a natural pet supply store a logical next step when she opened in 2017. Ashland welcomed her commitment to holistic, ethical, and sustainable products and business practices with open arms and a loyal customer base formed almost immediately. Billie Jo's dedication to making a difference in the lives of animals and their owners is apparent in all she does. Constantly researching new products and supplements to help pets live happier, healthier lives is just another day at the office for Billie Jo, especially as she has cultivated a skilled team to support her customers daily from behind the counter.
Olivia Johnson joined WPS in January of 2019, quickly connecting with customers and proving to be indispensable to the business. "Our customers just adore her," sighs Billie Jo. "She is personable, resourceful, and so friendly.
She's like a sponge, soaking up so much important information for our customers and so excited about the growth and future development of the store. I am so lucky to have her by my side." Olivia is especially good at technical tasks and is an organizing genius, regularly reorganizing products on the floor so customers can find what they need easily. Her trusty dog Sam is an Australian red heeler. Although he is blind and an older gentleman, his visits to the store are most welcome.
Ahrial Curtis-Redon walked into the store about a year ago and made an impression. "Although we weren't quite ready for her at the moment," says Billie Jo, "I knew her experience in pet retail and positive energy were a great fit and hoped she'd still be available when we were ready to grow. Ahrial was hired a few months ago and hardly needed any training. As Billie Jo says, she's been a breath of fresh air, particularly through the stress of operating the store during the pandemic and post-Almeda fire. "Our values and passion for doing business with a conscience are in total alignment," explains Billie Jo. "It's so easy to have her in the store. Her passion for animals is so authentic. She literally melts like butter when a customer brings their pet into the store." Ahrial's two dogs Maloney and Bambi haven't made an appearance at the store yet and her cat Nightcrawler probably won't join resident cats Jack and Bagheera at the store anytime soon, Ahrial's dedication to her furry family members is clear.
Considered an essential business, Wellness Pet Supplies has been fortunate enough to remain open in accordance with the Governor's orders throughout the pandemic. Their loyal customer base and generous spirit have made it possible for Billie Jo and her staff to be of service to those experiencing financial hardship throughout this challenging time. With Nail Clip days and special lectures and events on hold for the time being, Billie Jo and the crew have been pouring their energy into soliciting product and cash donations to keep local pet owners afloat. "Thanks to the incredible generosity of our customers and vendors, we've been able to provide basic pet supplies such as food and herbal supplements to people and their pets free of charge since this all began back in March," says Billie Jo proudly. "It has felt so good to give to those in need and keep pets healthy and happy during this really stressful time."
Which is why it was so hard for Billie Jo to get used to being on the receiving end of things when the Almeda fire hit. As expected, WPS staff, vendors, and customers have responded to fire relief efforts with overwhelming generosity. Within days, basic necessities such as food, leashes, harnesses, collars, salves, immune and lung support, CBD, and herbal supplements for trauma have been pouring in to support pets affected by the fires. Animal Essentials owner Greg Tilford is an Ashland resident and was a huge supporter of the fundraising campaign early on. Canadian company Carna4 not only donated products but is also extending a considerable discount to victims of the fire who use their baked-whole food kibble alternative for dogs. Pharma Hemp from Colorado donated CBD formulas to ease anxiety and injury in pets affected by the fire. A GoFundMe has also raised $7000 so far to support relief efforts for pets in our community and donations continue as needs persist. Wellness Pet Supplies was created to serve the community as a business with a conscience and it has done nothing short of that since it opened. Tears flow as Billie Jo recounts her first few days in the store once she and her husband were housed temporarily at the Chanticleer Inn. "I showed up for work that first day so vulnerable and love came at me from every direction," she explained. "I've never been on the receiving end of so much generosity."
As customers learned of Billie Jo's ordeal, they did what they could to smooth out the rough edges, offering cash, goods, and services she didn't even realize she needed.
"The thing is, when you lose just about everything, you have absolutely no idea what you need when someone asks," she says. "The most amazing gift for me by far was when people just showed up randomly with what they had to offer. Somehow it was always precisely what I needed at that moment." Fresh flowers, produce from the farmers market on Tuesday mornings, a massage gift certificate, a vintage trunk full of unexpected treasures and trinkets. As the days turned into weeks, Billie Jo says she was given the unexpected gift of experiencing the community she set out to create at WPS for herself in a very personal way. "It was so humbling," says Billie Jo. "Thank you is simply not enough to express the gratitude I feel for these amazing people. I'm still in awe of the generosity so many extended to us when we needed it most."
Now as fall turns to winter and the charred landscape begins to soften with precipitation and our community heals, Billie Jo and Doug are settling into their new home in Ashland and the nightmares are slowly beginning to fade. "Honestly, I'm just so relieved it was our home and not the store that was impacted by the fire," says Billie Jo. "So many pets perished in the fire and the ones that survived are in need of so much care. If we weren't able to serve them and console their owners, I just don't know what I would do. It's just heartbreaking to think about the loss and trauma those little beings have suffered. I am so glad we're still here to offer support." In Billie Jo's last interview in the LocalsGuide, she talked about the amazing feeling she has knowing when customers leave the store they have a little more hope about what's possible for their pets. It's clear the tables have turned in a very beautiful way. The love and generosity she has built in her business have been reflected back, allowing her to rise above the trauma, heal, and receive the same in return.
Billie Jo, Olivia, and Ahrial soldier on, filling the shelves of Wellness Pet Supplies with high-quality, holistic products to keep pets and their owners healthy and happy. Stop by to say hello or visit their website for information about how to support ongoing fire relief efforts.
Learn More:
Wellness Pet Supplies
462 A Street, Ashland
(541) 930-2576