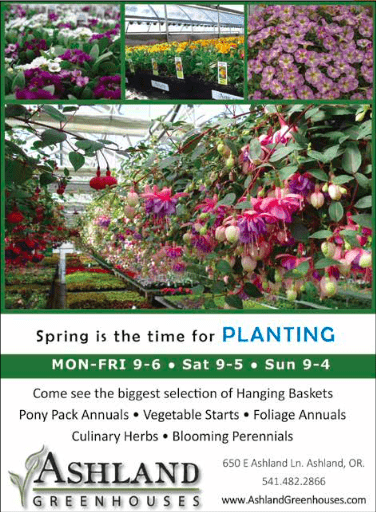 At long last, Spring is here! If you haven't come by to visit us yet, you must come check it out. Baskets are everywhere right now! We have fuchsias taking up a third of our ceiling-space, geraniums taking up another third, and mixed baskets always trying to steal the show. We also have calibrachoa, petunia, new guinea impatiens, a few others! It is my favorite part of the year when I can spend all day surrounded by beautiful healthy plants. 
When you bring home your baskets this year, remember to fertilize them regularly. We have a few great options for fertilizers in our store. We have granular, liquid, and water soluble. Most people have the best luck using water soluble or liquid for baskets. These are way easier to apply as your baskets begin to fill out with blooms and foliage. We recommend that you always apple fertilizer in the morning, as it is easier on plants. 
We are very excited to let everyone know you can now buy gift cards on our website! You can purchase them in-store as well. A great gift for all our gardener friends with birthdays this month. If you purchase them through our website, you can even personalize them for whatever occasion you like. Birthdays, get well, graduations, housewarming, congratulations and more.
If you have read this newsletter this far, I have exciting news… we have a new plant to debut this year! Taking all the best qualities of the petunia and the calibrachoa… we introduce to you the petchoa. The petchoa is going to be an excellent contender for hanging baskets with cascading blooms all season. There will be seven colors to choose from this year. If you want a sneak preview of what each color will look like, check out our availability list on our website. When you click on a plant variety, it will bring up a picture of what it will look like in full bloom. 
We are now open seven days a week for all your spring shopping needs. Monday through Friday 9am-6pm, Saturday 9am-5pm, and Sunday 9am-4pm. We hope to see you soon!