The Paddington family of stores has put together something very special for you. It is a new concept store called the Paddington Express located at 300 Main Street. The store is designed around the idea that every purchase you make results in a parallel contribution to a social cause. Now, more than ever, we want to feel that the money we spend makes a difference in the world. Paddington Station in Ashland has had a long history of philanthropic ventures and in today's interview, we learn more as I speak with mother and daughter team, Pam and Kelly Hammond.
Hi, Pam and Kelly. Thanks so much for taking the time to speak with us today. To begin with, please introduce us to your new store, Paddington Express!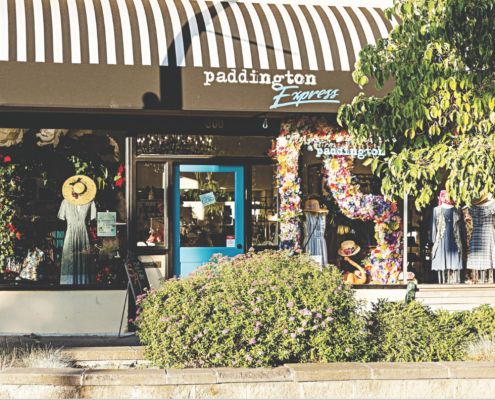 Paddington Express is our newest location downtown, and it's been an incredible opportunity for us to experiment with new products and themes. We're calling it a "Permanent Pop-Up", so that gives us the chance to listen to our customers and cater to their needs. Pam and I are passionate about product quality and featuring designers from all over the world, and that has been the impetus for this pop-up. This global feeling is especially apparent in our Holiday Pop-Up, The Gift of Giving, which focuses solely on ethically produced, give-back products.
Kelly, please talk about the inspiration behind the concept of this type of store.
The Paddington Family of Stores' motto is to help customers make the "Perfect Purchase". This year we wanted to make holiday shopping even easier by collecting our favorite ethical products together in one convenient location. Everything in The Gift of Giving are products customers can feel good about buying! Whether it's a basket handmade by artisans in Uganda or a scarf lovingly crafted by weavers in Guatemala, these products were brought together for one purpose -to make the world a better place! Each item from our carefully curated collection of products is dedicated to benefitting a global, national, or local cause. All of our items are ethically produced, fair trade, sustainable, or give-back. Many are all of the above!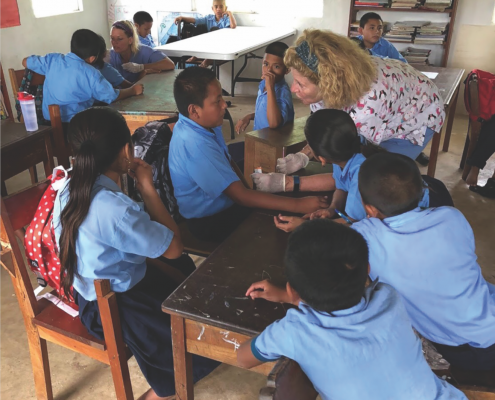 Wow! That is very exciting to hear.
We have been so pleased by our customer's reactions! Our opening weekend was a huge success, and we're already working to replenish these special and thoughtful gifts.
Pam, how do you imagine bricks and mortar stores can grow and evolve into the future?
Paddington Station has long benefitted from being a part of our vibrant and diverse community. Our preferred customer program (which has nearly 10,000 members) has given us an excellent opportunity to engage with, and support, our beautiful town. This program has allowed us to contribute $200,000 in lifetime donations back into the community! We also are passionate about building a community with our fellow merchants. Downtown Ashland has blocks and blocks of talented and unique retailers and we are strongest when we support each other. By staying involved with, and building community, our downtown retailers will continue to thrive!
Kelly, please tell us about the thought and effort you have invested in putting together the Paddington Express.
Mom and I are passionate about all aspects of small business, but we are especially invested in bringing the best and brightest products into our stores. This past year has been a busy one, and bringing our Holiday Pop-Up together had us literally traveling the map! We visited 14 different trade shows this year where we met with artisans from all over the globe. These are mostly small companies who have yet to break into the market – so this support is especially meaningful!
What has been the most eye-opening experience for you when you were doing research to open this new concept store?
I was pleasantly surprised to learn how many companies are getting involved in "give-back" retail. There were so many vendors to choose from! We've bought from so many benefit companies, so there will be ethical products available at all four of our stores. Pura Vida, one of the hottest ethically produced companies, is available at The Jewel Box, and our mezzanine has an extensive, year-round "green" kitchen selection.
Kelly, can you please take us on a tour of the store?
The store itself is stunning- it is on a corner lot with beautiful natural light and old-fashioned charm. We've restored it, and added some of the over-the-top décor Paddington has become known for -like a 5-foot chandelier! When customers enter the store, the first thing they'll notice is out amazing Polar Bear Display. It reminds me of something from a Macy's in New York City. We love seeing the faces of children light up when they pass by. Most importantly, we're bringing attention and funds to Polar Bears International, who is working hard to preserve Arctic land. Across the aisle is our globally inspired market bazaar. Handcrafted, colorful baskets are stacked sky-high, as well as goods from The Holy Land, fabric goods from Africa, handbags from Mexico, and more line the long glass shelves. We also have a delightful kids section, with low-tech toys that encourage creativity.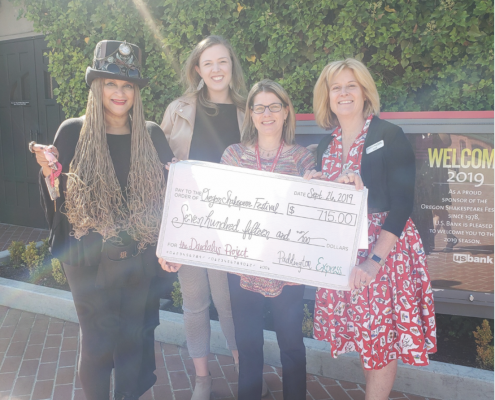 You really made sure to cover all categories of gift-giving.
We wanted to store to feel accessible to everyone! One of the hallmarks of a Paddington Store is the breadth of our product, and the Gift of Giving is no exception. Here you can find a gift for anyone on your list! Dad, Grandma, or baby – we have them covered.
Many of the gifts that you will be selling hold a special significance to you. Please say more.
We definitely used our personal experiences to build this store -last year Mom went on a medical mission to Belize with my stepdad, a retired doctor. Here, they were hands-on with patients, venturing out into the rainforest in an old jalopy of an ambulance. While in Belize, they met talented crafters and makers whose wares we are so proud to now offer at The Gift of Giving. Bringing a little piece of Belize here makes the world feel a bit smaller! We were also excited to feature goods from one of our locals who is now half a world away. Angelica Ruppe, of the Valley's "La Clinica", is currently in Africa, helping educate young Tanzanian Women. We are proud to be their first retail location and are selling their handmade placemats and napkins.
Please tell us about your giving collections. How does this work?
The giving collection is something new we haven't seen other retailers try before! We've identified four of the Rogue Valley's favorite non-profits (FOTAS, St Vincent De Paul, Family Nurturing Center, and The Ashland Emergency Food Bank), and connected them to a product in the store. When customers purchase this product they are given the opportunity to choose the non-profit that resonates with them, and we will donate $5! They shop, we donate! We also have necklaces for sale that benefit SART Jackson County, and fun socks that donate directly to our local foster children.
It's really nice to know that money spent, even if it is a small amount, can make a big difference in another person's life.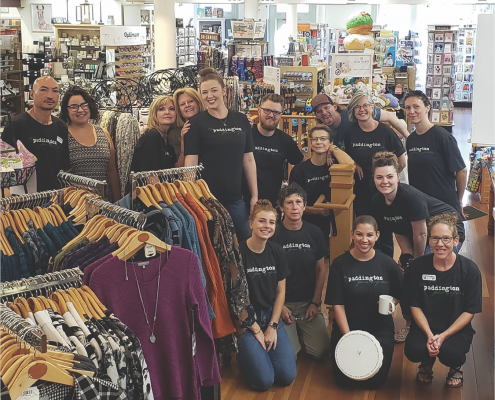 Pam's experience in Belize was truly life-changing, and it prompted us at Paddington to close the gap between us, and the rest of the world. While on a medical mission, Pam was responsible for giving fluoride injections to children, and she was moved to action after the simple act of giving these children their first toothbrush. Belize is a country with little industry, and we know that featuring them in our pop-up will make a huge difference!
The store and shopping experience is very transparent.
Every item purchased comes with a story card, so customers leave knowing who made their product, where it was made, and how it is making a difference.
How are you going to fit all the customers into your store?
Don't worry -The Gift of Giving shares a block with some of the best retailers in Ashland. If the store fills up, spend some time visiting our neighbors, like Bloomsbury Books and Travel Essentials!
I hear you are also having a special visitor in December on Tuesday the 3rd, from 4-7 pm, and December 14th, Saturday, 11 am-2 pm. Ho ho ho!
Yes! This will be Santa's first visit in several years -he hasn't stopped by since my own Grandpa "helped" Santa out in the '90's! Santa is stopping by Paddington Express Tuesday, December 3rd, 4-7 pm and December 14th, 11 am-2 pm, and with a $5 donation to Polar Bears International, he will be available for photos and wish list reading. We're excited for the opportunity to save Santa's BFFs, the Polar Bears!
How long will the Gift of Giving be opened?
It opens November 15th and it runs until the end of December when we will transition to a new theme. However, we are hoping to bring this theme back regularly! With Ashland's support, we intend to.
Thanks so much for conceiving such a neat idea and sharing it with our community.
We are proud to be on the forefront of this new concept in retail. This year we were honored at the Retailer Excellence Awards as the Socially Responsible Retailer of the year, and this is a moniker we intend to live up to.
Are there any last thoughts or comments you would like to share with our readers?
Help us make a difference this year! You do the shopping, we do the donating.
Learn More:
Paddington Express
300 E Main St. Ashland
Kelly Jean Cooney – Buyer
(541) 488-1715 Phone – (541) 482-1343 Phone – (541) 488-2842 Fax