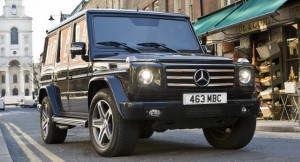 Is that a Hummer? No, maybe it's a VW Thing on steroids. Remember the VW Thing? Wait a minute that looks like a Mercedes-Benz 3 pointed star in the grill. Well I'll be, it is a Mercedes! Must be something left over from the Panzer Tank division from WWII. I think if General Patton came across one these he would have high-tailed it for the hills of Africa. Let me introduce you to the G-Class Mercedes-Benz G-500!
It seems there is a lot of new "buzz" words hovering around the automotive industry these days. You got your Hybrids, BlueTec's, Sport Wagons, TDI's, Green Cars, SUV's and for those of you that don't know there is the CUV. The CUV, also know as the XUV, is a Cross Utility Vehicle which is a melding of a station wagon and an off road vehicle. Sort like a Chihuahua and a Pit Bull or maybe like a tennis shoe you run on the pavement in and should the road turn to dirt you can keep running without ever changing your shoes (I never really got the whole cross-trainer tennis shoe anyhow)! Yes ladies and gentlemen this cross over vehicle didn't really cross over but did more of a monster truck dance on all the vehicles along the way. I should know, as my son is an MTE or Monster Truck Expert. I love acronyms.
In the early seventies the Shah of Iran decided he wanted a do-all military vehicle and he had Mercedes build him one. How could they protest when he was a heavy shareholder and had Mercedes in his hip pocket or should I say wallet. Mercedes-Benz contracted the help of the Austrian car manufacturer Steyr-Daimler-Puch of which I never heard of except maybe the Puch part. I used to ride a moped built by Puch. They came up with the G-Wagen, a military purpose SUV. By the end of the seventies they started to produce them as civilian units, the G-Class, touting off-road prowess and durability for the common people. German engineering meets the mud!
This fine example found here in Shakespeare's den is powered by a 5.0 liter V8 putting out 296 hp and 336 ft-lbs of torque. It has full time 4WD and locking front and rear differentials and leather accommodations all for only $75k. So, if your looking for a vehicle to get you to MT-A in a straight line then the G-500 is your ride. Why chain-up and get stuck in the I-5 semi-truck winter grid lock. 2060 " bahhh, Katwok  whatever, White Rabbit " white meat, Toothpick  splinters; just blaze your own trail by making a straight path from the Plaza to the Soccer ball. So move over Rover, step aside Humvee hear comes the G-500 with a lot of class.
Happy Motoring!
Comments